Gold Declines on Strong Dollar; Expected To Dip Further This Week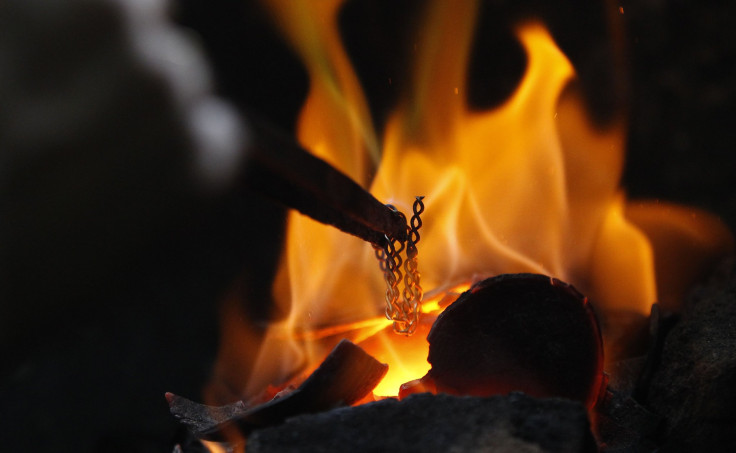 Gold futures extended their decline on Monday, mainly hurt by a strong U.S. dollar, after plunging to a three-year low last week following the U.S. Federal Reserve's announcement that the central bank would scale back its aggressive asset purchases later this year.
Spot gold declined 1.07 percent to $1,282.59 during trading hours in Europe on Monday, moving closer to $1268.70 -- the three-year low recorded last week.
Goldman Sachs, on Monday, lowered its forecast for gold to $1,300 an ounce for 2013 and $1,050 an ounce for 2014, down from its prior estimation of $1,435 an ounce and $1,050 an ounce, respectively, citing signs of economic recovery in the U.S.
Gold is expected to see rough weather this week as investors continued to offload holdings in exchange-traded funds, or ETFs, backed by the precious metal, and physical demand from the two major importers -- India and China -- remains muted.
"The market is very bearish at the moment and we continue to see more liquidation," a trader in Hong Kong, told Reuters. "We can see some physical buying interest but not enough to support prices."
According to 15 analysts surveyed by Bloomberg, six expected prices to decline this week, the largest proportion of bears since January 2010, while five remained neutral. Gold-backed ETFs have seen outflows of more than 520 metric tons, which now stand at 2,098.605 tons -- the lowest level since February 2011.
The price of gold plunged last week to its lowest level since September 2010 after Fed Chairman Ben Bernanke said that asset purchases could end by mid-2014, while a liquidity crunch in China also added to its downturn.
"There's certainly a rush to the exits in gold," Jim Russell, a senior equity strategist at U.S. Bank Wealth Management, which oversees about $110 billion of assets, told Bloomberg. "The nudge up in the Fed's expectations economically suggests they may unwind their program a little quicker than investors thought."
After rising for 12 consecutive years, gold is heading for its biggest annual drop since 1981 as the precious metal has lost more than 23 percent this year after signs of an economic recovery in the world's largest economy gives strength to the U.S. dollar, which has an inverse relationship with gold.
© Copyright IBTimes 2023. All rights reserved.