Goldman Sachs: Gold Prices Bound To Fall As Economic Fears Diminish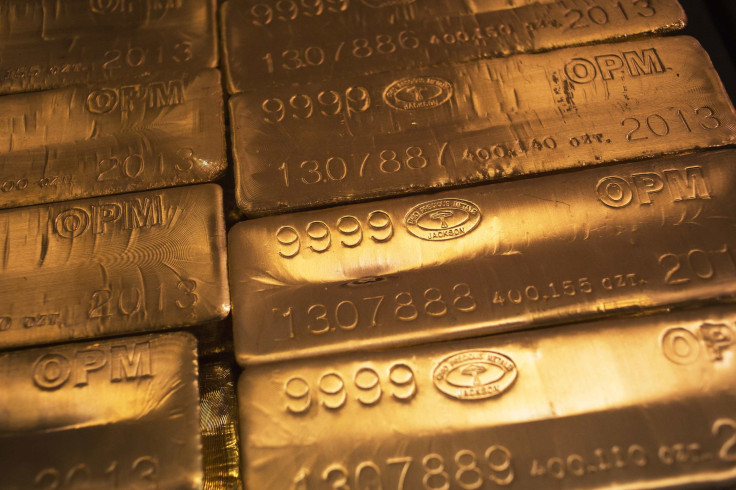 When global markets seize up, investors retreat to safe-haven assets: cash, bonds and gold. But the rush from stocks in recent weeks may have pushed gold prices well beyond what economic fundamentals suggest is appropriate, Goldman Sachs said Tuesday.
Investor fears around slowing output from China, negative interest rates and slumping oil prices "have likely been overstated in the gold price and other financial markets," analysts with the investment bank said.
In the past month the price of gold has surged more than 11 percent, rising from $1,088 an ounce Jan. 17 to $1,212 Tuesday, as wider financial markets have plunged into turmoil. The Dow Jones Industrial Average is down 7.8 percent since the start of the year as investors grapple with concerns that lackluster corporate earnings and slowing economic growth abroad could present systemic macroeconomic risks.
Recalling Franklin Delano Roosevelt, however, the Goldman analysts wrote there is "nothing to fear but fear itself" in the current market environment. "We believe these new fears, like past fears, are not justified."
In particular, the analysts rejected fears that persistently low oil prices could trigger a wave of financial stresses that could eventually threaten the stability of the banking sector. "Banks have ample liquidity to maintain funding against higher capitalization, the negative macro impacts from low oil prices have likely already played out," the analysts, led by Jeffrey Currie and Max Layton, wrote.
Goldman also threw a damper on increasing fears that the U.S. could be sliding toward recession, which analysts at Bank of America recently said stands a 1-in-4 chance of occurring. "The U.S. is far from recession," they wrote.
The takeaway for speculators? Short gold.
© Copyright IBTimes 2023. All rights reserved.