'Google In 1998' Search: Easter Egg Flashes Back For Search Engine's 15th Birthday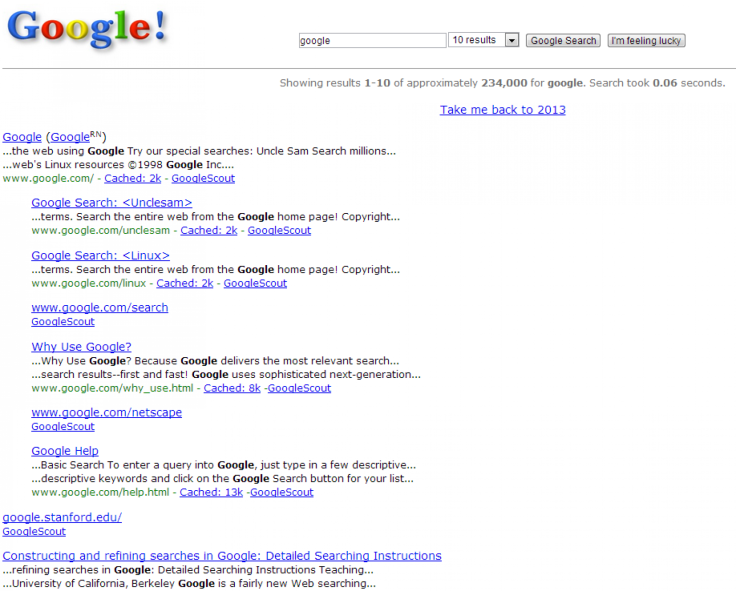 Remember what Google looked like in 1998? Well, today you can enjoy a blast from the past as the search engine giant celebrates its 15th birthday this week with a special Easter egg.
On Thursday, Google's Matt Cutts announced that Google is 15 years old this month and unveiled the latest Easter egg in honor of the anniversary, showing how Google used to look when it launched.
Simply search in the Google search engine bar "Google in 1998" (or click on the previous link) to reminisce.
Last year, Google celebrated its birthday with a birthday cake Google Doodle and unveiled Google underwater maps, a feature similar to the Street View function on Google Maps. However, the software allows users to pan around Australia's Great Barrier Reef, Apo Island in the Philippines, Hawaii's Hanauma Bay in the Pacific Ocean, and three other sites.
However, many Internet historians debate that Google's official birthday is not Sept. 27. According to theGoogle System blog, its actual birthday is Sept. 7, the day it filed for incorporation in 1997 under the name Backrub. That would make the search engine giant 16 years old today, though. Still, many believe Google's birthday should be celebrated when the website officially launched on Sept. 27, 1998.
Google has said in the past that it changes the date "depending on when people feel like having cake."
© Copyright IBTimes 2023. All rights reserved.