Google+ Can Take On Facebook: Six Reasons Why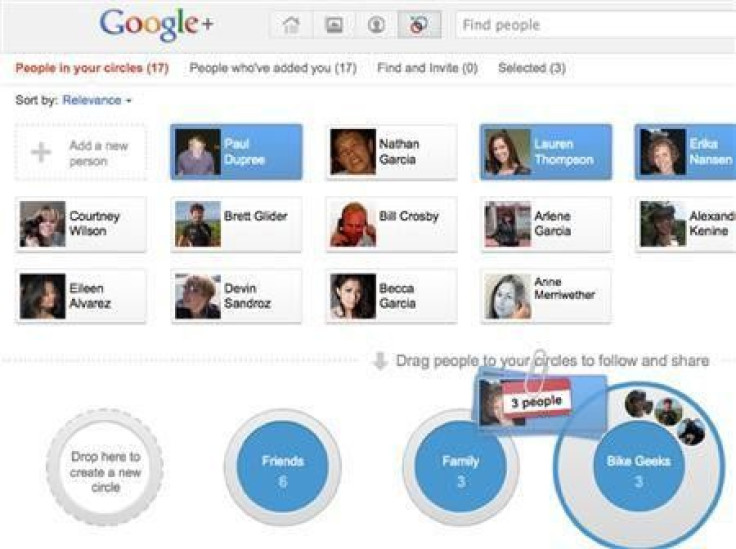 Google+, Google's latest and most serious foray into the social space, has had a fascinating start and it looks good enough to beat Facebook.
It offers some cool new approaches which Facebook doesn't. And, hence, even though now Google+ has just started, it could soon be a solid alternative to Facebook.
Google+ contains the best of Facebook: sharing and discussing status updates, photos and links, but avoids the worst: It allows you to send different updates to discreet groups, instead of worrying about sharing everything to your 10,000 contacts or everyone on the Web.
Here are six ways Google+ can take on Facebook
+Circles:
Google+ is structured similarly to Facebook, where everything is built around profile pictures and newsfeeds. But with Google+, a user's friends and contacts are grouped into specified circles they create, rather than having all friends lumped into one common place.
The refined clustering with Google+ lets users show only what they want to show to different groups, rather than having to reveal all, to all. The idea of sharing things with only a select amount of people leads to possible advantage the company has over Facebook: privacy.
Integration:
The biggest dazzle Google+ has is integration. Almost all the existing Google online services, from Search to Documents to Video, have combined together with Google+. If you've used any Google products before, you might be surprised that information is automatically imported to your new Google+ account. Without ever leaving the current Google service you are using, you can monitor all Google+ events (updates, messages, etc.) as well as share content with friends.
Combined Packaging: Google+ effectively combines the Facebook and Twitter social media programs into one, allowing users to have friends they can share with, and specific groups of friends they can cluster in circles, but they can also follow others, including celebrities or companies, like they can on Twitter.
+Sparks:
Sparks seems to be Google's answer to Twitter. Sparks is for those who use social media to consume news. Sparks pulls in stories, videos and other cool content relating to your specific interest. According to Google, the content in Sparks stream is different from the results you'd get if you put the same term into the search engine.
In other words, through Sparks, you can get an instant fountain of relevant information to share with friends. After you are asked to choose from a list of possible interests (biking, sailing, etc.), or to put your own specific interest, Google+ goes out and searches almost completely on-topic content from all over the Web. In particular, you can choose who you want to share with - a single friend or a group of friends. Facebook can't do this, since it doesn't have search engine. Users of Facebook mush leave the site to find stuff to share or wait until their friends share it with them.
+Hangouts:
Although Google+ has been billed as a Facebook killer, Hangouts seems to be targeting the market currently occupied by Microsoft's latest purchase, Skype. The feature allows users to pull groups together for a simultaneous video chat. It is a feature that Facebook doesn't currently offer and could likely be a big draw for teenagers to socialize with friends.
Whether it's inside a pub or on a front porch, human beings have always enjoyed hanging out. By combining the casual meetup with live multi-person video, Hangouts lets you stop by when you're free, and spend time with your Circles, Google said.
Privacy Approach:
It's not exaggerated that privacy has been the biggest problem that Facebook has faced. It's quite possible that your information is overshared by your boss, your family, or even complete strangers.
In comparison, Google+ has solved this problem quite well. It allows you choose which Circles you want to share that content with. Also, it lets you know clearly that the information you contribute to Google+ will be used to help refine search results.
Another advantage Google+ has over Facebook is their data liberation, which allows you to pack up and take your data away from Google+ should you decide to leave the service. This is a big draw for Google as privacy has always been one of the pet peeves of Facebook and users complain how difficult it is to leave Facebook and take their stuff with them.
© Copyright IBTimes 2023. All rights reserved.