Is Google Docs Down, Not Working? Error 502 Issues With Cloud Site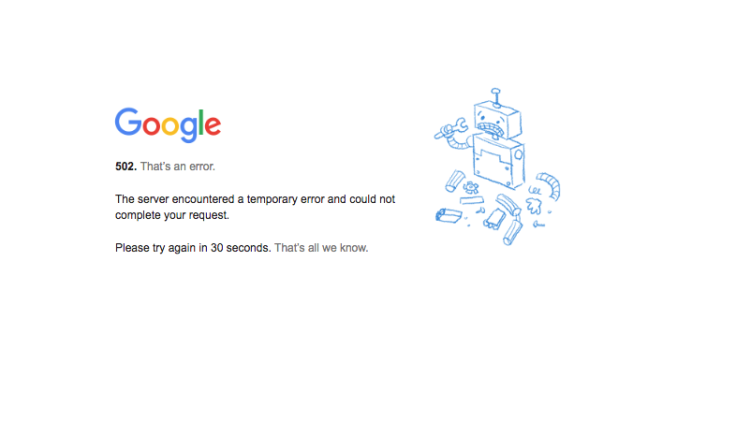 Google users are having issues accessing Google Docs, Sheets and Drive on Wednesday when the site appeared to suffer an outage.
Users were reporting the problems to the crowdsourced website DownDetector. The outage appeared to be impacting users all across the United States as well as those in some countries in South America and Europe. The reports of problems at Google started rolling in a little after 3:30 p.m. EST.
Users were getting "Error 502" messages when they tried to load their Docs that said "The server encountered a temporary error and could not complete your request," the message then asked users to try loading the page again in 30 seconds and finished up with the line, "That's all we know." Users were also taking to Twitter to complain about the outage and inquire about whether they were the only people experiencing the problems.
Some users were still able to access Sheets but were unable to access Docs itself.
If you're having a hard time accessing your Google Drive from Mail, try going directly to the Drive using the link drive.google.com and then selecting the Doc or Sheet you want to open. You might be able to get a Google Sheet open this way. International Business Times reached out to Google but had not received a response at the time that this article was published.
The Google Docs Twitter account was responding to some users who were tweeting about the outage.
Around 4:30 p.m. EST the account tweeted that the company was "actively investigating" the issue.
In response to Google Docs' verified Twitter account, some even ridiculed the service for not focusing on the problem at hand. Many users were frustrated at the cloud's inability to save past work.
Update Thursday, 10:26 a.m. EST: A Google spokesperson told IBT that the disruption only impacted Google Docs users and that the issues were resolved and Docs was back up and running by 5:10 p.m. Wednesday.
© Copyright IBTimes 2023. All rights reserved.