Google Nexus 7 vs. Asus Transformer Pad Infinity TF700: How Do The Tablets Measure Up?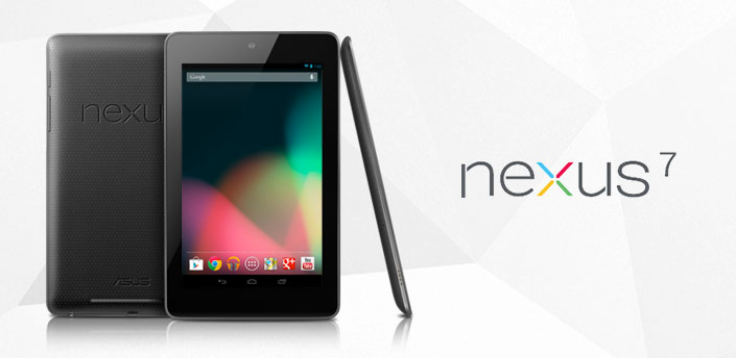 Google has finally unveiled its own Android tablet, the Nexus 7, in collaboration with Asus; however, it will ship the same week as Asus's Transformer Pad Infinity Tf700, which adds another tablet into the iPad rival pool, alongside the Amazon Kindle Fire.
The 7-inch Android 4.1 Jelly Bean Nexus tablet is as light as a paperback book at just 340 grams and is extremely portable. Yet, its small frame is packed with a host of features.
By tapping into Google's Play store, the tablet becomes the ideal device for gaming, movies, apps, e-book and magazines.
As expected, the Nexus 7 comes with a 1280 x 800 display and a Tegra 3 chipset. Its quadcore CPU, 12-core GPU makes navigation and gaming extremely smooth.
In addition to its front-facing camera, WiFi, Bluetooth, GPS, gyroscope and accelerometer, it also has up to nine hours of video playback.
Early on Wednesday, an Asustek executive told Reuters the Nexus 7 would be a rival to Amazon's Kindle Fire.
It's targeting Amazon. The Kindle is based on Google's platform but with its own service, so Google has to launch its own service, too, he told Reuters.
One thing he didn't tell Reuters is that the tablet is set to ship in mid-July, which is a week prior to the Asus Transformer Pad Infinity Tf700.
Asus unveiled its all-new powerful 700 series in January at the Consumer Electronics Show in Las Vegas. The new tablet blew fans away with its 1920×1200 HD resolution that beats most laptops and doubles the brilliance of its predecessor, which comes with 1,280x800 pixels.
While both the Tf700 and Nexus 7 come with a Tegra 3 processor, the Tf700 is clocked at 1.6 GHz and the Nexus 7 comes in at 1.3 GHz.
The Tf700 is also an improvement on the Eee Pad Transformer Prime Tf201, which was released in December. The Eee Pad was criticized for its poor GPS performance, which Asus said stemmed from a metallic unibody design that affects the performance of GPS when receiving signals from satellites. Most of the tablet's glitches have been addressed, changing its back-panel design to increase the performance of GPS, Bluetooth and Wi-Fi, it said.
The Nexus 7 does, however, come with the latest Android 4.1 Jelly Bean software, while the Tf700 runs Android's previous Ice Cream Sandwich.
The Android 4.1 Jelly Bean, set to be released next month, was unveiled at the Google I/O 2012 conference on Wednesday.
Its performance is significantly faster than Ice Cream Sandwich. Jelly Bean is built to harness the power of mobile processors better, and improve CPU utilization, according to Google.
The company calls the new software its butter project, touting its newly improved silky and smooth graphics. Jelly Bean will also feature widgets that can be re-sized and organized by the user manually.
Easier photo sharing, better predictive keyboard, voice typing and voice search are also some of the highlights of Jelly Bean.
© Copyright IBTimes 2023. All rights reserved.