Google Walkout Organizers Commend Changes, But Reiterate Unmet Demands
Google made changes to its sexual harassment reporting policies, but those who organized the massive employee walkout last week to protest issues ranging from to sexual harassment to workplace culture say there is still work to be done to make the firm a more equitable workplace. In a Medium post published on Thursday, the protest's organizers commended the actions Google took this week to address the problem while reiterating their demands that were not met.
Google CEO Sundar Pichai sent an email to all full-time Google employees Thursday addressing some of the demands raised by organizers. Most notably, the tech company will no longer force sexual harassment complaints into arbitration out of court. It will also streamline and improve its reporting process.
Those were two of the major demands made by the organizers, but Pichai did not address some of the others. Google did not add an employee representative to the company's board, nor did it make its chief diversity officer report directly to Pichai. Additionally, many of the changes Google did make seemingly did not apply to the company's huge contractor workforce, who did not receive Pichai's email.
Google parent company Alphabet had more contractors than full-time employees at one point this year. These workers are generally paid less, have fewer benefits and are identifiable by certain badges. In the Medium post, the protest organizers called Google's use of contractors a "modern Jim Crow class system" and criticized Google for not addressing that inequity.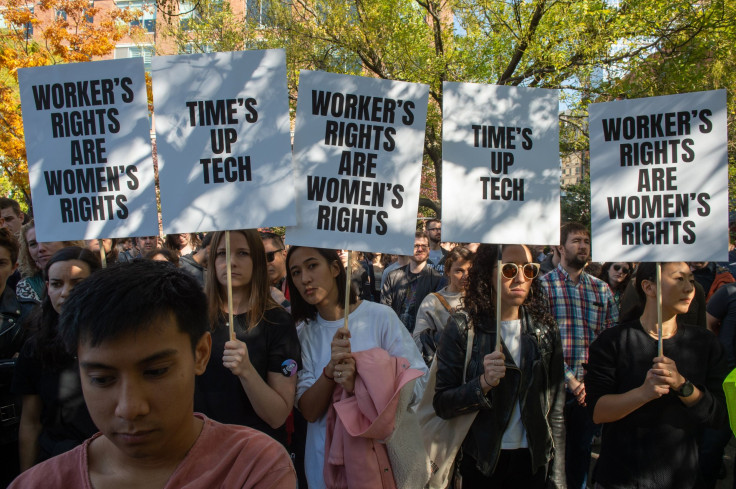 "Contract workers make up more than half of Google's workforce, and perform essential roles across the company, but receive few of the benefits associated with tech company employment," the organizers wrote. "They are also largely people of color, immigrants, and people from working-class backgrounds."
Multiple Google contractors spoke to Gizmodo anonymously and described the harassment reporting process for them as confusing. Google told International Business Times on Thursday that either Google or the suppliers who employ the company's contractors handle harassment cases, depending on the situation.
Finally, the Medium post demanded Google address systemic racism in the company, which includes pay disparities. Google is a predominantly white and male company, per its most recent diversity report. Around 70 percent of its employees are men, and black and latinx employees make up about 6 percent of its workforce combined.
"The process by which we build a truly equitable culture must center the voices of black women, immigrants, and people of color — those who too often pay the most in the face of these intersecting problems," organizer Demma Rodriguez said. "We are committed to making this happen because true equity depends on it."
The walkout was at least partially inspired by a damning New York Times report in October. Google reportedly gave massive payouts to male executives who left the company after credible sexual harassment claims against them surfaced, including Android creator Andy Rubin. Afterward, Pichai admitted Google had fired nearly 50 employees for sexual harassment in the past two years but denied giving them exit packages.
© Copyright IBTimes 2023. All rights reserved.
FOLLOW MORE IBT NEWS ON THE BELOW CHANNELS