Greece Promises 'Compromise' With Creditors, But Markets, Political Leaders Fear Default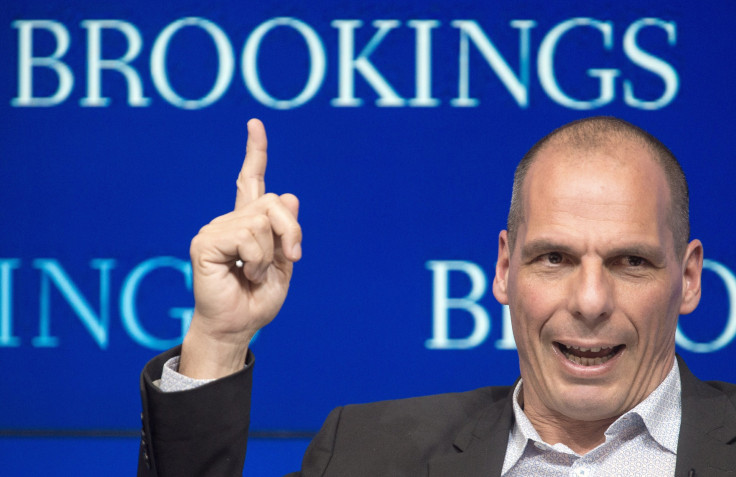 Greek Finance Minister Yanis Varoufakis said Thursday that Syriza-led government was willing to compromise in order to reach a deal with international creditors, but warned that his country's financial situation was increasingly perilous.
"Liquidity is drying up in Greece," Varoufakis said in remarks at the Brookings Institution in Washington. He added that Athens is "not going to sign up to targets we know our economy cannot meet." He said Greece will "compromise for a speedy agreement, but will not be compromised," Dow Jones reported.
He added that the government of which he is a member was elected to "challenge the logic of a program that has clearly failed."
His comments come amid increasing concern in the markets and in European political circles that a Greek default appears increasingly likely.
"Greece is moving ever closer to the abyss," Slovakia's Finance Minister Peter Kazimir said this week, and European Union spokesman Margaritis Schinas reiterated that the bloc was "not satisfied with the level of progress made so far."
German finance minister Wolfgang Schaeuble, also speaking at the Brookings institution, did not back away from the tough line his country has pushed on Greek reforms.
He also dismissed the possibility of Greece resolving its problems by borrowing from Russia or China, suggesting that it would be difficult in the current climate for the country to find willing lenders, the BBC reported.
Furthermore, yields on Greece's three-year bonds shot up to nearly 28 percent on Thursday, as investors priced in a high chance of default, according to the Wall Street Journal.
Confidence was not buoyed by reports that emerged Thursday, that Greece had made an informal approach to the International Monetary Fund (IMF), one of its major creditors, to ask for a delay in a payment of €2.5 billion ($2.7 billion) it owes body, due in May and June.
The IMF flatly rejected Greece's proposal, with Managing Director Christine Lagarde telling the World Bank's spring meeting in Washington: "Payment delays had not been granted by the board of the IMF in the last 30 years. … It's clearly not a course of action that would actually fit or be recommendable in the current situation."
An analysis from the Economist magazine suggested that the request to the IMF showed that Greece itself was not confident that it would be able to agree a package of reforms with its creditors, needed to unlock international funds it needs to stave off default.
On Wednesday this week, ratings agency Standard & Poor's downgraded Greece's credit rating.
© Copyright IBTimes 2022. All rights reserved.
FOLLOW MORE IBT NEWS ON THE BELOW CHANNELS