Greek Crisis: Alexis Tsipras Calls Referendum On Creditor Bailout Terms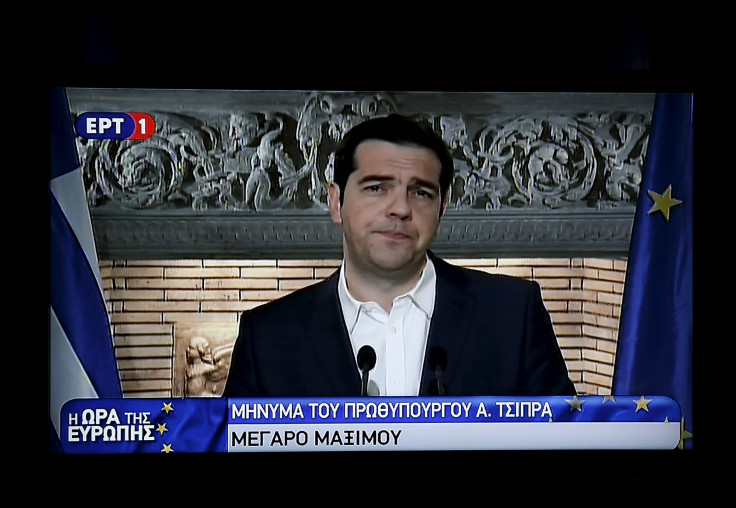 Update as of 6:10 a.m. EDT: A senior Greek politician pledged that the country's banks would remain open, and urged citizens to be calm Saturday, hours after Prime Minister Alexis Tsipras announced a referendum on the bailout deal offered to the country by its international creditors.
"Citizens should not be scared, there is no blackmail," Panos Kammenos, head of the government's junior coalition ally, told local television, Reuters reported. "The banks won't shut, the ATMs will (have cash). All this is exaggeration," he said, echoing previous denials of plans to implement capital controls.
Greeks have withdrawn billions of euros from banks in recent days, over fears that the country's cash-strapped government could implement capital controls. In the early hours of Saturday morning, people were seen queuing up to withdraw cash from automated teller machines (ATMs) in some parts of Athens, according to Reuters.
Original story below
Greek Prime Minister Alexis Tsipras called a referendum on austerity demands made by Greece's foreign creditors on Saturday. Tsipras' move came after another round of talks between Athens and its creditors collapsed on Thursday.
Greek officials say they have already agreed to a set of major cuts to social spending programs, and refused new austerity measures that would slash pension funds -- a deeply contentious subject for the ruling Syriza party that has disagreed with its creditors on the issue since coming to power in January.
Tsipras condemned the creditors' proposals as "blackmail" and announced the referendum later that night. "Our responsibility is for the future of our country. This responsibility obliges us to respond to the ultimatum through the sovereign will of the Greek people," he said in a televised address on Saturday, Reuters reported.
He said he would respect the outcome of the referendum, set to be held on July 5, but warned that the lenders' demands "clearly violate European rules and the basic rights to work, equality and dignity," and said that Greece had been subjected to "humiliation and blackmail."
The talks between Greece and its creditors -- the International Monetary Fund (IMF), the European Central Bank and several European Union nations including Germany -- have become increasingly acrimonious in recent months. Greece has agreed to several concessions, including the privatization of state infrastructure, but its creditors say the country has not done enough.
Greece's coffers are also becoming emptier as the negotiations drag on, and the country lacks access to most major capital markets, leaving it reliant on a bailout fund, which it can only access after meeting the creditors' demands.
Earlier reports had suggested that some members of the Syriza party were planning for an "Icelandic" default that would have seen most Greek banks nationalized and capital controls instituted, but a deputy minister refuted these claims, saying that banks would open as normal on Monday.
Without the requisite bailout funds, Greece will have to declare a default on $1.72 billion it owes to the IMF due Tuesday.
While a default will not necessarily push Greece toward leaving the eurozone, it is expected to significantly increase the chances of the so-called Grexit. Financial analysts worry that a Grexit -- the country's exit from the eurozone -- would wreak havoc on Europe's financial markets.
Wolfgango Piccoli, a researcher at New York-based consultancy firm Teneo Intelligence, warned: "The risk of Grexit has increased considerably, from previously 20 percent to at least 50 percent. ... Avoiding capital controls next week will be very difficult, if not impossible," Reuters reported.
© Copyright IBTimes 2023. All rights reserved.
FOLLOW MORE IBT NEWS ON THE BELOW CHANNELS