Greek Elections 2015: Exit Polls Show Syriza Poised For Close Win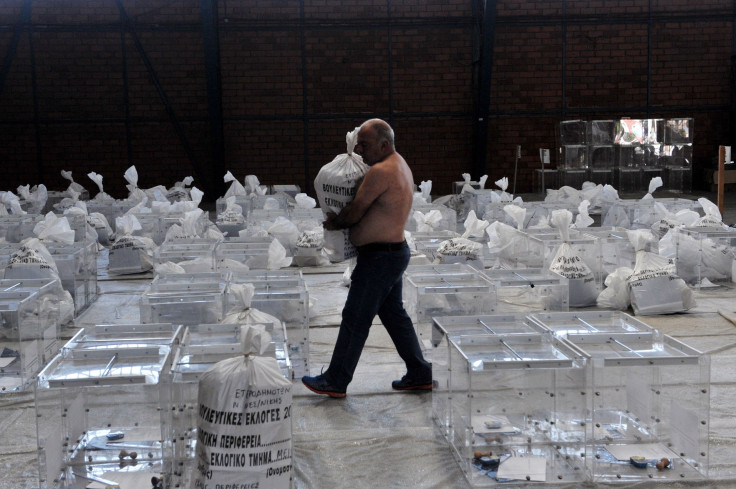 UPDATE: 2 p.m. EDT -- New Democracy party leader Vangelis Meimarakis has acknowledged defeat in Greece's snap parliamentary elections Sunday, according to BBC News via Twitter:
Original story:
Former Prime Minister Alexis Tsipras' Syriza party appeared positioned to win Greece's snap parliamentary elections, while falling short of an outright majority, exit polls indicated Sunday. The elections were triggered after Tsipras resigned in August amid continuing failures to renegotiate the terms of the country's debt with its European lenders.
Syriza was projected to win 33-35 percent of the vote, and the rival New Democracy party was projected to win 28.5-32.5 percent of it, the Associated Press reported Sunday. If neither party achieves an outright majority, as appears probable at present, then the party winning the most votes will have to attempt the formation of a coalition government with other, smaller parties. The leader of the winning party will likely be nominated as prime minister by President Prokopis Pavlopoulos.
After just eight months on the job, Tsipras submitted his resignation in August to clear the way for Greece's snap elections. The former prime minister stepped down following the loss of backing by his party because of the terms of the country's latest bailout agreement.
Syriza won elections comfortably in January after strongly criticizing the budget cuts and other austerity measures imposed under the bailout deal that Greece's previous center-right government had negotiated with the European Central Bank, European Commission and International Monetary Fund, aka the troika.
While campaigning for Syriza this time around, Tsipras pledged to improve the terms of Greece's latest bailout agreement with international creditors should he return to the office of prime minister. He warned voters against a return to "the dark period of corruption, cronyism and power networks" that preceded his administration. And he defended Syriza's record on the latest bailout deal: "The battle to improve it is far from over," AP quoted Tsipras as saying.
Syriza secured an agreement with Greece's international creditors in July over a third bailout worth $94 billion. The deal included pension-reform and privatization measures. The popular outrage over the party's about-face and apparent submission to European creditors triggered violent deomonstrations in Athens. It also caused a major rift among the party's top lawmakers.
© Copyright IBTimes 2023. All rights reserved.