Greek Default: Is Anti-Austerity Dead? European Leaders Watching Greece Crisis Ahead Of Local Elections
Greek activists hijacked the finance ministry in Athens Wednesday and hung an anti-austerity flag encouraging citizens to vote "no" on the coming bailout referendum. The banner that read "no to blackmail and austerity" echoed Prime Minister Alexis Tsipras' stance, which has seen the country gripped by continuing bank closures and a tumbling European economy. But across Europe, the anti-austerity movement that has sprung up in recent years amid far-reaching government budget cuts might be losing its faith.
Tsipras was elected on his anti-austerity platform in January and his win was seen as a victory for those opposed to austerity in Europe. The leaders of other anti-austerity groups in Spain, Ireland and Italy cited Tsipras' Syriza party as a model for their own political movements against the austerity measures enacted by the European Union in recent years. But with the Greek economy now spiraling out of control, some European voters might be losing faith in the promises of sovereignty and reinstated social programs made by anti-austerity groups in their home countries. It's a shift that could spell trouble for the success of Podemos in Spain, Sinn Féin and the Anti-Austerity Alliance in Ireland, and the Five Star Movement in Italy.
"What we're seeing [in Greece] will have negative implications for the electoral appeal of these parties around Europe," said Jacob Funk Kirkegaard, a research fellow at the Peterson Institute for International Economics in Washington.
The chaos in Greece reached a fever pitch Tuesday when the government defaulted on its scheduled $1.8 billion bailout repayment to the IMF, becoming the first developed nation to do so and effectively putting the nation's economy on lockdown. Greece will hold a voter referendum on the crisis Sunday, when Greeks will be asked to accept or reject proposals made by creditors last week. Tsipras is urging a "no" vote.
Across Europe, austerity measures were put in place in 2010 as part of the bailout brokered by the European Union during the recession. Countries like Portugal, Ireland, Italy, Greece and Spain had to slash billions of dollars of national spending as part of their debt agreement with the IMF. In Greece, these measures included higher taxes, a decrease in benefits and pension plans, as well as cuts to many other social services in exchange for the $1.8 billion loan from the IMF. The anti-austerity movements sprung up as a reaction to what citizens perceived as a steep decline in the quality of life.
The Spanish Podemos party, translated to English as "We Can," is one of the most successful anti-austerity groups in Europe and made huge strides in destabilizing the major Spanish parties during the elections on May 24 with several mayoral victories in large cities. Spain has been hit particularly hard by the recession, with youth unemployment rates nearing 50 percent and some families living off as little as 485 euros ($540) a month, according to Trading Economics.
Podemos activist Javier Juan Tur explained in an email interview this week how he started supporting Podemos because he felt the country needed real change. The 55-year-old photojournalist said life in Spain had become "impossible" under austerity.
Podemos built its party around grassroots organizing, trying to create a radical shift to a town hall style of government that hasn't been seen for decades. Binoy Kampmark, a professor of global studies at RMIT University in Melbourne, Australia, who has researched anti-austerity movements in Europe, categorized Podemos as a group that is "essentially bypassing traditional power channels" and could therefore be an enemy to the European project.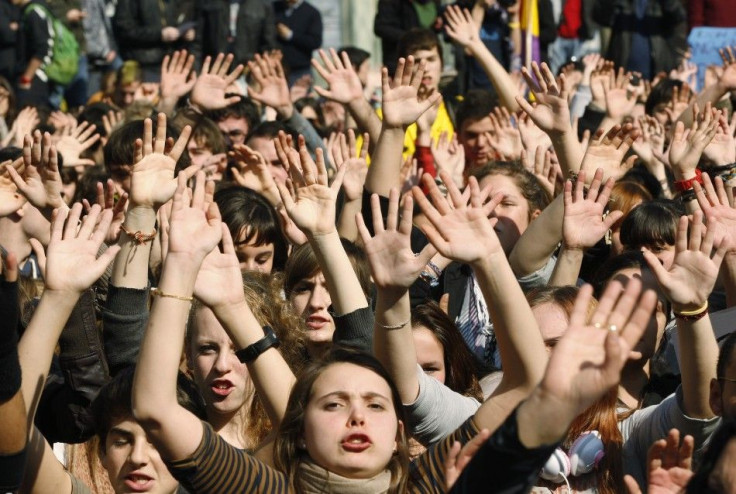 Historically, Syriza and Podemos have been ideologically similar, and Podemos Secretary General Pablo Iglesias made many public appearances at rallies with Tsipras ahead of the Greek election in January. Following Greece's default, Iglesias issued an official statement voicing his support for both Tsipras and the Syriza party. In it, he faulted European creditors for being unwilling to budge on debt restructuring and inisited that the blame for the crisis did not lay with Syriza. Iglesias ended the statement by saying that being pro-austerity was the same as being anti-democracy.
If his statement is in line with Podemos' radical roots, the actions of the members in office are more measured. In making the shift from campaigning to governing, Podemos has become more amenable to compromise, according to Kirkegaard. Both Mayor Ada Colau of Barcelona and Manuela Carmena of Madrid, who were elected this month by Podemos supporters, have focused their campaigns more on the local economies of their respective cities than on broader European Union politics.
Of the countries affected by austerity measures, the executive leadership in Italy has been the most collaborative with the EU. Prime Minister Matteo Renzi and President Sergio Mattarella are both part of the ruling Democratic Party and have been active proponents of austerity. Still, the anti-austerity Five Star Movement, led by Beppe Grillo, and the Left Ecology Freedom, led by Nichi Vendola, together represent almost 25 percent of Italians, trailing Renzi's Democratic Party by only 12 percent, according to Metapolls, which tracks global voting trends. Like their counterparts in Spain, many members of the party won important positions in the most recent election, including mayoral seats in several large cities.
Italy's public debt exceeds 2 trillion euros ($2.2 trillion) and some fear that the aftermath of Greece's collapse could spill into Italy. "If Greece leaves the euro, the Brussels house of cards will face serious repercussions," Italian lawmaker Matteo Salvini told Sputnik, a Russian news site Thursday. "I do not say that everything is due to automatically collapse the following day, but for sure, that would exactly cause a domino effect in the economically disadvantaged countries."
To the north in Ireland, anti-austerity parties are radicalizing instead of compromising. The two major Irish parties that have supported Syriza are Sinn Féin and the Anti-Austerity Alliance. According to a May poll in the Irish Times, Sinn Féin is supported by 21 percent of the population, making it the second ranking party behind Fine Gael.
One of the most recent austerity measures in Ireland that has become a rallying point for anti-austerity leaders is a proposed water tax. Irish people were outraged at the prospect of paying for water -- considered a human right -- and the Anti-Austerity Alliance has begun building its general election platform in opposition to the water charges.
Both Sinn Féin and the Anti-Austerity Alliance leaders have said they remain unwavering in their belief that anti-austerity is the best way to stimulate the European economy and to ensure social services for all citizens. Joe Higgins, a member of the Irish Parliament from the Socialist Party, called austerity measures "bullying" in an email interview and said his group would rally behind its "sister party" in Greece.
Paul Murphy, one of the only members of parliament from the Anti-Austerity Alliance, insisted that his party's platform will not change during the general elections next spring and that members will continue to support the current Greek government. The Anti-Austerity Alliance has distanced itself from Sinn Féin, believing it too complacent and willing to work within the current European system.
When asked whether Tsipras' failure was indicative of the limitations of anti-austerity, Murphy was adamant that anti-austerity was not the problem.
"The election of a left government is just the start of the process because you'll be faced with massive opposition from the internal establishment, but also the European establishment," he said, adding that the achievement of their agenda can only be completed with "radical mobilizations from below."
© Copyright IBTimes 2023. All rights reserved.
FOLLOW MORE IBT NEWS ON THE BELOW CHANNELS