'Greekovery' (A Rebound In The Greek Economy) Remains Elusive, Despite Hopes, Hard Work And Bluffs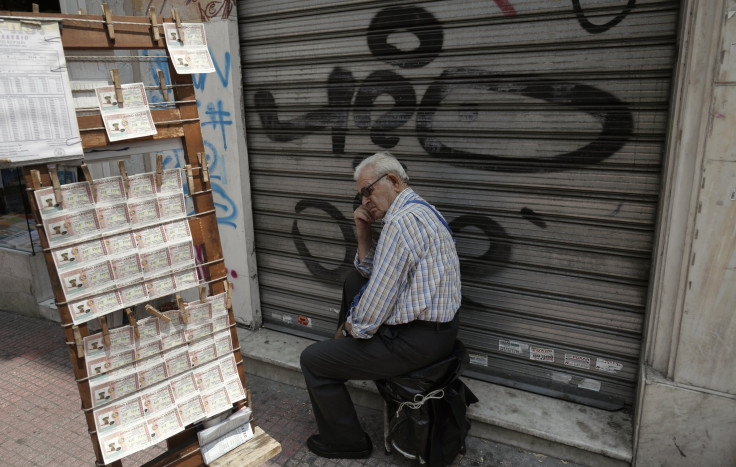 Grand chandeliers illuminated the wine-colored room as a smattering of bankers, investors and journalists gathered to listen to Yanos Gramitidis speak. It was a sunny June morning in New York's Plaza hotel, and the president of the American-Hellenic Chamber of Commerce hoped to sow seeds of business for Greece, his homeland, a nation whose name has become synonymous with economic anemia. He was there to make a pitch: Greece is making a comeback, and it's time to invest.
Sounds like a fool's errand but recently there have been signals that Greece may indeed be rebounding -- and they were on full display at the Plaza. Greek share prices have doubled in the last year, officials from the Athens Stock Exchange boasted. Investors who purchased 30-year Greek government bonds last July have quadrupled their money. The government's borrowing costs on 10-year bonds fell by 1 percent, the lowest level in three years, in May. Ministers touted the term "Greekovery" and scoffed at "Grexit," a portmanteau referring to a possible exit from the euro zone.
Just two weeks before, the euro zone's finance ministers agreed to release 7.5 billion euros, or $9.6 billion, of bailout funds to Greece. The next day, Fitch Ratings upgraded Greece to B- from CCC, saying the country is showing signs of "rebalancing."
Most of all, Greece was on course to sell off enough assets to meet the 1.8 billion-euro privatization target set under its European Union/International Monetary Fund bailout.
"Today I can say with confidence, not simply with hope, that Greece has changed, that Greece is a great place to invest, that you should not pass up this opportunity," Gramitidis told an audience of fewer than 100 in the gilded ballroom.
Sadly, the ballroom was really a stage set for a continuing Greek tragedy. For all but the risky investor, now is not the time to put your money in Greece, which is still an odyssey away from recovery.
In the weeks that followed, a foiled deal smashed the country's hopes of selling off enough state assets to meet the 1.8 billion-euro privatization target set under its European Union/International Monetary Fund bailout. Workers in various sectors went on strike to protest cuts to the health system. Attempts to save money by shuttering the public broadcaster, ERT, sent thousands picketing in the streets, ultimately diluting the decision.
While officials from the Athens Stock Exchange and other Greek trade bodies flirted with the financial heavyweights gathered at the Plaza, offering an elaborate banquet of mushroom ravioli and brisket and gift bags with Greek-pressed olive oil, Prime Minister Antonis Samaras was courting a bigger player: Russia's energy giant OAO Gazprom.
The Kremlin-controlled company was expected to make a bid for Greece's natural gas firm, DEPA. Samaras met privately with CEO Alexej Miller. Then, he extended the deadline by which Gazprom could make an offer. The sale was expected to raise as much as $1 billion.
But when the Monday morning zero-hour yielded zilch –- Gazprom did not bid, at all -- the entire plan was thrown into disarray. The company faced "serious problems with nonpayments of consumers," Gazprom told International Business Times in a statement, and the Russian giant "didn't receive any sufficient guarantees that the financial standing of the DEPA company won't worsen by the time of the transaction end." The deal would have taken about a year to close.
So what was Greece to do? The Troika – the joint entity of the International Monetary Fund and the European Union's European Commission and European Central Bank that bailed Greece out in May 2010 – was breathing down its neck. And Fitch's credit upgrade to B- -- which, it's worth noting, is still considered junk status – could easily slip, if Greece showed greater signs of political or economic instability. Failing to make privatization reforms on time would be indicative of the latter. But the steps the country had to take to avoid that could push it toward the former.
Sure enough, Samaras put ERT, Greece's state broadcaster, on the chopping block. In one swoop, Greece's equivalent to the BBC or NPR was taken off the air, with just a day's notice.
At first, it seemed like a smart move. The roughly 2,600 ERT-fired employees influenced the Eurogroup Working Group, a collection of deputy finance ministers and senior treasury officials, to approve a 3.3 billion-euro payment. "The ERT shutdown certainly helped," an anonymous official from the group told Reuters.
But then came the political instability.
Hundreds protested on the first day that screens went black. Alex Tsipras, the leader of the main opposition party, Syriza, called the move a "coup d'etat." Then, public workers began striking and staging protests outside the state broadcaster's headquarters in Thessaloniki. By Thursday, buses and subway trains were all but cut off as transportation workers went on strike.
And this past Monday, a Greek court – the Council of State – backed Samaras' plan to replace ERT with a new, leaner broadcaster later this year, but also upheld his opposition's position to restore the news service's signal in the interim. The euro zone's reaction to the ERT turnaround remains to be seen.
And as Samaras has rearranged his cabinet in an attempt to restore order, he installed Adonis Georgiades as minister of health, causing huge dismay. The new official is a conservative extremist, who hosts a talk show on which he glorifies the wonders of Greek antiquity. His appointment caused even more protesters to take to the streets.
The Athens Stock Exchange remains very sensitive to any economic rumblings. The DEPA failure sent the market plummeting more than 5 percent in a day. And Sokrates Lazaridis, the chairman of the exchange, told IBTimes he must remain tight-lipped at all times, fearing that any speculation on his part could have drastic repercussions for the market. In an interview, the tall Greek official frequently deferred questions to a worksheet of data charts.
"In a globalized world, additional sensitivity is needed on the circulation of viable information," he said, suddenly crossing his legs in an armchair at the Plaza. "We are very …" he trailed off, fumbling with a pack of cigarettes as he selected his words in English, "we are speaking only with data."
His nervousness aside, there are some factors that may blow some wind in Greece's sails.
Can Greece Be Reborn As An Emerging Market?
Last week, MSCI, the influential index provider, downgraded Greece from its developed country index to emerging markets –- the first time the group relegated a country from developed market status. The Athens Stock Exchange fell 3.2 percent in a day.
But this new status may be exactly what the country was looking for.
"We have the characteristics of an emerging economy," Gramatidis told IBTimes. "Greece is a small country, and we can play a quiet, significant role, especially in our neighborhood."
The economic and political uncertainty that plagued Greece as a developed market attract the sort-of risky bets that investors in emerging markets make. "With Greece being in the euro zone but classified as emerging markets, a number of Greek corporates will have a relative edge to similar comparables in emerging markets," Achilles Risvas, manager of a Greece-focused hedge fund at Dromeus Capital, told the Financial Times.
But Greece remains a country in political flux. And, while seizures of foreign assets by host countries in emerging markets have decreased since 1980, other political risks, such as potential regulator actions, remain, according to research from Verizon Enterprise.
Will Venture Capital Spark A Revival?
Greece's traditional industries – tourism, shipping and agriculture – have not bounced back in any magnificent way. Sure, Greek wines are selling in Asia, especially China, Gramatidis said. And the U.S. has developed a real taste for Greek yogurt. But tourism isn't where it once was and, shipping tends to support non-Greek companies and workers.
"Salaries of Greek sailors are very high compared to foreign competitors," Gramatidis said, comparing the average 12,000 euros earned by a Greek engineer on a ship to the 8,000 a Russian will accept.
Several venture capital firms and incubators – including Odyssey, First Athens, Openfund 2 and PJ Tech Catalyst -- have opened their doors to Greek startups, together handling at least $114 million in funds, Quartz reported.
And as more funding rolls in –- Lazaridis said many companies listed on the Athens Stock Exchange have been raising capital –- new jobs may emerge, helping to bolster a Greek comeback.
However, Europe's startup capitals tend to be more attractive hubs for venture capital. Why invest in Greece, which offers only nominal stability, when Berlin –- often called Europe's Silicon Valley –- and, though not in Europe, Tel Aviv, absorb much of the money flowing to the Mediterranean?
Perhaps Greece Just Needs To Pay Up To The Taxman
Last month, the IMF told Greece to step up efforts to tackle its "notorious" tax evasion.
"The rich and self-employed are simply not paying their fair share, which has forced an excessive reliance on across-the-board expenditure cuts and higher taxes on those earning a salary or a pension," the IMF wrote in its report.
In August 2012, a paper published by three professors in the U.S. found that an estimated 28 billion euros of unreported income plagued Greece's tax system, further setting back the country's attempted rebound.
Indeed, with so many structural issues still to address, a full-fledged Greek economic turnaround seems far off still, despite some indications that a "Greekovery," in some form, may be slowly emerging.
But for now, it appears that the epic of Greece's economic woes could make "The Illiad" feel like a short story.
© Copyright IBTimes 2023. All rights reserved.
FOLLOW MORE IBT NEWS ON THE BELOW CHANNELS