Gulf States Negotiating To Buy Israeli-Made Iron Dome Anti-Missile Technology Amid Fear Of Growing Iranian Arsenal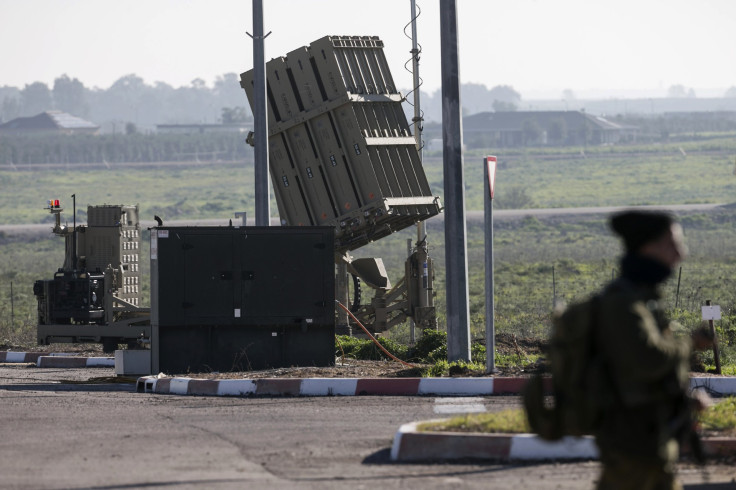 Gulf nations are reportedly in advanced-stage negotiations to purchase the Israeli-developed Iron Dome anti-missile system amid fears of a growing Iranian weapons arsenal, Sky News reported Tuesday. The technology has reduced the impact of rockets fired into Israel from the Gaza Strip by about 90 percent, and was expected to be bought indirectly through American weapon contractors, including Raytheon.
"The Israelis have their small Iron Dome. We'll have a much bigger one in the [Gulf Cooperation Committee]," Khalid Bin Mohammed al Khalifa, Bahrain's foreign minister, told Sky News. The deal could be worth hundreds of billions of dollars, and the technology would likely be set up to defend a number of countries. The GCC Includes Saudi Arabia, the United Arab Emirates, Qatar, Bahrain, Oman and Kuwait.
A few years ago, the sale of weapons developed in Israel would have been far more controversial, but these days, both the Gulf states and Israeli citizens and officials consider Iran a significant military threat. Arab states fear the Iran nuclear deal, which is expected to see crippling international sanctions against Tehran lifted in exchange for a commitment from Iran to freeze its nuclear program, will embolden Iran and allow its leaders to build up the country's military. In recent years, Saudi Arabia, Iran's regional competitor, has become one of the world's greatest exporters of weapons.
Iran said it tested a new precision-guided ballistic missile Sunday, signaling the country was invested in improving the accuracy of its missile arsenal, Reuters reported Wednesday. The U.S. said it would raise the issue, which officials said violated United Nations resolutions, at the U.N. Security Council.
"Iran has been trying to undermine and topple government in our region for years," the Bahrain foreign minister said, according to Sky News.
Israel developed its anti-missile system to protect the country from rockets from both Gaza and Lebanon. The Iron Dome was developed by Rafael Advanced Defense System, an Israeli weapons giant. Israel has used the technology since 2011 but has so far remained its only buyer.
© Copyright IBTimes 2023. All rights reserved.