Haitians Vote In Landmark Elections On Sunday As Security Tightened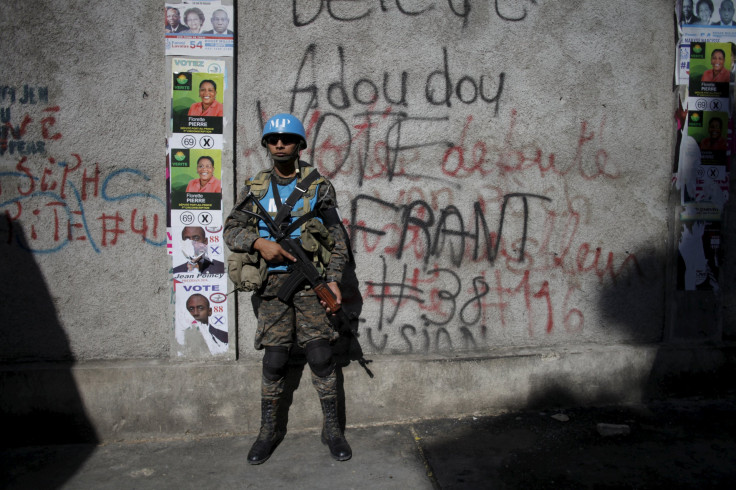 PORT-AU-PRINCE (Reuters) - Haitians go the polls on Sunday in landmark elections for president, parliament and mayors that officials hope will cement democracy in the hemisphere's poorest country.
More than five million registered voters will choose from 54 presidential candidates who appear on the crammed ballot with facial images, party logos and an accompanying party number to help a vast illiterate population.
If all goes smoothly it will be first time in Haiti's rocky political history that three democratic elections have been held in succession without interruption by fraud or armed rebellion.
The successor to President Michel Martelly next February is expected to be one of two candidates, Jovenel Moïse, owner of a banana exporting business in the north of the country, and Jude Célestin, a Swiss-educated mechanical engineer who previously headed a government construction agency.
Moïse, 37, represents the ruling Parti Haitien Tet Kale (Haitian Party of Bald Heads) named after Martelly's famously smooth scalp.
He is running neck and neck in polls with Célestin, 53, who heads the LAPEH Party (Alternative League for Progress and Emancipation of Haiti).
A runoff for the presidential race between the top two candidates is scheduled for Dec. 27.
Martelly, a popular singer, shook up the political order with his election victory in 2011 as the country was still reeling from a devastating earthquake. But critics say he failed to halt to corruption and political infighting, which has held back foreign investment.
Security is being tightened after violence disrupted voting in August during the first round of legislative elections.
On that occasion Haiti's 12,000 strong National Police proved woefully inadequate to handle gangs of rival political activists who attacked polling stations.
A longstanding U.N. security force in Haiti is also at its lowest level in a decade, down to just 2,600 police and 2,370 military personnel.
Widespread distrust of the electoral council, the body tasked with organizing the elections, has also fueled fears of renewed violence.
The sheer number of candidates could be a recipe for chaos with more than 100 political accredited parties entitled to have a poll watcher at every polling center.
The poll watchers are official representatives of the political parties sent to polling stations to watch for fraud. Many voters complain they amount to nothing more than paid thugs sent to intimidate voters into selecting certain candidates.
© Copyright Thomson Reuters 2023. All rights reserved.