'Halt And Catch Fire' Season 3: 6 Burning Questions After The Season 2 Finale As Fans Wait For Renewal News [VIDEO]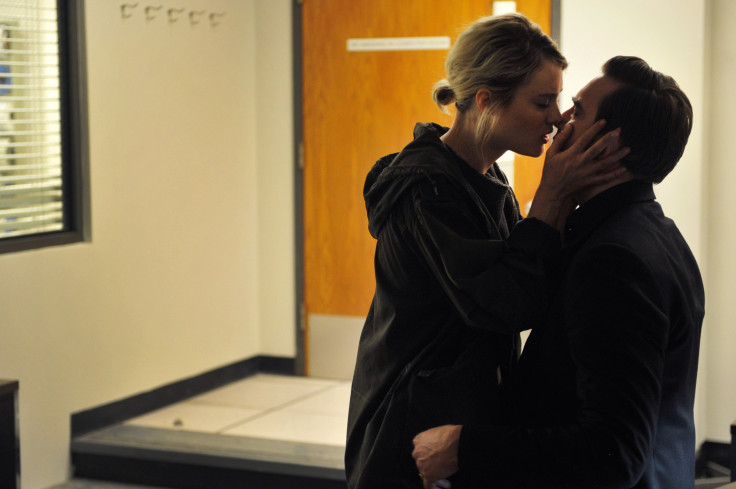 Fans of the AMC series "Halt and Catch Fire" are in a holding pattern, waiting to hear if the cable network will cancel or renew the acclaimed tech drama for a third season. Either way, loyal viewers can not help but speculate as to what would happen in California if the show is given another shot. The Season 2 finale left fans with a lot of questions. Hopefully, AMC will give the writers a chance to deliver the answers.
Here are 6 questions fans will be asking if "Halt and Catch Fire" is renewed for a third season:
1. Will Joe Be The Villain?
"Halt and Catch Fire" ended on quite an ominous note, panning back as a solo Joe MacMillan (Lee Pace) looked over Silicon Valley from the window of the cold, lifeless office space he had just purchased for a his venture capitalist-backed software security upstart. The project, inspired by Gordon Clark's (Scoot McNairy) attempt to undo the damage done by Sonaris, was a metaphorical response to Joe's new personal philosophy -- post Cameron (Mackenzie Davis) and Sarah (Aleksa Palladino) hanging him out to dry -- that letting anyone in or being vulnerable was bad news. Joe would join Mutiny in California in Season 3 and that isolation, combined with the foreboding in that final shot and Joe's cutthroat, cyber terrorist-like "sales pitch" to his financial backers, set the character up as a the villain of the series going forward.
However, as Mutiny shifts towards social networking, what threat can Joe pose to the company? Sure, his mere presence has been known to cause some emotional turmoil, but shy of refusing to cut Mackenzie and company a deal on security software, what tangible harm can he do to their vision now? Would he really be the villain of Season 3?
Watch Joe "pitch" antivirus software in the "Halt and Catch Fire" Season 2 finale:
2. Will Gordon Respond?
After nearing the brink the of divorce in Season 2, Gordon and Donna (Kerry Bishé) decided to move their family to California to work on a main frame together as co-employees of Mutiny. Will the plan save their marriage? Not so fast! When Gordon found out that Joe had netted millions of dollars to start his antivirus company, Gordon seemed to be hit with a wave of feeling ranging from frustration (Joe kind of stole his idea) to jealousy (he could have been a part of it). Gordon vowed to leave behind his more selfless ambitions to buy into working on his family in California, but will hearing the news about Joe tempt him to stray from that path?
3. Will Gordon And Donna Stay Together?
Speaking of Donna, she has still not told her husband that she had an abortion in Season 2. When Gordon, feeling optimistic about their California relocation, raised the idea of having another child, Donna had to excuse herself for a mile-high breakdown in the bathroom. Odds are the abortion would not stay a secret too long in a third season. Would the reveal, along with Gordon's own issues, be too much for their marriage to survive another season, even in sunny California?
4. Will Mutiny Survive?
Of course, the main reason everyone is headed to California at the end of Season 2 is Mutiny. Cameron made the decision to head West, where a cheap network main frame was available, and take complete control of her company's own destiny. Will the gamble pay off? There will certainly be many challenges in the relocation, least of which will be contending with a possibly vengeful Joe MacMillon. Mutiny has abandoned games for an interactive social networking platform, though, doubling down on the success of Community. What would develop in Season 3?
5. Have We Seen The Last Of Tom?
One challenge for Cameron in California would be having left Tom Rendon (Mark O'Brien) behind in Texas. The couple broke up when Tom decided it was clear that Cameron had not left Joe in her past, but Cameron bought the programmer a plane ticket to join Mutiny out West. Unfortunately for Cameron, Tom did not show. Have fans seen the last of that relationship?
6. Will Cameron and Joe Reunite?
If Tom is indeed out of the picture, then, theoretically, things would be clear for Joe and Cameron to reconnect, now that Joe and Sarah are divorced. Considering the last time the two saw each other, Cameron sabotaged Joe's career, it would be wishful thinking to assume they are anywhere near reconciliation, but perhaps time and a new setting could heal the old wounds. After all, something in Cameron's speech and that kiss in West Group had to be genuine, right?
Watch Joe and Cameron's kiss in "Halt and Catch Fire" Season 2, episode 9 below:
Bonus Questions:
1. What role will Bosworth (Toby Huss) play in California? How will the old school Texan handle the relocation?

2. What brought Yo-Yo (Cooper Andrews) back to Mutiny?

3. Will the show further address Lev's (August Emerson) homosexuality in California?
What questions do you want answered in a potential "Halt and Catch Fire" Season 3? Tell us in the comments section below.
© Copyright IBTimes 2023. All rights reserved.