Here's Why Sales Of Apple's iPad Are Crashing (And What Could Save It)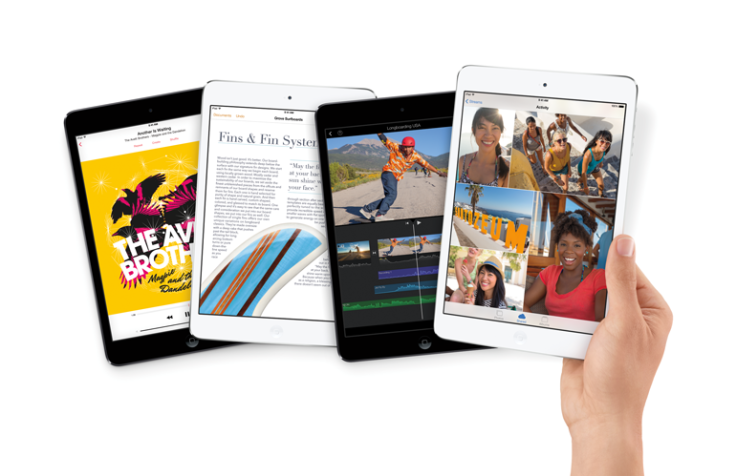 When Apple introduced its first iPad in 2010, many thought it was ushering in the post-PC era of consumer electronics. Indeed the launch of the iPad opened the first new category in consumer electronics in years, but now the bloom is off the rose. The iPad -- and the tablet market in general -- is struggling. Best Buy CEO Hubert Joly described the tablet market to Recode as "crashing."
It turns out the tablet and the PC are a lot more alike than their manufacturers would like to believe. That is, upgrade cycles that look more like a PC at three years- plus versus a phone at two years. "Once you have a tablet of a certain generation," he said, "it's not clear that you have to move on to the next generation."
That's reflected in Apple's numbers. Despite the growth of iPhone sales in the quarter ending in June, sales of Apple Inc.'s (NASDAQ:AAPL) iPad declined 8 percent to $5.8 billion. At the same time Mac desktops and notebooks have seen sales surges of $647 million or 13 percent.
But a slower-than-anticipated upgrade cycle for tablets is just part of the story. Some critics blame the iPad's apparent lack of innovation for the ongoing sales slump. Others blamed larger smartphones for the decline in tablet sales. So what are the big factors holding back iPad growth?
A Longer Upgrade Cycle
For one thing, tablets have a much longer replacement cycle, with fewer advances with each tablet release. "[Apple] is still making significant progress, but it is less pronounced," Roger Entner of Recon Analytics told International Business Times. "For the consumer, there's less of a pressure to upgrade."
In comparison, smartphones and other handsets have more apparent differences with new features and upgrades with each cycle, leading users to replace their devices more often, Entner added.
Carrier Subsidies
Subsidies have also historically fed mobile replacement cycles in the United States, offering mobile users access to expensive iPhones and other smartphones at a more palatable upfront cost. The introduction of early upgrade financing plans, such as AT&T's (NYSE:T) Next, has the potential to further accelerate those replacement cycles. Unfortunately, tablets such as the iPad aren't afforded the same luxury.
While some users can obtain a subsidized cellular tablet for little to no upfront cost with a qualifying data plan, most opt for a Wi-Fi-only tablet or iPad. Without the subsidies, iPad and tablet purchasers are left spending anywhere from $300 to $500 upfront for the device, which also has the secondary effect of slowing replacement cycles.
Tablets Aren't Replacing PCs
Tablets are great devices for consuming content, but they continue to lack the ability to create content. It's easy to write short emails and create short mockups using tablets, but they're still far from the ideal product. The release of OS X Yosemite and iOS 8's continuity features may help fix this problem by allowing users to use each device for what they're best at. "I think it's more coexistence than extinction for the PC," Entner said.
Despite the differences, PCs and tablets are similar in that users aren't compelled to replace them as frequently as smartphones. The closest comparison to tablet replacement cycles are PCs, which often are swapped out every three to four years by consumers, according to Entner. But he stopped short of calling the PC and tablet replacement cycle the same, since tablets are still a nascent market.
Foreign Markets
Entner believes that the Apple iPad sales slump is ultimately part of the cycle, but subsidies for data-enabled iPads and tablets could potentially help sales.
But according to Jeff Orr, an analyst at ABI Research, volume sales may be what is needed to make up for Apple's iPad revenue decline. "With volume shifts to lower-priced iPad mini and mini with Retina display SKUs, volume growth is the only way to make up the revenue shortfall," Orr said via email.
But Apple's entry into markets outside the U.S. and Europe may also be its saving grace. With Apple claiming that 50 percent of iPad purchases in Q3 were first-time owners, ABI believes that this trend is also conceivable in these new markets.
"ABI Research has been explaining the shift in tablet market growth as a result of purchase interest moving away from the U.S. and Western Europe and into the next wave of markets (countries)," Orr added. "We still believe this is the leading change worldwide."
© Copyright IBTimes 2023. All rights reserved.
FOLLOW MORE IBT NEWS ON THE BELOW CHANNELS