Hewlett-Packard Units To Report Earnings For First Time Since Split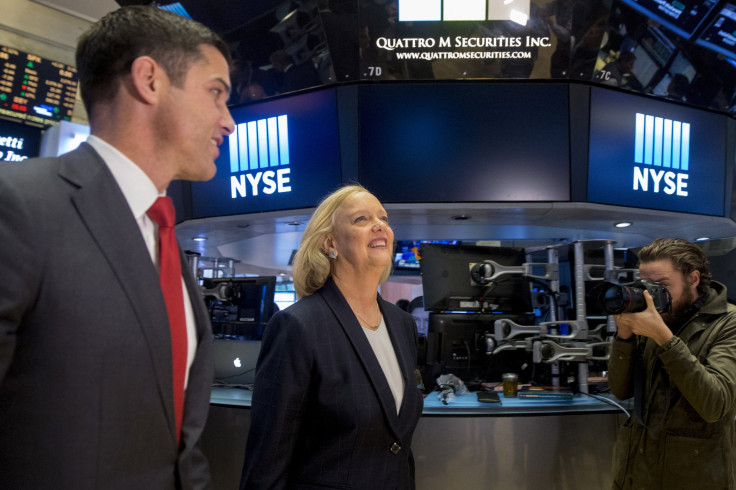 Hewlett Packard Enterprise and HP Inc. report earnings Tuesday for the first time since they were split up earlier this month. The companies release their fourth-quarter financial reports after U.S. stock markets close Tuesday.
Hewlett Packard Enterprise -- which will continue to be headed by Meg Whitman, who led the original company since 2011 -- is expected to report earnings per share (EPS) of 52 cents in its fiscal fourth quarter. The company will focus on computer networks and services for businesses and on cloud services. HP Inc., which produces printers and PCs for the consumer market, is expected to report EPS of 44 cents, according to MarketWatch. Last year, the combined company earned 70 cents per share in the fourth quarter.
HP Inc is well understood but investors in Hewlett Packard Enterprise will be looking for statements and evidence on how it will boost revenue and margins, and penetrate the cloud computing industry, according to TheStreet's portfolio analyst Scott Berman.
Investors are also interested in Hewlett Packard Enterprise's acquisition plans. The company is hamstrung by not yet having a cloud computing offering -- which corporate customers are demanding -- to compete with Microsoft, IBM, Oracle and Amazon, the Wall Street Journal reported, at the time of the split.
HP Inc, on the other hand, is in an "anemic" market with PC sales declining, MarketWatch cited RBC Capital Markets as saying. But the split will allow the company, which enjoys high margins, to reinvest profits back into the business instead of subsidizing the corporate business, the Journal reported.
Aside from splitting into two different businesses, the company has also been in the news because it was formerly led by 2016 Republican presidential candidate Carly Fiorina. Her decision to buy Compaq Computer in 2001 as the PC industry headed into decline, has been brought up during the campaign to question her management credentials.
© Copyright IBTimes 2023. All rights reserved.
FOLLOW MORE IBT NEWS ON THE BELOW CHANNELS