High-Speed Trains In China: New Traction System To Enhance Bullet Train Speeds To Over 310 MPH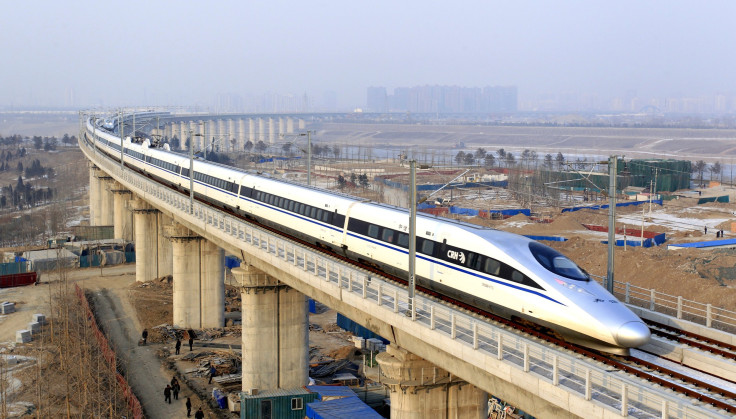 China has developed a traction system that will allow trains to run at a speed of 500 kilometers (310 miles) an hour, the country's state-run China Daily reported Monday. The new system is expected to help China, which has in recent years built thousands of miles of high-speed rail, become a world leader in the sector.
The new 690-kilowatt traction system was developed by China's CRRC Corp at its Zhuzhou Institute in Hunan province, and is expected to enter mass production soon, China Daily reported, citing Ding Rongjun, a member of the Chinese Academy of Engineering, who heads the Zhuzhou institute. According to Ding, only a few countries, including Germany and Japan, can manufacture the sophisticated traction system.
"Now we have our own permanent magnet synchronous traction system with full intellectual property rights, marking a new chapter in China's high-speed railways," China Daily quoted Ding as saying.
Research on the advanced traction system began at Zhuzhou Institute in 2003, after leading rail-equipment manufacturers, such as Germany's Siemens and Canada's Bombardier, were reportedly interested in acquiring traction equipment.
According to reports, engineers overcame several technical difficulties before completing the development of the system in 2011. The advanced traction system was then successfully tested on trains running on Subway Line 2 in Shenyang, Liaoning province. On May 16, 2015, the new system was introduced on a subway line in Changsha, capital of Hunan Province.
China has installed over 12,000 kilometers (about 7,500 miles) of high-speed rail over the past seven years, and is planning to double the length of the network by 2020. According to estimates, a train connecting Shanghai with the city's Pudong International Airport is currently one of the fastest trains in the world -- running at speeds upwards of 30o miles per hour.
"If all goes well, Chinese high-speed trains will soon be equipped with a new system that is more stable and secure and uses less energy," Xinhua quoted Li Yifeng, chief designer at the Zhuzhou institute, as saying.
© Copyright IBTimes 2023. All rights reserved.