Hillary Clinton On Abortion: Where Does She, 2016 Presidential Candidates Stand?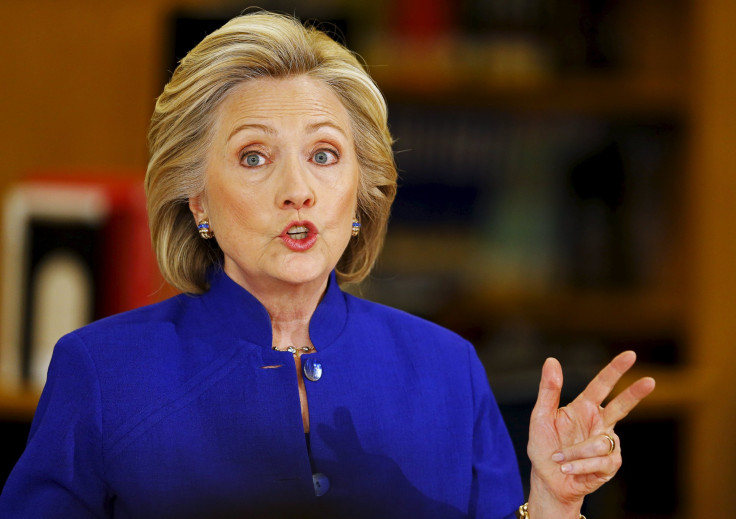 Democratic presidential candidate Hillary Clinton personally took to Twitter Wednesday to slam the House of Representatives for passing a bill to ban late-term abortions. "When it comes to women's health, there are two kinds of experts: women and their doctors. True 40+ years ago, true today," the former secretary of state wrote:
President Barack Obama has threatened to veto the legislation should it also be approved in the Senate. The bill would outlaw abortions after 20 weeks. Pro-abortion rights advocates, who are against the legislation, claim fetuses aren't viable until 28 weeks.
Here's where Clinton stands on abortion relative to other announced and potential 2016 candidates:
Pro-abortion rights
Bernie Sanders
Sanders, who announced his presidential campaign earlier this month and is Clinton's only official rival so far for the Democratic nomination, is for abortion rights. "The decision about abortion must remain a decision for the woman, her family and physician to make, not the government," he wrote in a 2012 Huffington Post op-ed titled "United Against the War on Women."
Martin O'Malley
O'Malley, a Democrat who has yet to announce a presidential run but is considering it, also holds pro-abortion rights views. "I believe that it is an issue that is best left to the individual conscience of women, and in the meantime, as a society, we should do those things that we can to advance the dignity of every human life," he told the Catholic Review.
Anti-Abortion Rights
Rick Perry
Perry, who is weighing a bid to run for the 2016 GOP nomination, is against abortion rights except in cases where the mother may die. He signed a controversial bill into law that would have effectively shuttered half of the abortion clinics in Texas and ban abortions after 20 weeks. The law is still being fought in federal courts and stays have prevented it from taking effect.
Mike Huckabee
Huckabee, who announced a run for the White House this month, likened abortion to murder during a November speech and compared the practice to the Holocaust. "If you felt something incredibly powerful at Auschwitz and Birkenau over the 11 million killed worldwide and the 1.5 million killed on those grounds, cannot we feel something extraordinary about 55 million murdered in our own country in the wombs of their mothers?" he said.
Carly Fiorina
Fiorina, who also announced in May, reiterated her anti-abortion views earlier this month, referencing her 2010 Senate race in California when she ran "as a proud pro-life conservative," according to Breitbart.
Ben Carson
Carson, a retired neurosurgeon who is in the exploratory stage of running for president, is against abortion, and compared the procedure to human sacrifice during a July 2014 appearance on a Christian television station, according to the Washington Times. "It's interesting that we sit around and call other ancient civilizations 'heathen' because of human sacrifice, but aren't we actually guilty of the same thing?" he said.
Rand Paul
Paul, who announced his run for president last month, authored the Life of Conception Act of 2013, which says "the right to life guaranteed by the Constitution is vested in each human being beginning at the moment of fertilization, cloning, or other moment at which an individual comes into being." The bill never came to a vote.
Jeb Bush
Bush, who is considering a 2016 run, is anti-abortion, a stance that was reflected in the eight years he served as Florida's governor. He signed a law requiring teenagers to get their parents' consent before having an abortion and was a backer of the state's controversial "Choose Life" specialty license plate. As governor, he also asked a court to have a lawyer represent the fetus of a rape victim who was mentally disabled.
In 2003, he made headlines by asking a circuit court to appoint a guardian for the fetus of a mentally disabled rape victim, according to the Cleveland Plain Dealer.
Marco Rubio
Rubio, a declared candidate for the 2016 GOP nomination, believes the landmark 1973 Roe v. Wade Supreme Court decision should be overturned. He also co-sponsored the Senate version of the bill passed by the House to outlaw abortions after 20 weeks, according to the Associated Press.
Ted Cruz
Tea Party darling Cruz opposes abortion except in cases where the life of the mother is in jeopardy. "I think that every human life is a precious gift from God and should be protected in law from conception until natural death," he told the Houston Chronicle in October 2012.
Chris Christie
The New Jersey governor was pro-abortion rights until 1995, when he accompanied his wife to a pre-natal doctor before his daughter was born and heard his daughter's heartbeat. "And I remember we came separately. She came from her job. I came from mine. We went back to work. And I was driving back to work, I said to myself, you know, as to my position on abortion, I would say that a week ago that wasn't a life. And I heard that heartbeat. That's a life. And it—it led to me having a real reflection on my position. And when I took time to reflect on it, I just said, you know what, I'm not comfortable with that anymore. That was back in 1995, and I've been pro-life ever since," he told CNN in 2011, according to the Daily Beast.
FOR FREE to continue reading
✔️ Unlock the full content of International Business Times UK for free
offer available for a limited time only
✔️ Easily manage your Newsletters subscriptions and save your favourite articles
✔️ No payment method required
Already have an account?
Log in
© Copyright IBTimes 2023. All rights reserved.