Hillary Clinton On Eric Garner, Michael Brown: 'I Know That A Lot Of Hearts Are Breaking'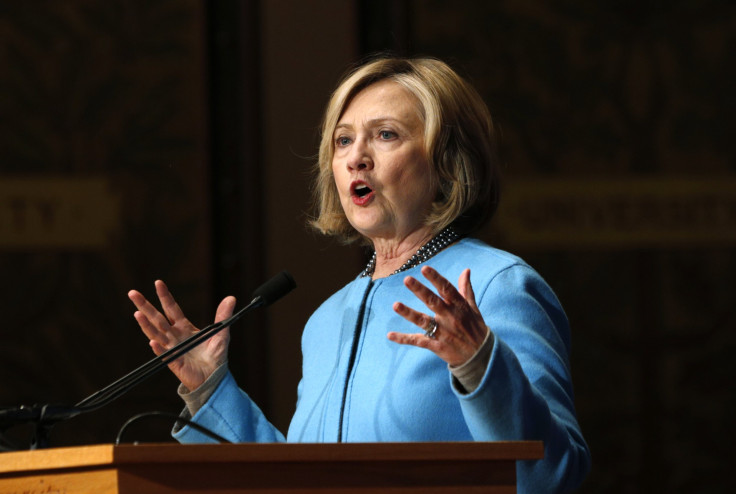 Americans have to grapple with the "hard truths of race and justice" in the wake of police-involved killings of black men in Missouri, New York and several cities, former Secretary of State Hillary Clinton said while addressing the Massachusetts Conference for Women on Thursday. Clinton said the protests that sprung up in Ferguson, Missouri, and New York City were the result of "pain and frustration" about the criminal justice system.
The shooting of Michael Brown in Ferguson and the fatal chokehold that killed Eric Garner in Staten Island fueled anger after grand juries in both cases chose not to indict the officers involved in the incidents in recent weeks. "I know that a lot of hearts are breaking and we are asking ourselves, 'Aren't these our sons? Aren't these our brothers?'" Clinton said. "Those families and those communities and our country deserve a full and fair accounting as well as whatever substantive reforms are necessary to ensure equality, justice and respect for every citizen."
Clinton commended the Justice Department for investigating the shooting of Brown and the chokehold death of Garner on Staten Island. Clinton said the country should invest in best policing practices "rather than buying weapons of war that have no place on our streets or contribute to unnecessary force or arrests." She was referring to the federal program that gives local law enforcement equipment like tanks designed to withstand roadside bombs, which came under fire after they were on full display in Ferguson to disperse protesters shortly after Brown was shot in August.
The U.S. has less than 5 percent of the world's population, but it accounts for almost 25 percent of the world's total prison population, Clinton noted. African-Americans are more likely to be stopped and searched by police, charged with crimes and sentenced to longer prison terms than whites, she said.
"That is not because Americans are more violent or criminal," she said. "It is because we have allowed our criminal justice system to get out of balance, and I personally hope that these tragedies give us the opportunity to come together as a nation to find our balance again."
Clinton said she supported President Barack Obama's task force on policing, created in response to the police-involved killings. The task force is expected to give its recommendations in about 90 days. "These tragedies did not happen in some faraway place. They didn't happen to other people," she said. "These our our streets, our children, our fellow Americans and our grief."
© Copyright IBTimes 2023. All rights reserved.
FOLLOW MORE IBT NEWS ON THE BELOW CHANNELS