Hillary Clinton: I Want To Turn The US Into 'Clean Energy Superpower'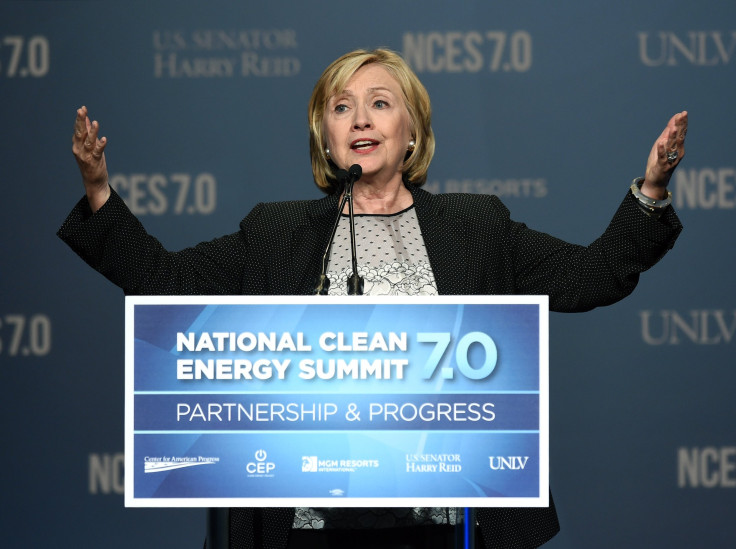 Hillary Clinton says she wants to transform the United States into the "clean energy superpower of the 21st century." At an energy business meeting on Thursday, she called on businesses and politicians to confront climate change through "smart investment in infrastructure, technology and environmental protection."
"The threat is real and so is the opportunity … if we make the hard choices," the Democrats' frontrunner presumptive for 2016 said at the National Clean Energy Summit in Las Vegas. Clinton's keynote remarks aimed to reach crucial constituencies in the renewable energy and Democratic ranks as she prepares for a likely presidential run, observers said.
Globally, clean energy represents a $250 billion industry, and countries are vying for the biggest slice of that market.
In recent years, the United States has fallen behind China as the top investor in the sector, which includes renewable energy projects like solar, wind and geothermal, biofuels made from plants, energy-efficient technologies like smart meters and energy storage devices. Last year, China drew more than $54 billion in clean energy investments, while the United States saw nearly $37 billion -- a 9 percent drop in investment from 2012, according to research from the Pew Charitable Trusts.
In her remarks, Clinton warned the U.S. "cannot afford to cede leadership in this area. Our economic recovery, our efforts against climate change, our strategic position in the world all will improve if we can build a safe bridge to a clean energy economy."
The former U.S. secretary of state, first lady and New York senator didn't offer specifics on what a Clinton energy agenda might look like, the National Journal noted. But she did express support for the Obama administration's climate action plan, a broad set of measures that includes the recently proposed EPA rules for curbing carbon dioxide emissions from existing power plants.
As expected, Clinton steered clear of the Keystone XL pipeline debate, though she has expressed support for the project in the past. Her State Department oversaw part of the Canada-to-Texas conduit's environmental review process, which is still in progress. If President Barack Obama doesn't issue a final verdict before 2016, the decision will likely fall to his successor.
Gov. Chris Christie of New Jersey, a possible Republican contender for Obama's job, threw his support behind the proposed 1,179-mile pipeline in a Wednesday speech from Mexico City. He called the Keystone XL an "enormous opportunity" and indirectly chided the Obama administration for stalling the project.
Clinton did, however broach the topic of natural gas, a sensitive subject among environmentalists. Some groups argue that replacing coal with lower-carbon gas will help reduce harmful emissions of heat-trapping greenhouse gases in the short term, until zero-carbon sources like solar and wind can reach a massive scale. Others say the trade-offs are too high with fracking, a method commonly used to drill natural gas. Along with concerns of groundwater contamination, the fracking process has also been tied to unusual earthquake swarms in Oklahoma, Arkansas and Texas.
The former top diplomat endorsed the U.S. natural gas boom, calling it a "safe bridge to a clean energy economy." She called for "smart regulations" to limit leaks of methane -- a potent greenhouse gas -- at drilling sites and to keep operators from drilling "when the risks are too high."
Clinton also suggested that America's natural gas wealth could be a powerful diplomacy tool. Exporting more gas to European countries, for instance, could "lessen their dependence on Russian energy." Her remarks come just days after the EU's energy chief renewed fears that Moscow could block gas flows to Europe this winter in retaliation for Western sanctions aimed at Russia's intervention in Ukraine.
Following the Las Vegas summit, hosted by U.S. Senate Majority Leader Harry Reid, a Nevada Democrat, Clinton left for Mexico, where she'll attend a charity event for Mexican telecom magnate Carlos Slim's organization.
© Copyright IBTimes 2023. All rights reserved.