Hillary Clinton Takes Credit For Bin Laden Killing, Not Benghazi During Democratic Debate, Mike Huckabee Says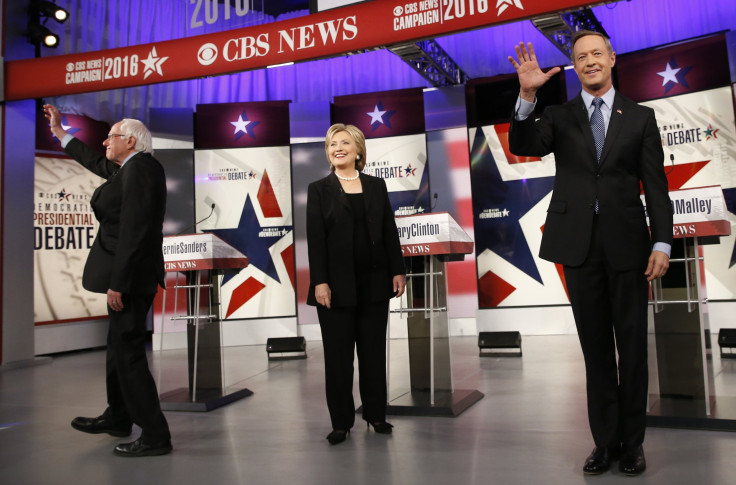 Republican presidential candidate Mike Huckabee slammed former Secretary of State Hillary Clinton Saturday for allegedly taking credit for the death of Osama Bin Laden but not responsibility for an attack on a State Department facility in Libya. When asked during a Democratic presidential debate about her foreign policy experience, Clinton mentioned she advised President Barack Obama during a raid against Bin Laden in 2011. Huckabee immediately responded with a tweet slamming Clinton for failing in her duties to secure the American diplomatic mission in Benghazi, Libya, in the months before the 2012 terrorist attacks that killed four Americans.
The three Democratic presidential candidates discussed global issues in Des Moines, Iowa, in a Saturday night debate that unfolded hours after a terrorist attack killed more than 100 people in Paris. The event, hosted by CBS News, was initially supposed to focus on economic issues. But it was overhauled at the last minute to focus on national security after Islamic State group militants attacked Paris in a series of shootings and bombings Friday night that left more than 500 people injured or dead.
Clinton, who served as the Obama administration's top diplomat, benefited most from the topic change compared with her relatively inexperienced rivals -- Vermont Sen. Bernie Sanders and former Maryland Gov. Martin O'Malley. A Sanders aide reportedly "completely lost it" when informed of the change, but Sanders campaign manager Jeff Weaver played down the dispute. "They wanted to make some last minute changes to the debate; we obviously wanted to keep the format to what had been agreed to, and I think people on our staff argued vigorously to that and were successful," Weaver said.
Steve Capus, the executive editor of CBS News and the executive producer of "CBS Evening News," said he was in the middle of a rehearsal for the debate when the news from Paris broke. "American leadership is put to the test," Capus told the New York Times. "The entire world is looking to the White House. These people are vying to take over this office."
Clinton, Sanders and O'Malley met for their first presidential debate in Las Vegas last month. During the debate Saturday, the candidates also discussed income inequality, campaign finance reform and college affordability.
© Copyright IBTimes 2023. All rights reserved.
FOLLOW MORE IBT NEWS ON THE BELOW CHANNELS