Democratic Presidential CBS Debate 2015: Full List Of Candidates Participating In Iowa Event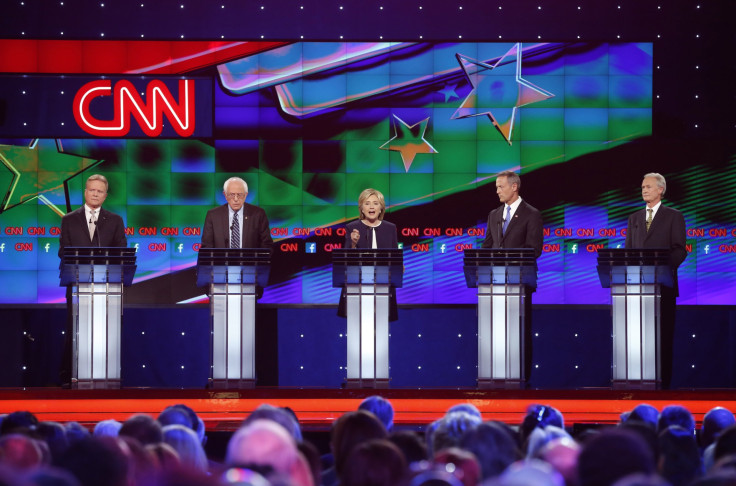 The stage might look a little bare Saturday night at Drake University in Des Moines, Iowa, with just three Democratic presidential candidates slated to take the stage for the party's second debate. Former U.S. Secretary of State Hillary Clinton, Sen. Bernie Sanders and former Maryland Gov. Martin O'Malley are scheduled to face off at 9 p.m. EST, as previous Democratic candidates Lincoln Chaffee and Jim Webb have dropped out.
Compared to the five Democratic candidates during the first debate in October and the eight during the most recent prime-time Republican debate Tuesday, Saturday's event is the pared-down version. In fact, there will be more moderators than candidates. John Dickerson of CBS's "Face the Nation" will be the lead moderator, along with CBS News correspondent Nancy Cordes, local CBS anchor Kevin Cooney and Des Moines Register political columnist Kathie Obradovich. The debate is being hosted by CBS News, with local partners KCCI-TV and the Des Moines Register.
The debate is expected to last two hours -- and with only three candidates, each should have more time to talk. Candidates will not have the chance to offer opening statements but will have 60 seconds to respond to questions, 30 seconds for follow-up responses and rebuttals and one minute for closing statements, Politico has reported.
Dickerson has said that he will aim to focus discussion during this debate on the economy, namely on the middle class and the rising costs they face, like for healthcare and education. He told the Des Moines Register in a recent interview that while the candidates agree that income inequality in the United States stems from policies that offer advantages to big corporations and banks, they differ over what should be done to change that "tilted playing field."
After Saturday, the next Democratic debate is scheduled for Dec. 19 in Manchester, New Hampshire. The next Republican debate is scheduled for Dec. 15 in Las Vegas.
© Copyright IBTimes 2023. All rights reserved.