Homeland Security's Napolitano Says Feds Will Not Help Alabama Enforce Immigration Law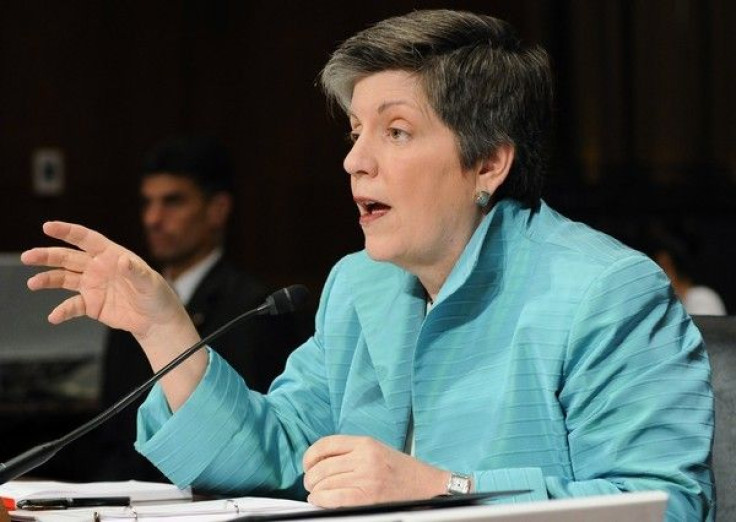 U.S. Homeland Security Janet Napolitano told Congress on Wednesday that her department -- which includes the agency responsible for enforcing federal immigration laws -- will not assist Alabama in implementing its controversial immigration law.
Napolitano's comments, given during a hearing before House Judiciary Committee, are notable because they call into question the ultimate effectiveness of the Alabama law. The law, which the Obama administration sued to block, allows local police to detain undocumented immigrants who are in the country illegally. However, if the federal government does not actually deport those immigrants they can remain in the U.S.
We have been working with the Department of Justice on its challenge to that law, Napolitano said, when asked by U.S. Rep. Bobby Scott, D-Va., if the Department of Homeland Security was working with Alabama to enforce its law.
Last month, a federal appeals court temporarily blocked a section of the law that requires public schools to check and document the immigration status of students. A final ruling in the case is not expected for several months.
U.S. Justice Department Says Law Is Unconstitutional
The U.S. Justice Department claims the law is unconstitutional since it is a violation of the United States Constitution's Supremacy Clause, which gives the federal government authority over the states in immigration matters, specifying that only the federal government can enact and enforce immigration laws.
However, Alabama Republicans have argued that the law was necessary to project the jobs of legal residents and claims the state was forced to take matters into their own hands since the federal government has not adequately enforced its own laws.
I suppose we shouldn't be surprised that the federal government won't help us enforce our laws considering it hasn't been enforcing its own law for years. That's why we're in this mess to begin with. In Alabama, we're trying to turn off the magnet drawing illegal aliens across the border. The Obama Administration is trying to make the magnet stronger, Alabama House Speaker Mike Hubbard told The Associated Press.
Napolitano refuted that sentiment while testifying before Congress, reminding them that the Immigration and Customs Enforcement agency (ICE) has deported almost 397,000 in fiscal year 2011, the largest number in the agency's history. In fact, the Obama administration has been criticized by some liberals for the considerable rise in deportations this year.
Civil rights activists and even several members of Congress have reportedly asked the Department of Homeland Security and ICE not to deport people under Alabama's law unless they have prior criminal convictions. According to the ICE Web site, only 54 percent of those deported during fiscal year 2011 were removed because they were criminal offenders.
Alabama Law's Goals
A particularly harsh provision in Alabama's law, known as HB 56, makes it a felony for undocumented immigrants from entering into a business transaction with the state or a political subdivision of the state. While the sentence is vague, lawmakers have used it as a basis to make it illegal for residents without a state ID -- obviously targeting illegal aliens -- from receiving public water service, owning mobile homes or even obtaining library cards.
The American Civil Liberties Union (ACLU) reports there has been an exodus of Hispanic families leaving the state since it went into effect in late September. Before the provision requiring public schools to track the immigration status of its students was blocked, several media outlets reported that thousands of Hispanic children were absent from school.
Similar laws have been passed in Utah, Georgia, South Carolina and Indiana. The ACLU and other civil rights groups have sued those states to block those measures.
© Copyright IBTimes 2023. All rights reserved.
FOLLOW MORE IBT NEWS ON THE BELOW CHANNELS