How The 1936 Montreux Convention Would Help Russia In A Ukraine War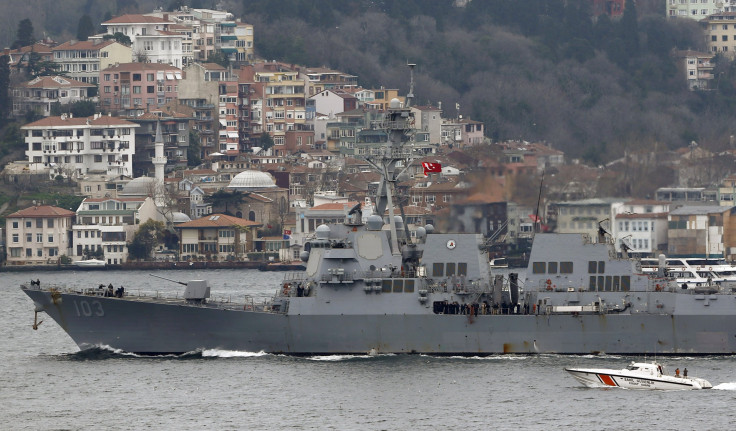 ISTANBUL -- A dozen miles north of here, the Bosphorus Strait gives way to the open expanse of the Black Sea, a strategic body of water bigger than California that divides Eastern Europe from Asia.
The strait has been fundamental for both commerce and armed incursions for centuries, and that is just as true today.
On a warm spring afternoon, the sight of slow-moving ships on the water seems far removed from conflicts in Ukraine, the Middle East and Africa. In reality, this area is crucial for the transport of weapons to Syria and Africa, as well as Russia's fueling of violence in Ukraine, just 320 miles to the north.
These waters constitute one of the world's most important strategic areas, and for Russia they also provide an open door to operate with impunity in some of the world's major conflicts, including the Syrian civil war.
Collectively called the Turkish Straits, the Bosphorus and Dardanelles channels have been fought over for centuries. Today, the passage of ships through these waters is regulated by a 1936 multinational treaty, the Montreux Convention, that gives Turkey control of the straits. The treaty also guarantees Russia a major strategic advantage in any war involving Ukraine, because it limits the access of warships from non-Black Sea nations. That would keep out a lot of hostile naval forces.
Signed by Turkey, the Soviet Union, Britain and others in 1936, the treaty allows Russia and other Black Sea states to move warships through the Turkish Straits to the Mediterranean Sea with few restrictions.
The convention also restricts outside navies' access to the Turkish Straits and Black Sea to 21 straight days per warship, and a maximum aggregate tonnage of 45,000 tons, with any one vessel no heavier than 15,000 tons. Non-Black Sea states must also give Turkey a 15-day notice before sending warships through the straits. As for civilian vessels of any flag, their peacetime access is free and unlimited, "with any kind of cargo," as stated in Article 2 of the treaty.
Russia has taken full advantage of this clause, which guarantees it access to the eastern Mediterranean and has proved vital to the survival of the Syrian government in Damascus. According to an investigation published last year, murky elements with ties to senior Russian government officials have been shipping weapons from Odessa in Ukraine to the Syrian government (and several others) through the Straits for at least two years.
Turkey has done little to stop this type of traffic. As custodian of the straits, Turkey is keen to maintain the status quo under the convention. Foreign Minister Ahmet Davutoglu recently said that "the Montreux Convention is important to maintain stability around the Black Sea and vital for the security of Istanbul and the Bosphorus." That's holding true even as ties between Ankara and Moscow are strained by opposing views regarding the ongoing Syria conflict, and Turkey's growing concern for the fate of ethnic Tatars in Russian-controlled Crimea.
"Turkey is the key country for Montreux. This is without question. But Russia is clearly a very important power player, and historically has always been," said Nulifer Oral, an international maritime law expert at Istanbul Bilgi University.
The Black Sea's importance to Russia has been on clear display during the recent Crimean crisis. When Crimea voted to secede from Ukraine and join Russia in March, Moscow declared the Kharkiv Pact, an agreement that gave it the lease of naval facilities in Crimea's Sevastopol port until 2042, void. That handed the base outright to Russia, which promptly announced it would spend $2.4 billion to expand its Sevastopol-based Black Sea Fleet. That would greatly increase its regional power.
In an actual war over Ukraine, warships belonging to "belligerent powers" would be banned from the Straits in accordance with the convention. But many of Russia's warships would already be there, unlike U.S. and NATO ships. Aircraft carriers of any flag are banned outright from the Turkish Straits, in both times of peace and war.
That's what happened during World War II, when Turkey remained neutral, but the Turkish Straits were closed to belligerent powers. The Soviet Union and Germany, both banned from the Straits as belligerents, could not fight their war on the seas.
During Russia's crushing war against neighboring Georgia in August 2008, Moscow, feeling threatened, cried foul when Turkey allowed U.S. warships into the Black Sea to deliver aid to Georgian ports. In March, an American warship on security detail for the Sochi Olympics accidentally ran aground off Turkey's Black Sea coast and overstayed its permitted 21 days. Russia, unhappy at what it saw as a breach of the Montreux Convention, again blamed Ankara for allowing a foreign power's warships through the Turkish Straits.
Military brinksmanship aside, for Russia, the convention enshrines a hugely important economic facility.
Named after the Swiss town in which it was struck, the agreement guarantees access from Russia's only year-round warm water ports to major international markets.
With Russia the world's largest exporter of gas and fourth-largest of wheat, the Turkish Straits are one of its most crucial export gateways. "Turkey is playing an increasingly important role in the transit of oil supplies from Russia," the U.S. Energy Information Administration says. "Approximately 3.0 million bbl/d flowed through the Bosphorus and the Dardanelles in 2013."
Turkey's keenness to uphold an agreement that suits Russia above all others is tied to the former's reliance on Russian oil and gas. Fifty-six percent of Turkey's imported natural gas in 2012 and over 90 percent of its crude oil consumption last year came from Russia.
For all the sanctions and bluster from Europe and America over the past several months over Moscow's activities in Ukraine, there's little the West, or Turkey, can do.
"Russia indeed does have greater influence because of its naval and military presence," said Oral of Istanbul Bilgi University, and Moscow knows that.
However, tension is ratcheting up. In March, the U.S. sent the missile destroyer U.S.S. Truxtun to the Black Sea to, in the words of a Pentagon spokesman, "reassure our allies of our commitment to the region. ... It is a direct result of the current situation in Ukraine."
Russian state news claimed Wednesday another U.S. warship is set to enter the Black Sea later this week, which would bring to three the number of NATO warships in an area considered to be Russia's backyard.
Observers are wary of any potential escalation.
"The Black Sea has been an area of competition between Turkey and Russia and the source of bloody wars for hundreds of years," wrote Fatih Ozbay of Istanbul Technical University last month.
"Any step taken by Russia, Turkey or any other state, which may damage these relations, will launch the worst-case scenario for both countries."
© Copyright IBTimes 2023. All rights reserved.
FOLLOW MORE IBT NEWS ON THE BELOW CHANNELS