How Enterprising Greeks Are Profiting From Europe's Refugee Crisis And Creating A Multimillion-Dollar Industry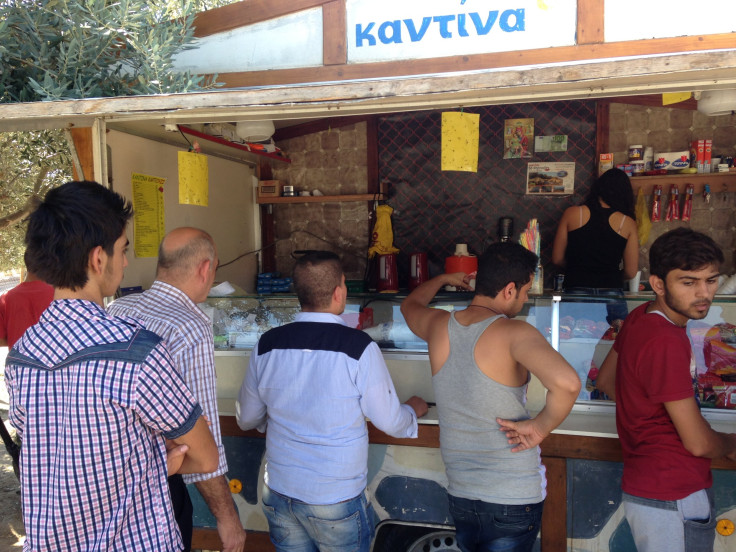 LESBOS, Greece -- The vultures of Lesbos gather at any time, day or night. They follow the trajectory of incoming rubber dinghies with looming interest, barely waiting for the boats to disgorge their orange-coated cargo before leaping into the water to carry off their oily prize. These men, for they are almost always men, are the bottom feeders in Greece's refugee economy.
Every new boatload of refugees from Turkey -- volunteers estimate there are upward of 50 boats per day -- is a potential meal ticket. The scavengers care little for the shoddily made, mass-produced boats but rather more for their valuable diesel engines. A well-known brand such as Honda can fetch up to 400 euros (about $450), rich pickings for a country whose citizens bring home an average monthly wage of 800 euros (approximately $900).
Depending on who you talk to, the thousands of refugees arriving daily on Lesbos' northern shores are a burden or a boon -- sometimes both. The last few years have not been kind to Greece. After the 2008 global financial crash, Greece found itself at the epicenter of Europe's debt crisis, from which it has failed to break free. The Greek government has been unable to pay off an overwhelming debt load due to a rapidly shrinking economy and unemployment that sits at more than 25 percent.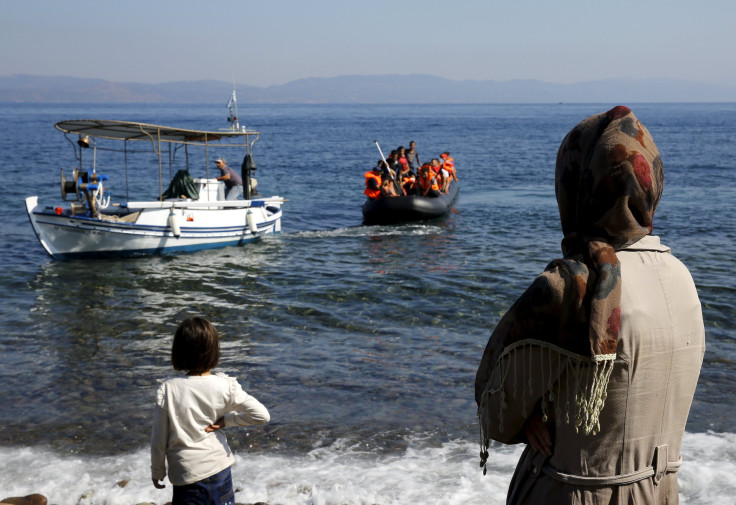 Inside this economic maelstrom are Syria's refugees, battered by a civil war entering its fifth year. Alongside them are malcontents from the ruins of Iraq, Afghanistan, Eritrea, Somalia and Sudan, hoping to find respite in Europe. The stage has been set for a clash of Homeric proportions.
And the gods have delivered.
Lesbos has been scene to riots as refugees, frustrated with waits of more than two weeks on the island, clashed with police, setting fire to their grim accommodation blocks. Some of the locals see this state of affairs as open warfare.
"This is just the start. It's not going to stop. Either they're going to kick us out or we'll kick them out. Either the refugees stay here, or we do," Angela Poulos, a Mytilene resident (the site of the protests), told International Business Times.
Poulos, who runs a small car-hire company on the island, defended the actions of those who profit from the new arrivals. "People in Greece are desperate. We can't get by on our wages," she said. "It's tempting to take an engine when it might be more than half your [monthly] salary. The refugees don't need it anymore, so why shouldn't [locals] use it for themselves?"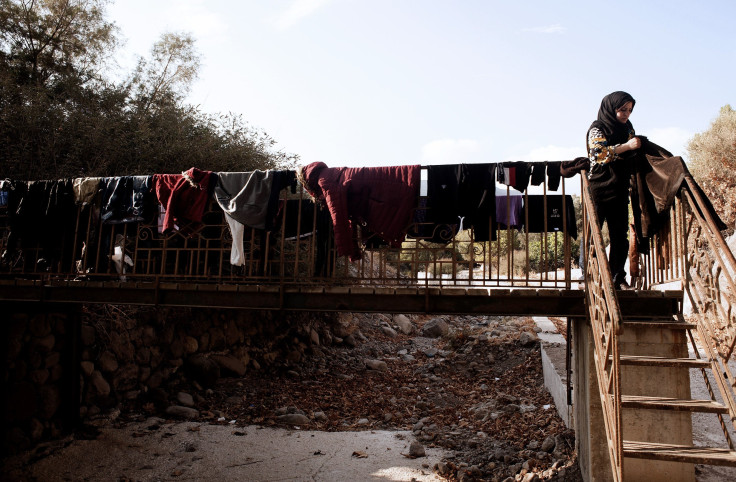 Under Greek law, citizens are allowed to take a boat engine into their homes, but they are not allowed to sell it until six months have passed without any claims being made on it. The same law applies to those refugees who have not survived the sea crossing but whose bodies have tens of thousands of euros strapped to their bloated waists.
But, Poulos says, Greeks frequently exercise great lassitude where legal matters are concerned. "We've got laws, but we never go by the law."
When refugees arrive on Lesbos, they land on the island's northernmost beaches, on the stretch of coastline between Eftalou and Skala Sikaminias, and must make their way to the Mytilene port to catch a ferry to Athens before continuing the journey to northern Europe. The distance is some 36 miles, which can take refugees, especially those traveling with children and pregnant women, more than 12 hours to walk. More recently, an aid organization has organized four buses a day to transport refugees, but this is not enough to meet demand.
Enterprising locals with a disregard for the law are charging refugees up to 250 euros a passenger for a journey that would normally cost no more than 40 euros in a taxi. Poulos says the price has dropped in recent months as more refugees have arrived and, receiving information from those who made the journey before them, are refusing to pay the extortionate prices. Now, Poulos says, prices can be as low as 80 euros a head, and there are always some tourists and volunteers willing to offer rides for free.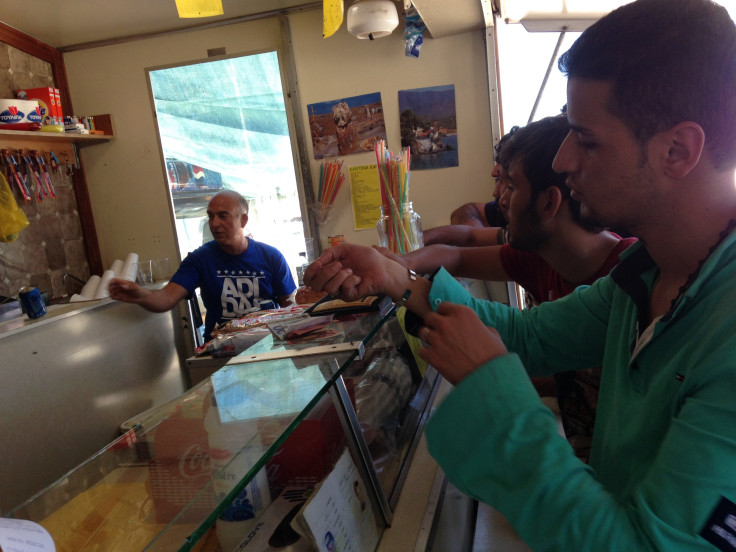 It's not the only reason prices have dropped. As the numbers of refugees arriving on the Greek island have rapidly increased, buoyed by the success of previous migrants or motivated by a fear that Europe's borders will close, newcomers have less money than the early arrivals who laid the path for everyone else.
"In the beginning," Poulos says, "we could see the refugees were very rich. They had much more money than we did. But that's started to change."
Syrian refugees are largely drawn from the country's wealthy, professional classes, and they have the clothes and disposable incomes to match. Designer labels, expensive shoes and wads of cash characterize this crowd.
In Kara Tepe, the island's transit camp for Syrians, refugees regularly purchase bottles of water and candy with 100-euro bills. In nearby Moria, a camp for non-Syrians, refugees are distinctly poorer. The kiosks are less well-attended, and residents look resigned to the camp's meager food supplies.
The public sector is feeling the strain of providing food, shelter and medical care for refugees – more than 100,000 people have arrived since the beginning of January – but the private sector is doing well.
Phone companies are prospering from increased demand, advertising European SIM cards so refugees can use data plans that will allow them to plan their routes to Germany, while keeping in touch with families back home through instant messaging services such as WhatsApp and Viber.
Last month, Greek telecom operator Cosmote sent salespeople to Mytilene's ports and camps to push €12 SIM cards designed with refugees in mind. Not wanting to be left out, the British company Vodafone Group PLC has started offering a €10 SIM card with a 50 percent discount on ferry tickets to Athens.
For those that can afford it, Lesbos offers a range of attractions to make life on the road easier -- and store owners are quick to take advantage of their new customers. Refugees have replaced tourists as a main source of income for many small businesses.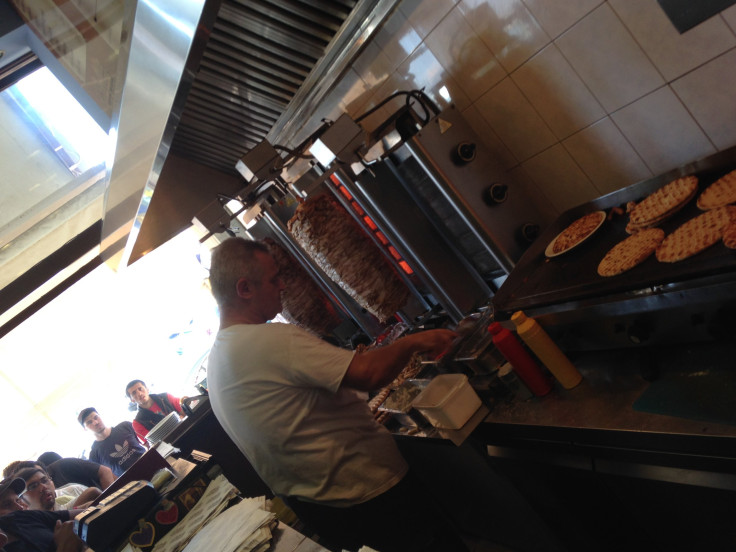 Manolis Seroudakis owns a souvlaki joint in Mytilene port. The national dish of meat rotated on a spit -- served in a wrap with generous helpings of a Greek yogurt and cucumber sauce called tzatziki -- is popular with refugees and reminiscent of the shawarma meat dishes in many of their countries of origin. For 5 euros, hungry customers can get a large wrap stuffed with fries and fragrant herbs in addition to meat and tzatziki. Judging by the lines snaking out of Seroudakis' shop, business is good.
A doorman operates out front, separating locals from refugees. Greeks are served first – Seroudakis doesn't want to lose regular customers – while occasional brawls break out between ravenous arrivals.
"Business is up 20 percent," Seroudakis says. Despite his efforts, he's lost local customers, but the influx of refugees has more than made up for it. On a good day, he says, when there's a backlog of migrants on the island waiting to leave, he can make as much as 4,000 euros per day.
Unlike some other shopkeepers who charge refugees more than residents, Seroudakis charges everyone the same prices. "Everybody's people," he shrugs. "I'm just happy I've got work."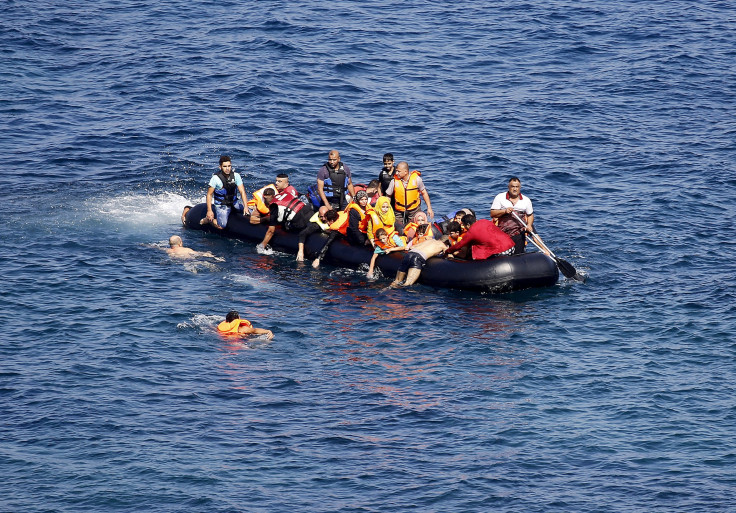 But outside his restaurant, in the kiosks that litter the port, some vendors are making a killing. In one newsstand, a refugee pays 4 euros for a packet of biscuits. The same packet costs 1.6 euros for a Greek. The shop owner is taking a calculated risk -- one she's prepared to take when the margins are that good.
When questioned by IBT about the discrepancy, she claimed she confused the prices. Further observation revealed she used the same petty trick with every refugee who came to buy goods from her stall.
Elsewhere on the island, budding entrepreneurs are bolstering incomes through legal means. Many stores have upped their supplies of bread, beans and canned meat, which are in high demand. Other shops that mainly sold gifts to tourists are selling sleeping bags and tents to refugees.
For their part, refugees are aware of the hefty price tags attached to their northern migration.
Fauzy Rashu from Damascus, Syria, is traveling to Europe with his pregnant wife and two children, ages 10 and six. Together, they made the 12-hour trek from Eftalou to Mytilene.
Despite the repeated pleas of his 6-year-old daughter, on contemplating the family's limited funds, Rashu decided to save their money for Serbia and Hungary.
"It's a decision no one should have to make," Rashu told IBT, "but our main aim is to get to Germany, and we won't get there without any money."
Every day, refugees are making the same calculations.
Most refugees view the associated costs as a necessary expense on the flight to freedom – and no one can put a price on that.
© Copyright IBTimes 2022. All rights reserved.
FOLLOW MORE IBT NEWS ON THE BELOW CHANNELS