How FlightRadar24.com, A Site For 'Aviation Geeks', May Have Solved Germanwings 9525 Crash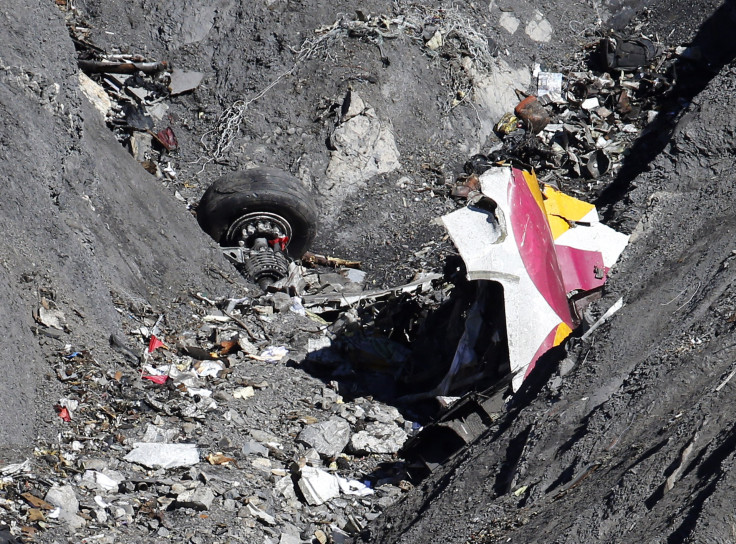 One of the most important clues to emerge so far in the crash of Germanwings Flight 9525 came not from official investigative channels but from a private network of aviation enthusiasts that crowdsources aircraft flight data. Efforts by members of FlightRadar24.com show how the public's ability to capture and share data on connected devices that were unavailable just a few years ago has become a critical tool for supplementing formal investigations.
Data compiled by FlightRadar24.com shows that settings on the Flight Management Computer, or autopilot, on the Airbus 320 that crashed into a mountainside in the French Alps March 24, killing all 150 people aboard, were changed to initiate a steep descent from a cruising altitude of 38,000 feet to just 96 feet. The Germanwings Airbus was at the time flying over mountainous terrain where some peaks soar to more than 15,000 feet, making a collision inevitable once the autopilot settings were changed.
French and German authorities have said it was Germanwings First Officer Andreas Lubitz who made the adjustment. They have accused him of deliberately crashing the plane and are investigating whether he was suffering from clinical depression at the time of the crash. A former A320 pilot for a North American airline who reviewed FlightRadar24's data for International Business Times said it appears to be legitimate.
FlightRadar24 co-founder Mikael Robertsson told IBTimes that the company immediately turned its findings over to the Bureau d'Enquetes et d'Analyses (BEA), which is France's version of the National Transportation Safety Board, the body that investigates plane crashes in the U.S. "They called us about 45 minutes after the accident, so we shared it."
FlightRadar24 launched in 2006, but it was only after the disappearance of Malaysian Airlines Flight 370 last year that it began to draw worldwide attention. More than 6,000 members, spread around the world, use small receivers provided by the company to capture live data from aircraft while they are still in flight. The data comes from a system on newer planes known as ADS-B (Automated Dependent Surveillance-B) that broadcasts call signs, GPS locations, altitude and, in the case of ADS-B Mode S, some instrument settings that show "short-term intent."
Because ADS-B is not yet mandatory in all flight jurisdictions (U.S. carriers do not have to install it on their aircraft until 2020, though many are using it voluntarily), FlightRadar24.com in many cases is capturing data that's not available to aviation authorities in some areas. Robertsson said it would be difficult for outsiders to tamper with the data that's fed into FlightRadar24's cloud. "It's our receivers, our software and we have the passwords. It's 100 percent controlled by us."
Robertsson describes himself merely as an aviation enthusiast who is not a professional pilot. "I have more of a technical background," he said. He launched FlightRadar24.com in Sweden with partner Fredrik Lindahl nine years ago. The site earns revenue mainly from display advertising and it recently launched mobile apps for Android and Apple iOS. Robertsson said the next step for the company is to launch professional data services for the aviation industry that he hopes will account for 50 percent of revenue in the next couple of years. "That is our goal," he said.
The probe into the crash of Germanwings Flight 9525 is continuing, meanwhile. Investigators are focusing on co-pilot Lubitz's private life. Beyond psychological issues, they are looking at whether relationship troubles or other personal difficulties may have played a role in the crash.
The European Cockpit Association, which represents commercial pilots on the Continent, has criticized the investigation, saying the conclusions drawn by French and German prosecutors are premature. The contents of the aircraft's Flight Data Recorder, which could shed definitive light on the cause of the crash, has yet to be located.
© Copyright IBTimes 2023. All rights reserved.