How Much Is Snapchat Worth? Stock Price Of App Might Cost More Than It Should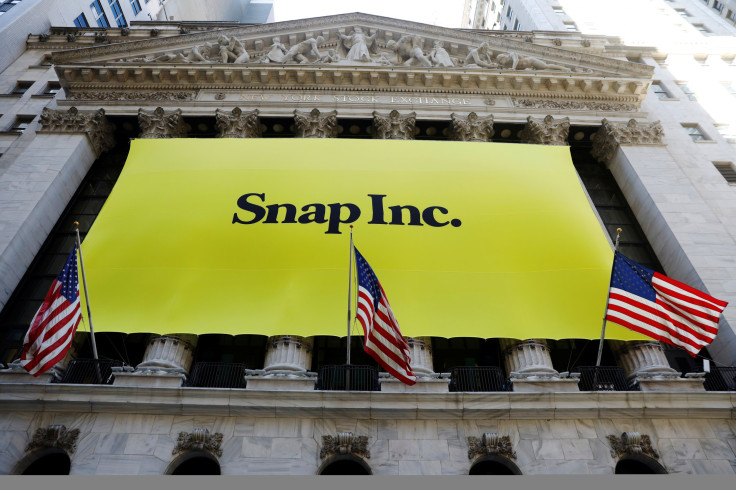 At the close of its second trading day, Snap Inc.'s (SNAP) share price lingered at just over $27—nearly 60 percent above the share price proposed at the launch of its initial public offering Wednesday night and about 80 percent higher than the middle of the share price range announced in its Securities and Exchange Commission filing.
But not everyone was excited for the Venice, California-based photo and video messaging app's future. A Morning Consult poll, for example, found that only 35 percent of respondents said it was "a good investment," compared to 58 percent who said the same of Facebook Inc. and 43 percent who saw investing in Twitter Inc. as pragmatic. Here are a few reasons analysts worry that Snap may be substantially overvalued:
Slowing growth
In its SEC filing, the parent company of Snapchat reported fourth-quarter revenue growth of 29.2 percent, which sounds hype-worthy, until it's compared to third-quarter growth of 78.6 percent and second-quarter growth of just over 85 percent. Its 2015 fourth-quarter growth was a staggering 95.6 percent. Snap may have recovered from 18.6 percent growth in the first quarter of 2016, but increases in its total number of users also began to plateau as well, rising 3.3 percent in the fourth quarter of last year, compared to 7 percent in the third quarter and more than 17 percent in the second. In the "Risk Factors" section of the IPO prospectus, the company didn't offer much reassurance.
"We anticipate that the growth rate of our user base will decline over time," the filing read. "If we fail to retain current users or add new users, or if our users engage less with Snapchat, our business would be seriously harmed."
Large losses
The company had a net loss of $514.6 million in 2016—up from $372.9 million the previous year, according to the prospectus. Its revenues in those two years were $404.4 million and $58.7 million, respectively. Snap's estimated valuation at the time of its trading debut, on the other hand, is $34 billion, or, as the New York Times' James Stewart pointed out, 84 times the money it's actually making.
"That's six times as high as Facebook's price-to-sales ratio, which is 14," Stewart wrote in a Thursday column that was somewhat skeptical of the IPO's hype. "It's 14 times as high as Google's parent, Alphabet, which trades at just over six times revenue. Amazon trades at a mere three times. Even high-flying Netflix trades at seven times."
Competition
Advertising accounted for 96 percent of Snap's revenue in the years leading up to the end of 2016, the filing noted. Marketing experts expressed worry that the app would face steep competition from the likes of Facebook and Twitter, with 1.86 billion and 319 million users, respectively, compared to Snapchat's 158 million.
Copycats
Other social networks' and messaging platforms' tendencies to imitate Snapchat's features have exacerbated the competition issue. WhatsApp, a subsidiary of Facebook, recently copied Snapchat's "Stories" feature, as did Instagram, which also counts Facebook as a parent.
As analysis from market research company Forrester Research noted in a report on Snap's chances, "Instagram already has 150 million daily users using Instagram Stories—a mere 8 million shy of Snapchat's entire global user base—despite launching last summer. And marketers are vocal that advertising on Instagram Stories is better with its ad-friendly integration and easier ability to build followers." Instagram's total monthly users stood at 600 million as of December.
No voting rights
While this reason may be rather niche, it's a significant deterrent to committed investors: Snap's common stock comes with zero voting rights, so shareholders who want some influence on how the company operates may be turned away.
"Real investors," as Bloomberg's Matt Levine put it in an op-ed Wednesday, "will be much less jazzed about buying non-voting shares in a money-losing company" than "IPO investors," who "buy hot IPOs just for the first-day pop."
© Copyright IBTimes 2023. All rights reserved.
FOLLOW MORE IBT NEWS ON THE BELOW CHANNELS