How Much Will Snapchat's Stock Cost? IPO Share Price Could Be Anywhere From $11 To $18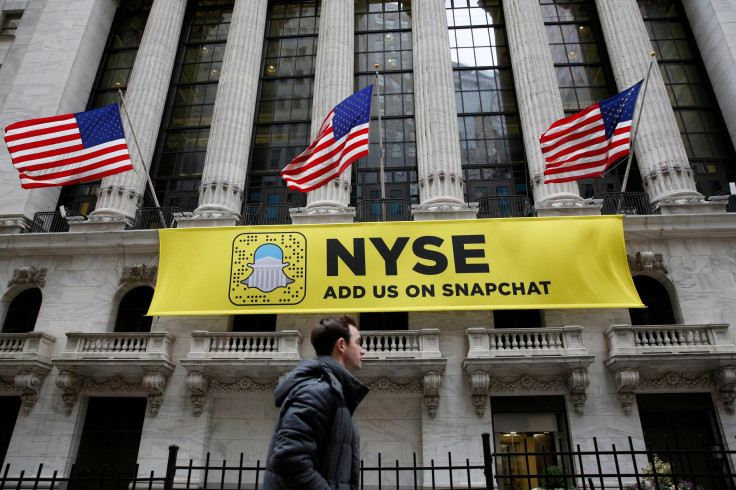 UPDATE: 4:23 p.m. EST - Snapchat won a valuation of $24 billion Wednesday at market close, with a share price of $17, according to Reuters.
Snapchat's initial public offering has garnered plenty of hype, but its share price may still be something of a toss-up.
At the launch of its IPO, slated for Wednesday after market close at the New York Stock Exchange, Snap Inc. was expected to introduce 200 million shares at a price range of between $14 and $16, according to its most recent Securities and Exchange Commission filing.
Some investors, however, were pushing for as much as $17 to $18 per share, CNBC reported Tuesday, citing unnamed sources. Others traders hoped the Venice, California-based company would lowball their value estimate with offerings of around $11 per share, given its reported $514.6 million loss in 2016 — up from a loss of $372.9 the previous year, according to the company's initial SEC filing.
Traders can buy shares of the company — valued at between $19.5 billion and $22.3 billion, compared to Facebook Inc.'s $104 billion and Twitter Inc.'s $14.2 billion — on the NYSE starting Thursday morning, under the ticker symbol "SNAP." But analysts worried that the newly public messenger app could face steep competition on the advertising market, potentially pushing down its share price.
As marketing experts told Adweek, Snapchat's speedy growth and rapidly evolving platform caught advertisers off-guard as they sought to rake in the benefits of the app's expanding audience, which hit 158 million in 2016. But Snapchat also suffered from a bit of tech industry cheating, with social networking sites and messaging apps — most recently from WhatsApp, a subsidiary of Facebook — imitating its features, which could divert ad earnings to the copycats.
"It seems like Instagram Stories is getting so much more heat and popularity — they've really taken what Snapchat had and are replicating it with bigger numbers," Julian Cole, head of communications planning at the ad agency BBDO, told Adweek, referring to another instance of feature-copying. "That's probably the biggest concern that I have."
New York University finance professor Aswath Damodaran brought up similar worries in an interview with CNBC Tuesday, noting that Facebook's ability to attract ad revenue "scares the heck out of me."
"If you're interested as an investor, you've got to ask, 'Is there value in this game?'" Damodaran said. "Already, Facebook is trying to 'out-Snap' Snap, and that's not a good sign if you're thinking about competition coming into the space."
© Copyright IBTimes 2022. All rights reserved.
FOLLOW MORE IBT NEWS ON THE BELOW CHANNELS