How To Set Up The 'Car Crash Detection' Feature On iPhone And Google Pixel
The Google Pixel and the iPhone have a safety feature called 'car crash detection' that can be activated with a single tap. It is an AI-based technology that uses the accelerometer, gyroscope, and other sensors in the smartphone to detect when a car has been involved in an accident.
The feature is activated when the phone detects an accident. It then sends alerts, which include the location, to emergency services and contacts and provides information about the driver.
The car crash detection feature on Google Pixel and iPhone works by using your phone's accelerometer, which is a sensor that measures the speed of your car. When a person goes over speed, it will automatically trigger the crash detection feature.
However, there are some limitations to this as it does not notify emergency contacts if the driver is unconscious due to some medical condition like epilepsy.
This article will explore how users can set up the car crash detection feature on their Google Pixel and iPhone.
How to set up a car crash detection feature on Google Pixel?
To use the car crash detection feature on a Google Pixel, users need to first make sure it's one of the compatible models listed below.
Google Pixel 3a/XL
Google Pixel 3/XL
Google Pixel 4/XL
Google Pixel 4a
Google Pixel 5
Google Pixel 5a
Google Pixel 6/Pro
Google Pixel 6a
To set up the feature:
1. First, you'll need to download a safety app that offers car crash detection, such as Safe Trek or Drive Safe Mode.
2. Once the app is installed, open it, and follow the instructions to set up the car crash detection feature. This will usually involve entering your emergency contacts, linking your google account, and specifying how you want the app to handle notifications.
To activate the car crash detection feature, tap the settings gear on the top left corner > then Car crash detection under Detection & alerts. Toggle the feature on and confirm the activation.
How to set up a car crash detection feature on iPhone?
The iPhone 14, iPhone 14 Pro, as well as the Apple Watch SE (2nd Gen), Apple Watch Series 8, and Apple Watch Ultra all come with the crash detection feature enabled by default. Furthermore, there's no need to go through any complicated setup processes - the feature is active as soon as you set up the device on purchase.
In the event of a severe car crash, the feature will detect the crash and send an alert to your iPhone.
To share your location with your emergency contacts, you need to turn on Location Services for Emergency SOS. Here's how:
1. Open your iPhone and tap Settings
2. Select Privacy & Security
3. Choose Location Services
4. Make sure Emergency Calls & SOS are turned on
The alert will appear on your device screen for ten seconds. If you are responsive after the crash, you can tap to call emergency services immediately. However, if you do not need to contact emergency services, you can dismiss the alert with a slide.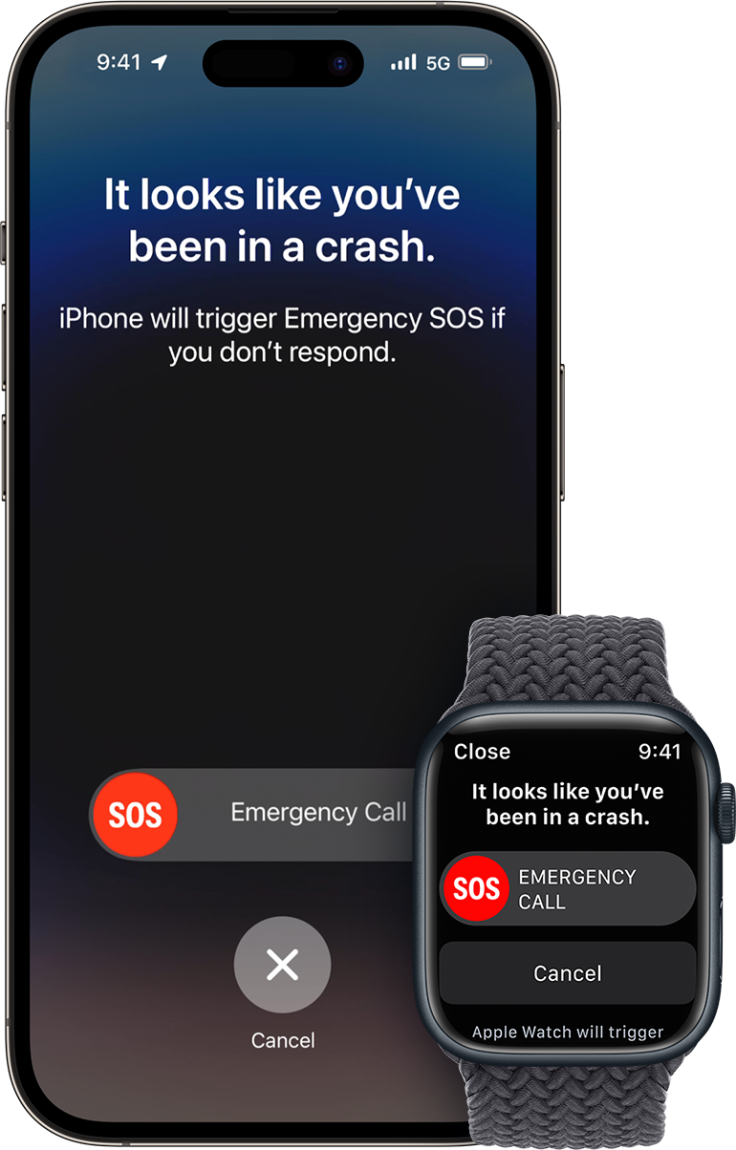 © Copyright IBTimes 2023. All rights reserved.
FOLLOW MORE IBT NEWS ON THE BELOW CHANNELS