How Under Armour Uses Equity-Based Athlete Sponsorship Deals To Catch Nike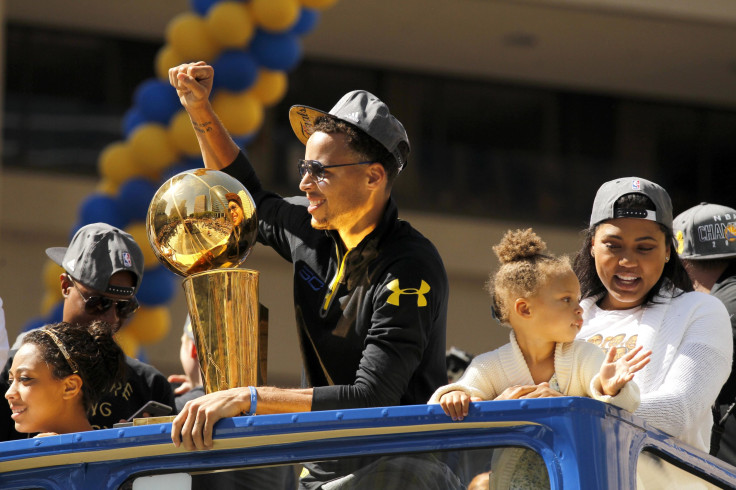 Nike Inc. has had a stranglehold on the United States' ultracompetitive sports apparel marketplace for decades, but surging competitor Under Armour is counting that a new, equity-based model for athlete endorsement deals will help loosen the grip. The company's announcement this week of an extended partnership with the NBA's reigning MVP, Stephen Curry, marked at least the third time Under Armour has offered an equity stake to lure a popular endorser.
Under Armour has seen explosive growth since the release of its Curry-branded sneaker last February, with shoe sales up 40 percent to a company record $153 million last quarter. Curry, NFL star Tom Brady and golf prodigy Jordan Spieth all have equity-based deals with Under Armour.
With their long-term earnings tied directly to Under Armour's successes or failures, these athletes have a clear motivation to actively promote the brand at all levels. More established companies like Nike, which owns an estimated 90 percent of the U.S. sneaker market, have yet to adopt this tactic, relying instead on traditional cash-based deals. If Under Armour's growth continues, Nike and fellow competitor Adidas may have little choice but to embrace the method.
"If it plays out the way Under Armour hopes it plays out, it gives them that little edge when they sit down at the negotiating table with these up-and-coming star athletes," said Darin White, chairman of the American Marketing Association's Sports Marketing Academic Society. "I think you'll see Adidas and Nike have to match it."
Stephen Curry Career Earnings | PointAfter
Under Armour still has a long way to go if it hopes to catch Nike, which has dominated the sports apparel and basketball sneaker markets since the establishment of the Jordan Brand, a subsidiary that arose from basketball legend Michael Jordan's original sneaker deal with the company in the mid-1980s. In that sense, Nike's deal with Jordan marked the original use of equity stakes in athlete endorsement deals, though the brand hasn't publicly employed the tactic since.
The Jordan Brand's unprecedented success is clear evidence of how a top-level athlete can benefit from strong ties to a brand. Jordan purportedly earns more than $100 million per year in Jordan Brand royalties, according to ESPN's Darren Rovell. Nike's deals with Jordan, Cleveland Cavaliers star LeBron James and other top NBA players have played a major role in the company's success.
Nike reported $30.6 billion in global revenue when its most recent fiscal year ended in May, up 14 percent from the previous year. With an established global brand and billions of dollars already flowing into its coffers, Nike has little reason to give up ownership shares to an athlete.
"They don't technically need a face," said Michael Pfahl, associate professor of sports administration at Ohio University. "They've got the Jordan brand, but they don't need a face of Nike necessarily, because the whole culture has been built over 30-something years, that is pretty strong as it is."
Nike Inc. (NKE) | FindTheCompany
Under Armour has seen its own success skyrocket in recent months. The brand formally overtook Adidas as the United States' No. 2 sports apparel brand in January, the Wall Street Journal reported.
Curry's association with Under Armour has been particularly fortuitous, with the runaway success of the "Curry One" sneaker providing a massive boost to the company's outlook. At its annual investors day Wednesday, Under Armour announced it expected to reach $4 billion in revenue a year sooner than it originally projected, with revenue slated to reach $7.5 billion by 2018, Bloomberg reported.
Company executives are well aware of Curry's role in that success and are betting it will continue. The 27-year-old Golden State Warriors guard's new partnership with Under Armour runs through 2024. Aside from the global release of the "Curry Two" sneaker in October, Curry will serve as a global ambassador for the Under Armour brand and play a significant role in marketing its new "Connected Fitness" apps.
The deal Curry signed with Under Armour in 2013 was worth a reported $4 million annually. The exact financial terms of his new deal were not released, and Curry's agent at Octagon, Jeff Austin, was unavailable to comment on the agreement. Experts said it's likely he will receive some sort of annual cash payment, but his company equity is the true motivation. Curry's earnings will rise or fall based on the company's success, which means the NBA star has an incentive to redouble his efforts and to encourage other stars to sign on with the brand.
"Stephen Curry is tying himself to a niche brand within the industry right now," White said. "He's betting on the fact, with his endorsement and his success, that Under Armour is going to grow significantly."
Aside from incentivizing Curry to work hard for the brand, equity-based deals are a low-risk investment for Under Armour, which only entered the sneaker market in 2006. For all of its early success, the brand needs to limit its expenditures as it chases Nike. Rather than shelling out a guaranteed $200 million to a single player, like Adidas did with Houston Rockets star James Harden last month, Under Armour can let its future success dictate what it pays Curry.
"With Under Armour, they're not putting a lot of money upfront. They have a higher back end. If they do make a lot more money, he's just going to get paid there," Pfahl said. "But it's exponentially different because they're making more, even if they're going to start paying him more, than they would have in a straight contract."
Under Armour's agreement with Curry also provides a sort of implicit insurance against on-court injury, a perpetual risk for high-level athletes. Adidas gave Chicago Bulls point guard Derrick Rose a massive $185 million contract in 2012 after he won the MVP award, only to see Rose miss much of the next three seasons due to injury. Suddenly, Adidas wasn't getting a return on its investment.
The main risk lies in potential damage to the athlete's reputation through some sort of misconduct off the field, such as Nike endured when cycling legend Lance Armstrong and golfer Tiger Woods went through their scandals. With an equity-based deal, the company and the athlete's reputations are inexorably linked. If an athlete's reputation suffers, the brand's reputation could, too.
Aside from his obvious talent as a basketball player, Curry is, by all accounts, a model citizen. For Under Armour, which previously invested in clean-cut crossover stars Brady and Spieth, Curry's mild-mannered personality is an ideal fit for a long-term partnership.
"You're now an equity stakeholder in the company," White said. "It's not as easy as just taking Lance Armstrong's name off a building and being done with it."
© Copyright IBTimes 2022. All rights reserved.
FOLLOW MORE IBT NEWS ON THE BELOW CHANNELS