Huawei CFO Meng Wanzhou Net Worth: Trump Says Could Intervene In Arrest
A Canadian court granted bail to Huawei's Chief Financial Officer Meng Wanzhou after her attorney and family made a case for her conditional release. The tech heiress was freed as she awaits a hearing on extradition to the United States.
The decision by the court in Vancouver on Tuesday came as President Donald Trump said he could intervene in the case if it helps to avoid a further decline in U.S. relations with China. The 46-year-old, who is also known as Sabrina Meng and Cathy Meng, has an estimated net worth of $90 million. She is reportedly paying more than $7 million, mostly in cash, for her release.
Meng was detained by Canadian authorities on Dec. 1 in Vancouver after the United States alleged she misled banks about the relationship between Huawei and Skycom — which did business in Iran, violating international sanctions.
The U.S., which asked Canada to detain Meng, is yet to submit a formal request for extradition. If no formal notice is given within 60 days, she will be released.
Speaking to Reuters, Trump said of the case: "If I think it's good for the country, if I think it's good for what will be certainly the largest trade deal ever made … I would certainly intervene if I thought it was necessary."
China, which insists Meng has not violated any laws, had threatened severe consequences unless Canada released the Huawei executive. As grounds for bail, Meng's lawyers cited her poor health – including previous cancer surgery and difficulty eating solid foods.
"I continue to feel unwell and I am worried about my health deteriorating while I am incarcerated," Meng said in a filing. "I currently have difficulty eating solid foods and have had to modify my diet to address those issues. My doctor has for years provided me with daily packages of medications."
Meng's lawyers argued their client has no criminal record and that she was not a flight risk because of her "strong roots" in Vancouver. Meng also told court that she was a Canadian resident until 2009, after which she returned to China.
Meng, who first visited Vancouver 15 years ago, bought a six-bedroom house with her husband Liu Xiaozong in 2009. The property is now assessed at S$5.8 million, according to property records and an affidavit by Meng read aloud in court. In 2016, the couple bought a second property, a brick-and-glass mansion set in a 21,000 sq ft area.
Meng is "an accomplished individual of previous good character, who has strong roots and ties to Canada and to the Vancouver community," her lawyer David Martin wrote in a filing. "She presents no threat to public safety, and due to her health issues incarceration would be extremely punitive."
Justice William Ehrcke in Vancouver announced Meng's bail Tuesday, ordering her to reappear in court on Feb. 6. She will also be under constant surveillance and wear a GPS tracking device. She will have to surrender both of her passports and is subject to a curfew between 11 p.m. and 6 a.m.
"I am satisfied that on the particular facts of this case, including the fact that Ms. Meng is a well-educated businesswoman who has no criminal record and of whom several people have attested to her good character, the risk of her non-attendance in court can be reduced to an acceptable level," Justice Ehrcke said.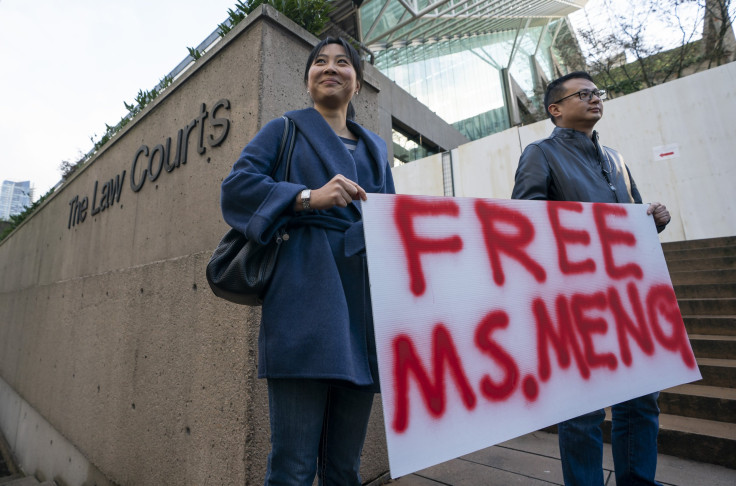 © Copyright IBTimes 2023. All rights reserved.