With Hundreds of Egyptians Sentenced To Death, Security Forces Can't Keep Up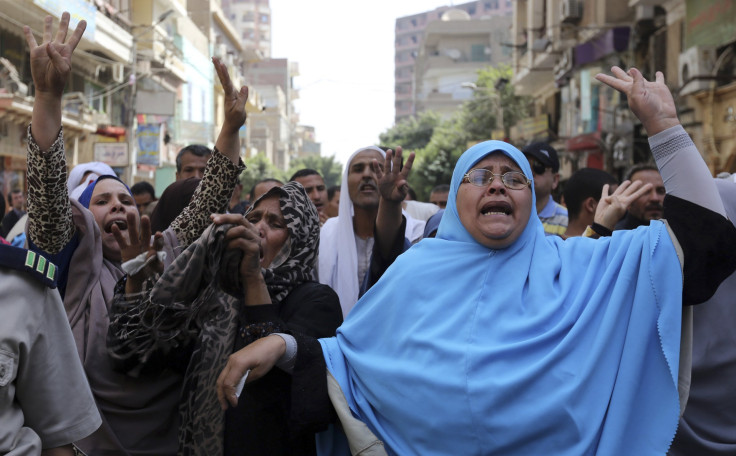 Egyptian courts have sentenced more than 1,200 people to death in the past three months. The majority are likely to escape hanging, but those who are detained will languish in jails that are already overflowing, in a prison system that human rights groups say violates international law.
Furthermore, the majority of those sentenced may never even be arrested. They'll remain in hiding, fearful for their own safety, no doubt, but also posing a continuing threat to the government's efforts to maintain control.
The death sentences are part of the campaign by the interim military government to suppress the Muslim Brotherhood, which supported former President Mohammed Morsi, who was ousted from power last July. Human Rights Watch predicts that most of the death sentences will not be upheld. Instead, the courts will sentence hundreds to life in prison. But Egypt's security forces are already trying to deal with the more than 16,000 political dissidents they have arrested since last summer. They don't have the capacity to handle more.
Egypt sentenced 683 people to death last month, and the same court sentenced 529 alleged Muslim Brotherhood supporters to death in March. The judge upheld only 37 of those sentences.
As striking as the rate of commutations, though, is the gap between the number of cases and the number of actual arrests. Among those 1,200 people sentenced, only 74 have been detained by security forces so far. The lack of coordination between local police officers and security forces from the Ministry of Interior has allowed people like Hossam el din Salah Shibab, a 44-year-old physician from Minya, to go into hiding.
The Egyptian courts found Shibab, as well as hundreds of others, guilty of murder and attempted murder of policemen during rioting by Morsi supporters in Minya on Aug. 14. In a phone interview from Cairo, Ahmed Shibab, a lawyer, said his brother is currently living in London after fleeing the country last month, arriving in the UK through an Asian country he would not name for security reasons. Human rights groups say few of those sentenced have escaped the country; hundreds are in hiding in Cairo or the countryside.
If security forces do round up the fugitives, it's unclear where the prisoners would go.
The Global Detention Project reports that there are about 25 prisons in Egypt. Some are within police stations under the control of local police officers, while others operate under the direction of the Ministry of Interior.
According to sources at Human Rights Watch, the 74 people who have been arrested were transported to Al-Wadi Jadid, a region at least eight hours from the defendants' homes. The prison authority within the Ministry of Interior is overseeing their detention.
The prison, located in one of the most remote regions in the country, is known for its harsh conditions. A Swiss-based, independent human rights organization, Al Karama, said in a statement in 2012 that the organization learned of "serious human rights violations committed against more than 200 detainees" in Al-Wadi Jadid. According to the statement, prison authorities did not allow detainees to leave their cells for over two weeks, and did not provide water to wash and shower. The organization also documented cases of torture and sexual assault in the prison.
Officials at Amnesty International said there have not been any reports of torture related to the most recent arrests of political opponents, but that they could not determine what is occurring in Egypt's prisons now. Detention conditions in Egypt are notoriously poor. Prisoners are often in overcrowded cells with poor ventilation and light, and suffer a lack of water and food.
The Egyptian government has barred international observers into its prisons since the early 1990s. Officials at International Committee of the Red Cross said the organization has been talking with Egyptian authorities since 2003 in an attempt to get access to prisons.
The case of the 683 individuals sentenced to death in April has been referred to Egypt's grand mufti, the top Islamic official who, according to Sunjeev Bery, advocacy director of the Middle East and North Africa for Amnesty International, can weigh in before the court issues its final verdict. The mufti is expected to announce his decision on June 21. Following the court's decision, the defendants can appeal.
Shibab's defense attorney was his own brother (who also defended 35 others sentenced to death in April). Ahmed said only 25 percent of the accused actually belonged to the Muslim Brotherhood and that the court implicated his brother in the Minya rioting because he had complained about police abuse in the past.
"The defendants were not allowed to defend themselves in court and there were many mistakes in the case itself," Shibab said. He has little faith that an appeal will succeed.
Elections are scheduled for May 26-27. Abdul Fattah al-Sisi, the defense minister and military leader who is currently running the government, is expected to win the presidency. Egypt's likely future: more trials, more sentences, and more fugitives.
© Copyright IBTimes 2023. All rights reserved.