Hungary Public Outrage Day: 10,000 Hungarians Protest Against Corruption, Orban Government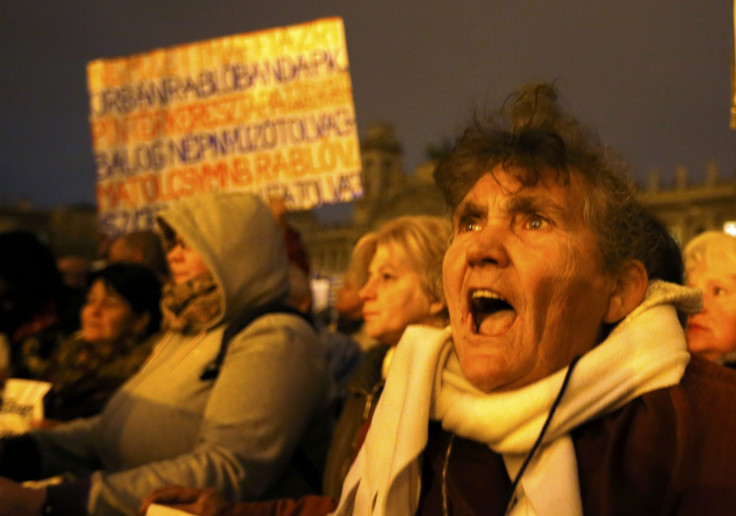 More than 10,000 Hungarians took to the streets of Budapest Monday to demand more accountability from Prime Minister Viktor Orban's government and the ousting of Ildiko Vida, a tax authority head embroiled in a corruption scandal that resulted in a U.S. travel ban. The protest was named Public Outrage Day and is the fourth such rally in Budapest this month.
The mood in the air was tense as a crowd of a few thousand refused to leave a square near parliament after the protest was declared officially over. Some in the crowd reportedly took down metal barriers and began pushing against riot police keeping them away, but there were no reports of serious violence.
Vida refuses to step down as head of the country's tax office, despite calls from opposition members. She is one of six Hungarian officials under U.S. travel bans imposed last month. The U.S. said the ban is for being engaged in or benefiting from corruption, but it has yet to name an actual case or charges. She called the U.S. travel ban an "unprecedented and lowly attack" and said she may file a libel suit.
Opposition members in parliament have also asked for the government to conduct an investigation into possible corruption. One critic, Parliament Member Agnes Vadai, said there were reports by the joint U.S.-European anti-fraud office going back to 2011.
The crowd outside parliament Monday vented frustrations over what participants called rampant corruption in Hungarian politics.
"The government is telling us one lie after another, politicans are getting richer and richer and in this democracy they're the only ones winning," said Anna Der, a Hungarian student who attended Monday's protest. "We have to make sure Orban hears our message."
Protest leader Balazs Nemes shared Der's sentiment, declaring, "We are not here to bury a government, but to bury a system."
Vida's scandal is just the latest in a laundry list of issues that have brought Hungarians to the streets in recent weeks. Orban, who has become an increasingly divisive figure for Hungarians since he won a third term as prime minister earlier this year, had to abandon plans for an Internet tax in late October after tens of thousands of Hungarians protested.
His party, the center-right Fidesz, has a firm two-thirds majority in parliament that rarely contradicts him, prompting some critics to warn he is becoming authoritarian. His pivot over the last few years toward old Cold War ally Russia has provoked fears among Hungarians, many of whom want deeper involvement in the European Union, of which Hungary is a member.
In nearby Czech Republic, President Milos Zeman was pelted with eggs and sandwiches by angry crowds upset with his recent embrace of Russia. The Czech Republic celebrated the 25th anniversary of the Velvet Revolution Monday, a peaceful movement that prompted the end of Communist rule in the former Czechoslovakia.
© Copyright IBTimes 2023. All rights reserved.