Hurricane Irene cuts power to 3.3 million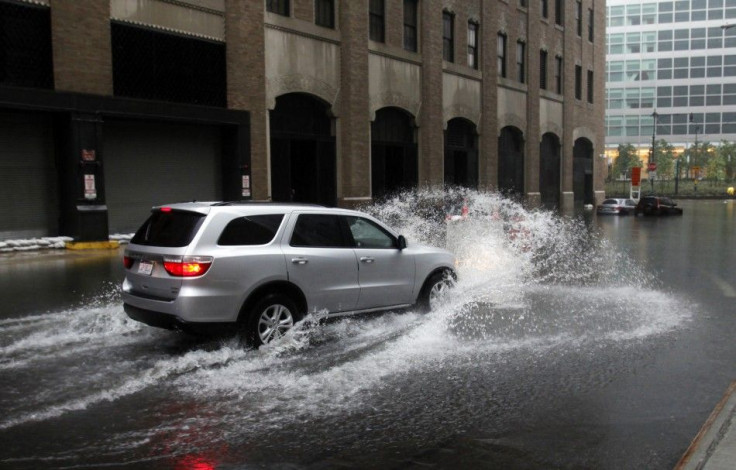 Hurricane Irene knocked out power to 3.3 million homes and businesses along the East Coast, forced two nuclear plants to shut and idled oil ports and refining as it approached New York City early on Sunday.
The category 1 storm made landfall in New Jersey before dawn with 75 mile-per-hour/120 kph winds, dumping heavy rain and provoking storm surges. The hurricane was 40 miles southwest of New York City at 8:00 a.m. EDT, the National Hurricane Center said.
Mid-Atlantic coast states reported more power losses even as blackouts in New Jersey, New York and Connecticut jumped. In New York City and nearby Westchester County, some 80,000 customers lost electricity.
Consolidated Edison, which powers nearly 3 million homes and businesses -- or more than 8 million residents -- in the city warned that flooding could prompt much wider power cuts in downtown Manhattan.
Two East Coast nuclear power plants shut to ensure safety. Aluminum siding flew off a building in Maryland and slammed into a transformer at CENG's Calvert Cliff reactor early Sunday, forcing it to shut and declare an unusual event, the lowest level of nuclear emergency. CENG said the reactor was safe and secure.
As a precaution against winds, Exelon Corp took its Oyster Creek nuclear power plant in New Jersey offline on Saturday. The plant normally supplies electricity to as many as 600,000 homes.
Several East Coast oil refineries throttled back operations and ConocoPhillips shut its Bayway plant in New Jersey.
With gale-force winds and rough seas threatening shipping, the oil hubs of New York Harbor and the Port of Philadelphia declared alert level Zulu, an emergency designation that severely restricts vessel traffic, the U.S. Coast Guard said.
IRENE NEARS NEW YORK CITY
The path of Irene was shifting westward, raising the prospect of 10-foot/(3 meter) storm surges, forecasters said. That could raise the odds of blackouts in New York City.
Con-Ed said it was evaluating whether to turn off power later on Sunday in low-lying areas of Manhattan including the Financial District. Hundreds of thousands of residents in the area have already evacuated to higher ground.
We're now at a critical moment of the storm with debris starting to fly due to the high winds, said Con-Ed spokeswoman Joy Faber. Our crews in the field are reporting more hazardous conditions.
Shutting off power in downtown Manhattan before flooding from a storm surge could lessen the time required to restart services.
Irene earlier cut power to large swaths of Virginia and North Carolina as it came ashore, prompting Brunswick nuclear power plant in Southport, North Carolina to reduce power generation.
© Copyright Thomson Reuters 2023. All rights reserved.