Hurricane Sandy 2012 Live Update: New York and New Jersey Deal With The Unrelenting Damage [BLOG]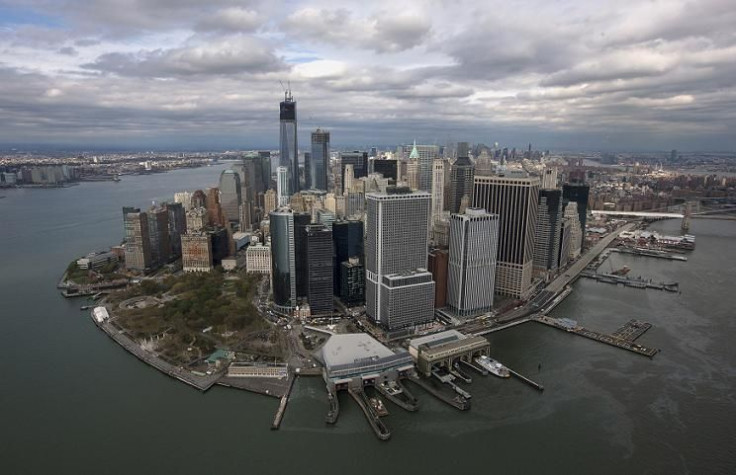 [Update 8:53 a.m. ET] BREAKING: Con Ed has assured New York City customers that all power will be restored by the weekend, according to BloombergNews. Power is expected to return on Friday and Saturday. Details will be provided as they become available.
[Update 7:35 a.m. ET] The death toll from Hurricane Sandy has risen to 74, according to an overnight report by the Associated Press. The highest number is currently in New York state, with 30 deaths; 14 have died in New Jersey and 11 in Pennsylvania.
New York City has reopened limited sections of the subway Thursday, but downtown Manhattan subway stations remains out of service due to flooding and continued power outages, and there is no subway service between the outer boroughs and Manhattan. In Brooklyn, lines for shuttle buses stretched for several blocks as commuters faced significant delays in their daily commute.
Over 5 million customers remain without power throughout the U.S. Thursday, though the total number of power outages has gone down significantly from 8.5 million in the immediate aftermath of the hurricane. New Jersey remains the hardest hit state in terms of outages, with 2 million customers still without power -- down from 2.7 million Wednesday.
[Update 10:50 p.m.] The Metropolitan Transit Authority will suspend bus and subway fares in New York City on Thursday and Friday in an effort to encourage commuters to avoid private vehicular transportation, New York Governor Andrew Cuomo said in a news briefing Wednesday night. Cuomo said that traffic congestion in Manhattan Wednesday reached dangerous levels as commuters found themselves without public transportation as many New York City residents returned to their offices for the first time since Hurricane Sandy ravaged the east coast.
In areas that remain without power for the third day, Cuomo said that there have been reports of elderly residents living in high-rise buildings who are unable to leave their apartments and are running out of food. He said that FEMA will deliver one million meals and as many gallons of water on Thursday which will be distributed to those in need.
[Update 10:15pm ET] Partial subway service in New York will resume Thursday morning, but downtown Manhattan below 34th Street remains unreachable and without power. Some lines will run from the Bronx and Queens into Manhattan and within Brooklyn; check this map published by the Metropolitan Transit Authority to see which lines are reopening.
Air transport is returning slowly. LaGuardia, the most severely flooded of the city's three airports, will reopen at 7am Thursday with a limited number of flights expected to depart and arrive; JFK and Newark are both open, but airlines are providing lmited service.
n">[Update 9:53 p.m.] An unknown amount of fuel spilled from a North Jersey oil facility that had been closed due to Sandy, the site's operator said Wednesday night.
Motiva, a joint venture of Shell Oil and Saudi Refining, said the spill occurred at its Sewaren, N.J., facility, along the Arthur Kill, the narrow strait separating New Jersey from Staten Island, N.Y., Reuters reported.
"No injuries have occurred and there has been no further product released since the initial event. Previously deployed booms are continuing to skim released product in the Woodbridge Creek adjacent to the site," the company said in a statement.
NBC, citing the U.S. Coast Guard, said 300,000 gallons (115,000 liters) of diesel fuel had spilled, and that 200 people were working on the cleanup.
[Update 9:45 p.m.] Fifteen people in the seaside Far Rockaway section of Queens and nine in Coney Island, Brooklyn, were charged with burglary and other offenses involving looting at stores, The New York Times reported. Among them was a 29-year-old woman who faced a weapons charge "after the safe she was carrying from a store was found to contain a firearm," NYPD spokesman Paul Browne said.
Jersey City, N.J., was under a 7 p.m.-to 7 a.m. curfew, partly to deter looting.
New Jersey's Public Service Electric and Gas Co. said 900,000 customers were still without power, down from a peak of 1.7 million Tuesday, the Times reported. It said electricity was on again in Newark, Elizabeth and parts of Jersey City, and all power should be restored -- by Nov. 9.
Jersey Central Power and Light said nearly 950,000 customers did not have electricity, about half of them in Monmouth and Ocean Counties along the shore.
Connecticut Light and Power reported that more than 318,000 customers were out.
[Update 9:15 p.m.] Hoboken, N.J., Mayor Dawn Zimmer appealed to her beleaguered residents for patience Wednesday, saying that with the help of the National Guard the city is working as fast as it can to either rescue marooned residents or bring supplies to those who want them and are able to stay.
"I understand this an extremely difficult situation. We have been doing the best we can in responding to emergency situations," said Zimmer, speaking to the press outside City Hall, the Jersey Journal reported.
Officials said a staggering 500 million gallons of foul liquid -- river and rainwater, sewage and oil -- covered the streets of the city, CNN reported. Yet the drinking water was said to be safe.
Ninety percent of the city's 50,000 residents were still without power Wednesday night.
[Update 9 p.m.] New Jersey Gov. Chris Christie issued a waiver Wednesday letting gas stations and other fuel merchants to buy out-of-state gas and diesel for New Jersey customers, The Star-Ledger reported. Normally, merchants not licensed to import fuel cannot legally buy it from other states.
The governor noted that gasoline and diesel fuels are running short across the East Coast as major pipelines and refineries shut down during the hurricane. Power outages and other damage are delaying restarting fuel production
[Update 8:10 p.m. ET] A Washington Post-ABC News poll has found that 78% of likely voters approve of President Obama's response to the national disaster of Hurricane Sandy, which ravaged the eastern seaboard.
The Washington Post published the results of the tracking poll on Wednesday, which asked likely voters to rate Obama's, Governor Romney's, and the federal government's response to the devastating storm. Roughly two-thirds of likely Romney supporters approved of the President's response to the disaster, and 73% of the total respondents gave the federal government good marks. 44% of those polled said the Romney's response was "excellent" or "good," with 35% stating they had no opinion on the GOP candidate's response.
The Northeast U.S. continues to rebuild after the storm, and the New York Stock exchange reopened for business Wednesday morning without any significant glitches. More than a dozen U.S. states were impacted by the storm, which is being blamed for a death toll of up to 62, according to a recent Fox News report, with the fatality count expected to rise as emergency workers search through rubble and flooded areas. Casualties have been reported as far south as North Carolina all the way north to Canada.
Though much of Sandy's devastation was concentrated in New Jersey and New York, nearly 100,000 customers remain without power in the areas surrounding Washington, D.C., and Baltimore, Md.
[Update 7:03 p.m.] About 6 million homes and businesses in 15 states were still without power Wednesday, down from a high of nearly 8.5 million, which surpassed the record 8.4 million customers who went dark from last year's Hurricane Irene, according to an estimate by Reuters.
The U.S. death toll reached at least 64, with 30 people killed in New York state, nine in Maryland, and six each in New Jersey and Pennsylvania. Five other states reported fatalities. Sandy killed 69 people in the Caribbean last week.
The remains of Sandy passed over Pennsylvania Wednesday. Winter storm warnings were in effect along the central Appalachian mountains and flood watches and warnings were issued across New England and northern mid-Atlantic states.
Homeland Security Secretary Janet Napolitano said the storm may prove to be the most expensive in U.S. history.
"Now we are looking at flooding on Lake Erie, possibly Lake Michigan," she said. "We're looking at secondary flooding downstream as rivers fill with the remnants of Sandy and the water has to go somewhere."
[Update 5:25 ET] President Barack Obama joined New Jersey Gov. Chris Christie Wednesday afternoon for a helicopter tour surveying the devastating coastal damage from Hurricane Sandy. According to the Washington Post, the president and the governor flew over the Jersey Shore for about a hour before landing and speaking to displaced residents on the ground.
Speaking at a community center, the president said: "I want to let you know that your governor is working overtime," adding, "The main message I wanted to send is the entire country has been watching what's been happening. Everybody knows how hard Jersey's been hit."
Further north in the state, residents of Hoboken, N.J., which borders the Hudson River across from Manhattan, are battling severe flooding. On Wednesday, the National Guard was sent to aid in emergency rescue services for the estimated 20,000 residents who are believed to be stranded in their residences.
The Republican Christie, who has been a vocal critic of the Obama administration, put politics aside on Tuesday to praise the president's commitment to recovery.
"The federal government's response has been great," Christie said in an appearance on the "Today" show in the morning. " I was on the phone at midnight again last night with the president, personally, he has expedited the designation of New Jersey as a major disaster area."
Hurricane Sandy made landfall in southern New Jersey Monday evening, wiping out power to an estimated 65 percent of the state, according to the Department of Energy. Power is being slowly restored with that percentage currently reduced to 51, just over half of the state's residences and businesses. Gas shortages are becoming increasingly critical in a state that relies heavily on personal vehicle transportation. Reuters reports that while about half of the service stations in the state are not operating due to a loss of power, those currently open for business are at risk of running out of fuel supplies within 24 hours.
[Update 3:15 p.m. ET] The New York Times has published a
detailed
update on the limited MTA subway restoration that will begin Thursday.
In a news briefing Wednesday afternoon, New York City Mayor Michael Bloomberg said that subway service restoration is a "very complicated process," and that it is unlikely that service in tunnels running below the East River will be restored before the weekend.
The mayor also announced a new restriction on passenger car traffic: From 6 p.m. through midnight until further notice, all cars entering Manhattan via the East River bridges, the Holland Tunnel, the Henry Hudson Bridge, or the Lincoln Tunnel will require a minimum of three passengers.
Bloomberg addressed the widespread loss of mobile phone service and said the he had been in talks with AT&T and Verizon to restore service as soon as possible.
There has been no date yet set for when those evacuated will be able to return to their residences, but a sticker system is in place to identify which structures have passed building inspection and are safe.
Bellevue Hospital suffered further damage from the storm than initially thought, the discovery of which prompted an evacuation of the hospital on Wednesday afternoon. Patients will be relocated to nearby hospitals.
New York City public schools will remain closed to students for the remainder of the week, though teachers are expected to return on Friday.
[Update: 2:50 ET] NY1 is reporting that Bellevue Hospital in New York City is being evacuated, though there are very few further details available at this time.
The New York City Mayor's office has denied the New York Post's reports that passenger cars will be banned from Manhattan. Mayor Michael Bloomberg's scheduled press conference Wednesday afternoon continues to be delayed but the office had tweeted a message that he is expected to deliver a news brief very shortly.
MTA subway lines will resume limited service on Thursday, but there will be no service below 42nd street on the east side of Manhattan or south of 34th street on the West side.
[Update 11:45 a.m. ET] New York City Mayor Michael Bloomberg rang the bell at the New York Stock exchange Wednesday morning in lower Manhattan as the Tri-state area surveys the damage of Hurricane Sandy, which made landfall in Southern New Jersey on Monday evening.
Bloomberg News reports that those on the NYSE floor were struggling with compromised Internet and mobile phone connections but that trading still went relatively smoothly this first morning back to work after Sandy devastated much of the Eastern seaboard.
On Tuesday, the U.S. Army Corps of Engineers sent a team to help pump the water out of the flooded tunnels of the New York City mass transit system. The city had made no announcements about when the subway system may reopen but it seems more than likely the underground tunnels will be closed for several more days at least.
NY1 reported Wednesday morning that rescue workers were searching for two boys, aged 2 and 4, who were swept away by the storm in Staten Island after being separated by their mother on their way to seek shelter.
[Update 8:15 a.m. ET] President Barack Obama is scheduled to visit hurricane-ravaged New Jersey today, where Governor Chris Christie will lead him on a tour of the devastation.
Hurricane Sandy has been blamed for six deaths in the state, and 2.7 residential customers are without power.
A recent NBC News report calculated the national death toll at 55.
Both Obama and his Republican presidential challenger Mitt Romney have canceled campaign events in key states this week due to the storm. The president had reportedly offered to visit New York City but was respectfully turned away by Mayor Michael Bloomberg. The mayor said on Tuesday that he told the president's chief of staff that the city "would love to have him, but we've got lots of things to do."
Hundreds of thousands of residents in New York and New Jersey remain without power Wednesday, and the New York City subway system remains closed due to flooding.
MTA buses are running on a regular schedule Wednesday, though the near-blackout in lower Manhattan means that vehicles downtown will not have the benefit of traffic lights and signals.
The New York Stock Exchange and NASDAQ will open Wednesday, with many employees expected to work remotely, as Manhattan's Financial District suffered severe flood damage and transportation is extremely limited. The New York Times reports that trading firms have spent the last two days doing "extensive testing" of their systems, but there are no guarantees Wednesday's opening will be without glitches.
"It's incredibly important to open these markets," Miranda Mizen, director of equities research at TABB Group, told the Times. "It says New York is open for business."
[Update 10:30pm ET, Tuesday] Lower Manhattan below roughly 30th Street remains in the dark Tuesday night, without a date set for power to resume. All commerce in the lower third of the island is halted after Sandy brought a storm surge of almost 14 feet, the most in the city's recorded history (the previous record was 10 feet during Hurricane Donna in 1960, according to the National Weather Service.)
One disaster modeling company said on Tuesday that Sandy may have caused up to $15 billion in insured losses, Reuters reported. That figure would make Sandy the third-costliest hurricane ever, behind Katrina in 2005 and Andrew in 1992. The actual cost may be much higher, because the 15 billion figure does not take into account residential flood losses or flooding of tunnels and subways.
Mass transit in New York City remains halted, with only bus service set to resume Wednesday in much of the city. Flooding in the subway will keep the system closed for at least four days, and service will be reinstated in various stages, a spokesman for the Metropolitan Transit Authority said.
The stock exchange is set to reopen on Wednesday, but traders will work remotely as Wall Street is in a flooded, evacuated zone.
[Update 10:00 pm ET, Tuesday] The Port Authority of New York & New Jersey announced that they expect JFK airport to reopen Wednesday afternoon. The FAA said that Newark airport will reopen at 7am on Wednesday. Both airports will not have full service, however. Laguardia airport sustained extremely heavy damage and is not yet ready to be put back on line. Between 16,000 and 17,000 flights have been cancelled on the East Coast, according to figures from airlines.
With more than 700,000 New York state residents still without power, ConEd reported tonight that it could take as long as two weeks before people whose homes are serviced by overhead lines get their electricity back. Underground power restoration could be completed in as little as four days. Con Ed described the storm as the "worst in its history."
The death toll in New Jersey from Hurricane Sandy stands at 6 including a Mendham Township couple who were killed by a falling tree as they were getting out of their car; their children, ages 11 and 14, watched in horror, authorities said. New York City's Mayor Michael Bloomberg said this evening that the number of New York City residents who are known to have died from the storm has risen to 18 from ten, as previously reported.
[Update 5:00 pm ET, Tuesday] The number of deaths from Hurricane Sandy has been raised to 39 in seven states, according to The Associated Press. Many victims were killed by downed trees, officials said. The death toll may rise. Emergency personnel in New Jersey continue to search for victimes and survivors and to complete their assessment of the storm's damage. "We are in the midst of urban search and rescue. Our teams are moving as fast as they can," Gov. Chris Christie told the wire service.
New York City officials said they are cancelling the city's Halloween parade, scheduled for Wednesday, for the first time in 39 years.
The MTA said limited bus service was set to return to New York City beginning Tuesday at 5 p.m., while on Wednesday Pres. Obama was scheduled to tour various parts of New Jersey with Gov. Chris Christie. "My message to governors and mayors and through them the communities hit so hard, we're going to do everything we can to get resources to you and make sure any unmet need is responded to as soon as possible," Obama said while speaking at the Red Cross headquarters in Washington, D.C.
[Update 2:00 pm ET, Tuesday] Hurricane Sandy has claimed 33 lives in the U.S. so far, after killing 69 in the Caribbean late last week. Ten of those dead are residents of New York City, where Mayor Michael Bloomberg said in a news conference late Tuesday morning that he expects the death toll to rise as soon as more information comes in. Several of the deaths appear to have been the result of falling trees, according to earlier news reports and the mayor's statement.
Three quarters of a million New Yorkers are without power Tuesday, largely due to an explosion at a Con Edison facility in southeast Manhattan on Monday night. Based on his communication with a Con Ed executive, the mayor said that it could be more than three days before power is restored in some areas.
The MTA remains paralyzed by the flooding effects of Hurricane Sandy, and Bloomberg said he could not project when the subway system would reopen. MTA buses will resume limited service Tuesday evening with expanded service expected on Wednesday.
New York City public schools will remain closed through Wednesday, and there has not been an official determination about whether they will reopen on Thursday.
New Jersey is suffering from equally or more severe consequences of the devastating storm, which made landfall in the southern part of the state Monday.
In a news conference Tuesday morning, New Jersey Governor Chris Christie said "the devastation on the Jersey Shore is some of the worst we've ever seen. The cost of the storm is incalculable at this point."
[Update 11:00 a.m. ET, Tuesday] A large swath of lower Manhattan remains without power Tuesday after an explosion at a Con Edison facility on the East Side Monday evening. Residents of lower Manhattan and parts of Weschester County can expect to be without power for several days, according to a Con Ed spokesperson speaking to the Wall Street Journal.
New Jersey Governor Chris Christie is giving a briefing regarding recovery efforts, with New York City Mayor Michael Bloomberg expected to follow as soon as Christie's briefing has concluded.
In New York City, the MTA subways and buses remain suspended Tuesday with some discussion of gradually resuming bus service later Tuesday. Public schools and the New York Stock exchange remain closed.
Update 5:19 a.m. ET] More than 50 homes have burned to the ground in a six-alarm fire in the Breezy Point neighborhood of Queens, New York, the fire department said in its official Twitter feed early Tuesday.
[Update 5:17 a.m. ET] Authorities are conducting rescues from homes in three New Jersey towns after a levee break. The break occurred after midnight in the town of Moonachie in Bergen County, New Jersey Office of Emergency Management Sgt. Adam Grossman said.
[Update 4.30 a.m. ET] More than 5.5 million people without power across the U.S. East Coast.
[Update 4.00 a.m. ET] Sandy makes its way toward land converging with a cold-weather system causing not only heavy rain and high winds, but snowfall too.
[Update 3. 20 a.m. ET] The US Coast Guard rescued 14 of the 16 crew members who abandoned the replica ship HMS Bounty.
[Update 8:09 p.m. ET] Forecasters say the center of former Hurricane Sandy has made landfall along New Jersey coast.
[Update 7:17 p.m. ET] A New York City building has collapsed on 8th Ave & 14th as a result of winds sustained from post-tropical cyclone Sandy
[Update 7:14 p.m. ET] Hurricane Sandy has officially turned into a post-tropical cyclone as it sustains maximum winds of 85mph. The eye of Sandy is expected to make landfall in New Jersey within the next hour, according to the National Hurricane Center in Miami.
[Update 5:56 p.m. ET] All four of New York City's bridges over the East River - the Brooklyn, Manhattan, Williamsburg and Queensboro bridges - will be closed at 7 p.m., Mayor Michael Bloomberg said.
[Update 5:42 p.m. ET]Hurricane Sandy has been spotted about 40 miles south of Atlantic City, New Jersey with maximum sustained winds of 90 mph. Landfall is expected sometime in the next hour accompanied by a life-threatning storm surge and hurricane-force winds, according to the National Hurricane Center in Miami
[Update 4:25 p.m. ET]More than 765,000 in seven states have no electricity, with New York and New Jersey being the most affected states with more than 220,000 outages each.
[Update 4:18 p.m. ET]The most recent advisory out of the National Hurricane Center in Miami spots the center of Hurricane Sandy about 55 miles east southeast of Cape May, N.J., with maximum sustained winds of 90mph. Landfall is expected sometime Monday evening.
[Update 3:41 p.m. ET] A search is under way Monday for two crew members of the ship HMS Bounty, which sank off the coast of North Carolina after it was caught in Hurricane Sandy, the U.S. Coast Guard said. Earlier Monday, two Coast Guard helicopters rescued 14 people from life rafts after they were forced to abandon ship.
"It appears that two crew members didn't make it onto the life rafts," Coast Guard spokesman Lt. Michael Patterson told NBC News. The Coast Guard was speaking with the rescued crew members to find out more details.
[Update 3:27 p.m. ET] A construction crane is dangling off a luxury high-rise in New York City, prompting a large emergency response as a huge storm bears down on New York City. The crane is at West 57th Street. No injuries are reported, but streets have been cleared as a precaution.
[Update 12:11 p.m. ET] In industrial Northern Brooklyn, it was business as usual Monday, as workers in the warehouses, factories and logistical hubs that line the flood-prone area surrounding Maspeth Creek shrugged off the blustery weather conditions and kept on grinding.
Tile wholesalers, steelworks, recycling depots and perishables warehouses were all busy taking in or sending off long-haul trucks, and traffic over the Metropolitan Avenue Bridge that serves as a conduit to the area was regular. Operations of New York City's Sanitation Department in the area also seemed unaffected.
Asked about working in spite of the impending hurricane, a Fed Ex courier who identified himself only as Shawn, and who was delivering a shipment to a warehouse on Grand Street around midday Monday put it succintly: "I had a shift. What are you gonna do?"
[Update 11:23 a.m. ET] Atlantic City, N.J., public safety director says most of the city is under water and looks like worse damage than 1962.
[Update 11:19 a.m. ET]New York is closing the Battery Tunnel and Holland Tunnel at 2 p.m. Monday.
[Update 11:05 a.m. ET]The Massachusetts Bay Transportation Authority is shutting down all service at 2 p.m. due to expected high winds. Secretary of Transportation Richard Davey says the order affects all subway, bus and commuter rail service.
[Update 10:58 a.m. ET] Hurricane Sandy intensified on Monday morning, the National Hurricane Center said. Maximum sustained winds have increased to 90 mph with gusts to 115 mph.
The East Coast is under close watch Monday morning as Hurricane Sandy makes its way toward the mid-Atlantic with 85 mph winds and a storm surge that the forecasters are calling "life-threatening."
The most recent reports out of the National Hurricane Center in Miami indicate that Sandy is about 310 miles south-southeast of New York City, moving north-northwestward at about 20 mph. The NHC adds that the weather system contains maximum sustained winds of 85 miles per hour and accelerating.
As Sandy made its way to the East Coast early Monday, its front force sent surges over boardwalks from Delaware to New Jersey hours before the reported 900-mile wide storm was to make landfall.
The very first reports of rescue efforts surfaced out of Oak Orchard, Del., after a community along the Indian River Bay declined to follow mandatory evacuation orders.
Officials across the Eastern Seaboard had requested residents to obey evacuation orders, emphasizing that local authorities could be put in danger if they tried to save them. Still, some didn't leave.
© Copyright IBTimes 2022. All rights reserved.
FOLLOW MORE IBT NEWS ON THE BELOW CHANNELS