Is Icelandic Volcano Öræfajökull Dangerous? Government Issues Flight Warning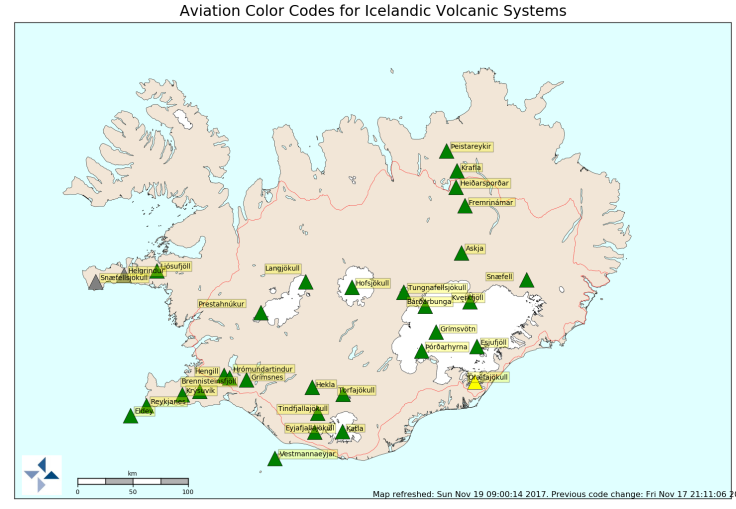 An Icelandic volcano named Öræfajökull has exhibited new geothermal and seismic activity causing the government to issue a warning Friday.
The Icelandic Meteorological Office has issued a yellow alert for the volcano located under Vatnajökull, Iceland's largest glacier. Satellite imaging showed that a half-mile long depression has formed in the ice due to geothermal activity. Icelandic authorities also say that a sulfur smell has been reported nearby at a smaller outlet glacier called Kvíárjökull.
A yellow warning means "Volcano is experiencing signs of elevated unrest above known background levels." The scale has five levels and yellow is third.
Though the government said there is no sign imminent eruption, they are monitoring Öræfajökull closely.
The Meteorological Office said that seismic activity around the volcano has increased over the past several months as well, indicating increased volcanic activity.
The Meteorological Office said the situation will be monitored in collaboration with scientists from the University of Iceland and the Icelandic Civil Protection Authorities. The Icelandic Coast Guard will fly over the area to gather more data about the volcano which last erupted in 1727.
Volcanic eruptions can have had a far and wide economic impact for the rest of the globe, especially for air travel. The 2010 eruptions of Eyjafjallajökull caused a widescale shutdown for flights entering airspace near northern Europe. The eruptions themselves were relatively small, but they sent massive plumes of volcanic ash into the skies over Europe disrupting the journies of at least 10 million travelers. Much of Europe's airspace was closed from April 10 through April 15. It is estimated by the International Air Transport Association that airlines lost a total of around $1.4 billion because of the eruptions.
© Copyright IBTimes 2023. All rights reserved.