Immigration Enforcement Shift Could Spare Thousands from Deportation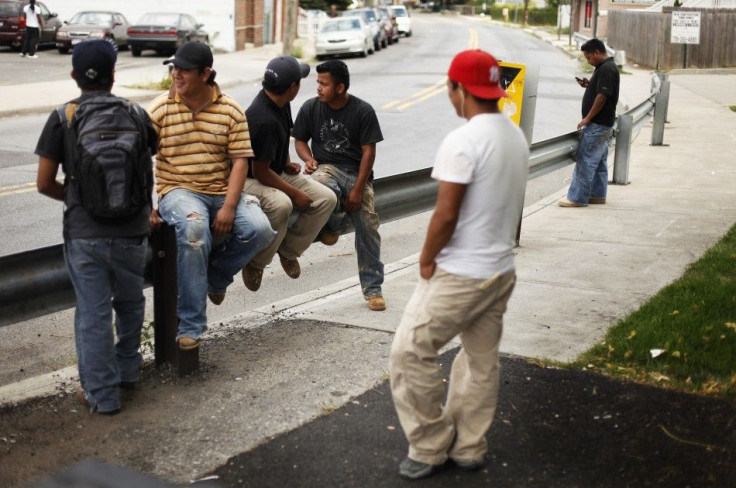 A recent shift in the policies guiding immigration field agents and prosecutors could offer the type of hope that has been steadily receding for Silvia Salcedo Sanchez.
The Department of Homeland Security announced last week a sweeping review of deportation cases before immigration courts and the establishment of a nationwide retraining program for enforcement agents and prosecuting attorneys. Both are intended to advance a policy, first articulated in a June memo from Immigration and Customs Enforcement director John Morton, that would focus deportations on immigrants who have committed serious crimes or who pose a threat to public safety. That would divert enforcement away from a broad category of noncriminal immigrants that includes those who arrived as young children, veterans and those with strong family ties.
Sanchez falls into the last group. She illegally crossed the border in 1995 to join her husband, a legal permanent resident who originally hailed from her hometown in Mexico, and they have since raised three children together in the Las Vegas area.
Sanchez does not have a criminal record. But in 2000 she returned to Mexico to visit her ailing mother and was sent back when she attempted to re-enter the United States. She made her way back to her family in Nevada, but an outstanding order for her removal resurfaced in 2007 when she filed to adjust her status, having been erroneously counseled that she could seek status through her husband. Now, she is fighting to keep her family from unraveling.
I'm very stressed, very nervous, Sanchez said in halting Spanish, her voice quavering. I have a lot of fear that any moment [Immigration and Customs Enforcement] could come and pick me up and that my children would be left alone, because I don't have other family other than my husband.
Prosecutorial Discretion
At the heart of the new enforcement framework is the concept of prosecutorial discretion. Field agents can choose who to target or place into the system, and prosecutors can choose whether to put a case before a judge or to suspend it. Morton cited finite resources and an overburdened court system in urging his agency to prioritize its efforts.
They're not saying to ignore these cases, said Eleanor Pelta, president of the American Immigration Lawyers Association. They're basically saying there are cases where people have very strong equities, very strong ties to the United States and they pose absolutely no threat to our security here. ICE headquarters is saying don't spend your resources pursuing those cases when you can spend you resources pursuing someone who is really a threat to the community.
Republicans and pro-enforcement organizations have denounced the shift, equating it to offering amnesty to thousands of undocumented immigrants. But proponents argue that it does not confer status or work authorization on immigrants who are currently ineligible, something only Congress has the power to do. When lower priority cases are closed, they are for the most part not terminated but simply put on hold.
For people who are trying to say somehow this is amnesty or extending status or doing an end-run around Congress, it just isn't, said Laura Lichter, president elect of the American Immigration Lawyers Association. For people who are caught in the system and don't have a way to regularize their status under the current laws, it beats the heck out of being removed. But it's a limbo.
A review by the American Immigration Lawyers Association found that the new policy had been applied unevenly, with many local ICE offices failing to implement any sort of change. While the Department of Homeland Security's latest effort is intended to lend some clarity and to advance the policy, agents still have the authority to remove any immigrant who is in the country illegally. Whether out of misunderstanding, personal principle or fear of releasing someone dangerous back into the community, many agents and attorneys appear not to have changed how they do their jobs.
A lot of government officials are resentful that the government is leaving them on the wing of the plane when they went through all the efforts of sending people to justice, said Michael Wildes, an immigration attorney and a former federal prosecutor with the U.S. attorney in Brooklyn. It seems like a waste of the government's time and effort to deport people with no criminal record and strong ties to society, so I think that it's a step in the right direction. But it will be interpreted by each district, every trial attorney and prosecutor by their own resources and feelings.
For the new policy to have real teeth, Wildes said, it would have to hold agents accountable with performance reviews that assess whether they exercise prosecutorial discretion in line with the priorities set.
The Political Context
President Barack Obama has overseen an unprecedented number of deportations, maintaining that he is focused on criminal immigrants. But immigration advocates have criticized the enforcement-heavy approach for also sweeping up many immigrants who have no criminal records or who have committed minor misdemeanors, pointing in particular to Obama's unwavering support for a program called Secure Communities that conjoins local law enforcement with federal immigration enforcement.
In one sense, the newly unveiled policy reflects the Obama administration's attempt to make good on its promise of prioritizing enforcement efforts. But it is also a reassertion of the federal government's authority at a time when numerous states have passed harsh immigration laws, contending that they enforcing the law where the federal government has not. The Obama administration has clashed with states over the constitutionality of new laws, most recently by challenging an Alabama law widely viewed as the toughest in the country.
I think that from the beginning this administration viewed immigration as an important, near exclusive federal prerogative and priority, and that's why we've seen record levels of removals from the first three years of the Obama administration, said Kevin Johnson, dean of the law school at the University of California, Davis.
What we're seeing is a continuing give and take and a political dialogue of some sort between the state governments, the federal government and the American people on immigration, Johnson continued. The states aren't backing down, the federal government isn't backing down and a lot of people view the system as broken.
© Copyright IBTimes 2023. All rights reserved.