Immigration Reform 2015: On Day Obama Executive Actions Would Have Begun, Democratic Mayors Hold Forums To Support Illegal Immigrants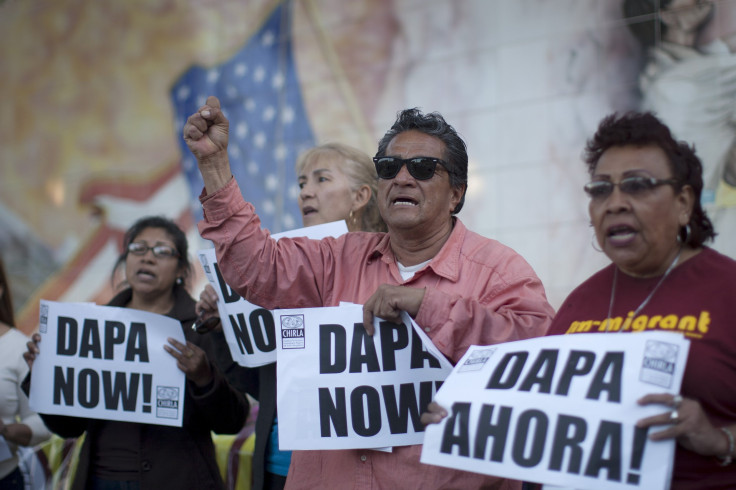 Local officials who support President Barack Obama's immigration moves said Tuesday they would help undocumented immigrants prepare for the process -- currently blocked by the courts -- to eventually get work permits and other rights. Their announcement marked the day the Deferred Action for Parents of Americans and Lawful Permanent Residents program was to begin taking applications. A federal judge halted the program in February, after states challenged the president's actions.
Cities United for Immigration Action, a coalition of municipal governments that support Obama's executive orders, announced Tuesday the application drive, as well as several "days of action" in locations around the U.S., including New York City, Boston, Denver and Los Angeles. Immigrant families, laborers and their allies were also expected write letters to federal magistrates urging them to let Obama's program take effect.
Obama's executive actions, announced last year but blocked by a federal district judge in February, would have granted relief from deportation and extended work permits to an estimated 5 million undocumented immigrants living in the U.S. A decision on a challenge to the program by more than half of the states, which was argued before the 5th Circuit U.S. Court of Appeals in New Orleans in April, is expected to come down at any time.
More than 70 pro-immigration reform cities and counties in Cities United filed a friend-of-the-court brief in April, calling for the executive actions to be implemented. Even after the program was halted, many advocates continued to stress that eligible undocumented immigrants -- those whose children were born in the U.S. or who didn't qualify for a previous deportation relief program -- gather the documentation needed for the application process.
"CUIA is a coalition of city governments that stands in support of stronger cities through immigration action. Through CUIA, America's mayors are shaping the national debate, working together to welcome and embrace new immigrants in support of the president's executive action on immigration," the alliance's press release said.
The coalition said its latest campaign is geared to keeping readiness to use the program at the forefront. In New York, a Tuesday evening town hall and training session was planned to help community leaders answer immigrants' questions, according to the coalition. In Los Angeles, 70 pro-bono attorneys were being trained to host a free legal screening event with the Mexican-American Bar Association on May 30. In Boston, an eligibility event to screen 300 individuals is also scheduled for May 30.
In Seattle, Mayor Ed Murray's office was expected to launch an immigrant resource website and to fund organizations that are helping undocumented immigrants to sign up for the program, according to the coalition. In Hartford, Connecticut, officials planned to hold a hearing on a proposed municipal ID program that the city would extend to undocumented immigrants. And in Denver, the city was expected to launch a hotline for immigration services.
© Copyright IBTimes 2023. All rights reserved.