Immigration Reform Advocates To Obama: What Happened To 'Year Of Action?'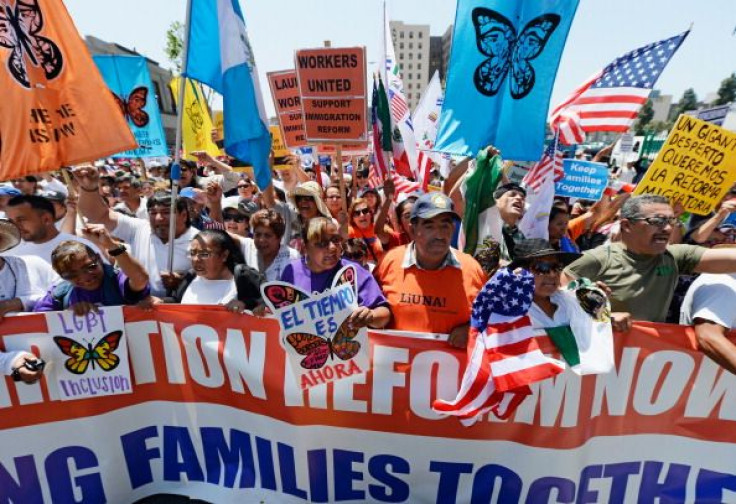 Some immigration reform advocates say that in a year U.S. President Barack Obama declared to be one of action on immigration, it's unnecessary for his administration to conduct a review of its deportation policies, as it has announced. It should, instead, just act unilaterally.
Their message: We appreciate the attention, Mr. President, but we've already done our homework, and your administration knows what's needed to fix the problem.
Kamal Essaheb, an immigration policy attorney with the National Immigration Law Center, or NILC, on Friday said the time for introspection has passed and that the president now needs to take "bold action."
"This is not the time for meetings. This is not the time for consultations. This isn't the time for internal scan," Essaheb said during a discussion with advocacy group America's Voice. "This is the time for bold action by the president to fix a problem that is central to the existence of the immigrant community here."
With the number of people deported fast approaching 2 million, Obama is seen by many in the immigrant community as the "deporter-in-chief." His record is almost 400,000 removals a year. Still, his critics say he isn't tough enough on those immigrants who have been living in the country without legal documents.
The president envisions an immigration law that would secure the borders, as well as provide a pathway to citizenship for the estimated 11 million undocumented immigrants in America. A bill that would result in the comprehensive immigration reform sought by Obama was passed by the Senate last year. However, it remains stalled in the House of Representatives.
In a meeting with the leadership of the Congressional Hispanic Caucus last week, Obama said he's asking the Department of Homeland Security to reassess its enforcement practices to make them more humane. The immigrant community has long criticized Homeland Security policies, saying low-risk immigrants -- who could possibly qualify for legal status should reform be enacted -- are finding themselves caught in the dragnet, when the administration has instructed that resources should target high-priority criminals who pose risks to national security.
"We've heard the president talk about his pen and phone," Essaheb said, alluding to Obama's earlier speech that he intends to act on policies where Congress is gridlocked. "Right now we need bold action and for the president to exercise the authority with respect to immigration."
But it's not just reform advocates who are encouraging the president to act alone while Congress figures out if they will work together to pass an immigration reform bill.
Some of his Democratic colleagues are also eager for Obama to provide some reprieve to those in the immigrant community who stand to benefit from reform, especially those who have made a life in the U.S. while being undocumented.
Earlier this week, Rep. Steven Horsford, D-Nev., saw firsthand how people can fall through the cracks, when he was contacted by Bryan Rivera, a U.S. citizen, whose mother was detained. Rivera's mother was a victim of domestic violence and her abuser made good on threats that he would've had her deported because she was undocumented.
The woman has since been released, and the congressman said his office is working to get her in good standing with the law. Horsford said it's time for Obama to use the pen and phone he has spoken about.
But to make a more permanent fix, "What we need most is to pass comprehensive reform," he said. "We need to keep families together. It is possible. We do have the votes. ... For far too long we've talked about family values in this country. But what does it say when we are tearing families apart? What does that say about our family values in this country?"
Other advocates have reiterated their call for an expansion of DACA, a 2012 memorandum by the administration that recommended using prosecutorial discretion in deporting children, to stop deportation for people covered by the DREAM Act.
"Let them live in peace as Congress is working it out," said Lynn Tramonte, deputy director of America's Voice.
© Copyright IBTimes 2023. All rights reserved.