Immigration Reform, Obamacare, The Economy: Just A Few Things Companies Like Facebook, Google And Much Smaller Businesses Want Resolved
There are two different notions about the current state of the U.S. economy, depending on who you talk to on Capitol Hill: Either it is recovering and improving (the prevailing view among Democrats), or it is so stagnant that Americans are giving up hope (the belief of Republicans led by House Budget Committee Chairman Paul Ryan.) Either way, business owners large and small have plenty to say to their congressional representatives during the August recess.
For businesses across the nation, prospects look much better -- on paper, at least -- than five years ago. The unemployment rate fell to 7.4 percent in July, a 2.1 percentage point drop compared with the same period of 2009. And though the 1.7 percent annual growth rate in the second quarter of this year is still nothing to rejoice about, business confidence appears stable, according to Moody's Analytics Survey.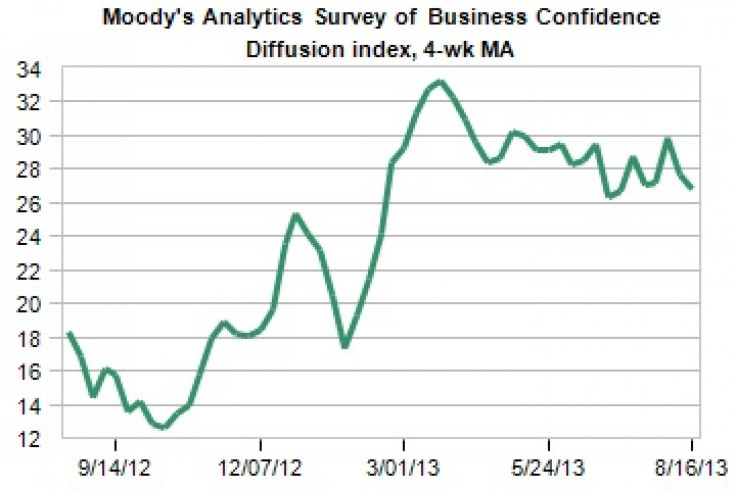 But business owners are looking to take advantage of the August congressional recess to help lawmakers understand that stability may be in jeopardy if Congress continues its gridlock. President Obama has meanwhile kicked off a summer economic push, urging job creation, a "grand bargain" to lower the corporate tax rate from the current 35 percent to 28 percent and infrastructure spending. Republicans have balked at the president's proposals, saying they're bad for families and small businesses.
The main issues congressional representatives can expect to hear about are economic uncertainty, declining consumer spending and the cost of health insurance, all of which challenge business growth and survival, according to a new report from the National Small Business Association, or NSBA. Not far behind are concerns about regulations, federal taxes and the national debt. With congressional representatives in their districts for the entire month of August, many business owners plan to take advantage of some face time, and the message most have, according to business owners and group representatives who spoke with International Business Times, is simple: "Don't screw up the recovery."
From the congested roadways of urban California to rural districts in Maine, the economy remains at the top of businesses' discussion agenda, along with the lawmaking gridlock. Business owners, like most Americans, express weariness with partisan logjams that derail efforts aimed at boosting the recovery. Lawmakers will be hearing about the economy, immigration reform, unemployment, and the Affordable Care Act -- the issues businesspeople think should be addressed in D.C.
"I think a real concern is ... a gridlock in Washington, failure to enact a budget, failure to increase the debt ceiling," Jim Lazarus, vice president of public policy at the San Francisco Chamber of Commerce, said. "Anything that disrupts economic recovery is bad for business and bad for employees."
For California It's Immigration, Health Care
San Francisco is home to many high-tech companies, including Apple Inc., (NASDAQ: AAPL), Facebook (NASDAQ: FB), Google (NASDAQ: GOOG), and Yahoo (NASDAQ: YHOO) -- all avatars of an industry with an average salary of $85,000 last year, more than double the U.S. average. Those large tech companies are concerned about immigration. According to the Kauffman Foundation think tank, the percentage of startup companies in Silicon Valley begun by recent arrivals to the U.S. fell from 52.4 percent to 44 percent since 2005. Some studies estimate that immigrant-founded companies accounted for tens of billions of dollars in sales and more than 400,000 jobs in 2005, and the decline is being felt. Concern that the future of America's international competitiveness may be eroding is therefore on the minds of businesses in Silicon Valley and elsewhere in the San Francisco Bay area. To address that, the political advocacy group Fwd.us was recently formed to lobby for immigration reform and to push for measures that make the country's workforce more competitive. The group launched new ads in support of immigration reform in August.
The nonpartisan Congressional Budget Office, or CBO, has concluded that the Senate-passed comprehensive immigration reform package, which includes a path to citizenship and an increase in border security, will help improve the economy. Though House Republicans have vowed to fight reform efforts that create automatic paths to citizenship, the CBO and reform supporters say that changes could create new revenue, boost output, and slash the deficit by billions over the next ten years.
"We have a strange immigration policy for a nation of immigrants," wrote Facebook's CEO (and co-founder of Fwd.us, a California-based business lobby group) Mark Zuckerberg in an April column for the Washington Post. "And it's a policy unfit for today's world." A better policy, he argued, would be to recognize that today's economy is based on knowledge and ideas, not industrial machines and labor. Toward that aim, Zuckerberg said he supports a path to citizenship and a policy that attracts hardworking, talented people regardless of national origin.
California business owner Scott Hauge believes it's time for Congress to recognize the perils facing American businesses that are already in operation. Hauge, who owns Cal Insurance & Associates, Inc., and is president of the nonprofit advocacy group Small Business California, is unabashed about the current regulatory climate, which he says the more than 2,000 small businesses within his group frequently complain about. One of the biggest concerns, he says, is Obamacare. Though the law's employer mandate has been delayed for a year, enrollment kicks in this October and according to the NSBA only about 20 percent of small business say they have a clear understanding of its impact on them; that's a 3 percentage point increase in understanding from six months ago. The remaining 80 percent have limited or no understanding of the law's impact, though a majority of employers say they plan on continuing to offer insurance.
Hauge has a lot of questions for Congress, chief among them how lawmakers see Obamacare affecting small business, and what legislators are doing to get accurate information out. With only 28 employees of his own company whose health insurance is fully covered, Hauge wants to know, "Is there any way that I can get money to my employees for them to purchase health insurance in pre-tax dollars? I don't know the answer. I just don't know the answer and that's a pretty fundamental question." We got a lot of education to do," he said.
Maine's Bane? Poor Job Growth
The slow U.S. job recovery is even slower in Maine, the easternmost state in the nation and one of the most rural. Nationally, nearly two thirds of the jobs lost during the recession have been recovered, but in Maine the job recovery rate is a mere 10 percent, a New England Economic Partnership report concluded in May. The state's key industries -- education, health services, manufacturing -- are all experiencing slower growth. Pre-recession employment probably won't be reached again until 2016, according to the New England Economic Partnership report.
The first thing Edward Barrett, city administrator of Lewiston, the state's second-largest city, will tell you is that the recession and its aftermath have been very painful, and congressional representatives should be prepared to hear about it. "We saw a large increase in people seeking assistance because of the economy," Barrett said. "I know that remains a concern in everyone's mind."
Lewiston has a general fund with just over $100 million to cover basic government expenses and schools, and of that, spending on general assistance increased from $450,000 in 2008 to more than $1 million in fiscal year 2012. Eighty percent of those funds go to housing, Barrett said, and during that period the number of people going on assistance for the first time has nearly doubled. In an average month, employees see about 200 recipients, some of whom are individuals and others families.
As in California and elsewhere, health care is a big concern in Maine. Republican Gov. Paul LePage has vetoed the state's Medicaid expansion program, and there weren't enough state House and Senate votes to override the veto. "Democratic leadership has spent the past week forcing this bill through the legislative process, over the objections of Republicans and Democrats alike," he wrote in his veto letter. "This unadulterated partisanship tied two different issues together in a quest to force welfare expansion upon the Maine people. I have said all along this bill would receive a veto when it reached my desk, so this letter should be no surprise."
By comparison, Vermont, less than 200 miles away from the Maine border, appears to be in a better position with its "modest recovery." Still, there is also uncertainty there over the nation's fiscal crises, according to the New England report. Some 11,000 of the 15,000 payroll jobs that Vermont lost during the downturn have been recovered, the state's education and health services are growing, and the state's housing market has made a turnaround. "For the most part, the continuing Vermont economic upswing is expected to be fueled by a revival in the pace of progress in the global economy," the report states.
But to maintain such momentum, congressional lawmakers are going to hear about what Paul Costello calls the "big picture challenges that are not being met by Washington today." Costello, executive director of the Vermont Council on Rural Development, says people in Vermont are concerned about the same issues as elsewhere -- the economy, health care and immigration reform. "I think that most Americans feel a sense of deep unease and are frustrated by the paralysis in Washington, where people are putting ideology and self-interest and attitude ahead of... working together as a team for the common good for the future of this country," Costello said. "Congressional folks are going to hear that frustration. They're going to hear a lot of people pushing them to work more effectively together and I think that's a really good thing and I hope it comes out loud and clear so that they do take initiative."
Economic Approval Rate Falling
Obama's renewed economic push may not have been enough, based on a Gallup poll that pegs his economic approval earlier this month at 35 percent, a 7 percentage point decline from June.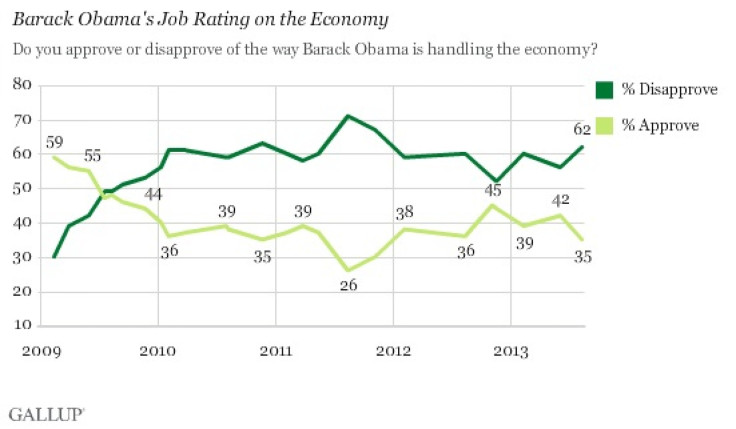 And ordinary Americans and businesses should be concerned that lawmakers on Capitol Hill are indeed paralyzed, argues Lance Roberts, chief economist at StreetTalk Advisors. Current regulations and taxes and poor sales keep businesses from hiring, even part time, Roberts said. "What government has been so great at doing over the last couple of years is implementing more regulations, particularly the Affordable Care Act," he said.
Roberts, who describes himself as anti-political, added, "The reality is that the best thing that can happen for the economy right now is for Congress to shut up and do nothing." Obama's grand bargain is no compromise at all, he claims, and said that if Republicans succeed in getting spending cuts, "that's the worst of all environments for the economy, short term, because now you're going to decreased consumption and decrease [in] what minimal support you're getting from government spending."
If he were in a position of national leadership, Roberts said, his agenda would focus on reducing regulations and doing whatever is necessary to encourage businesses to hire. "If I can put people to work and reduce the number of people who are out of work ... then wages start to increase," he said. "When wages start to increase, people have more money to spend, which means they can now go out and buy a house, they can spend more to increase economic growth, they can pay more in taxes. All your other problems get fixed by simply focusing on employment because if productivity comes first, productivity leads to everything else in the economic cycle. All the other stuff is putting the cart before the horse."
© Copyright IBTimes 2023. All rights reserved.