India-Africa Summit 2015: India Seeks To Challenge China's Dominance Through 'Unprecedented' Conference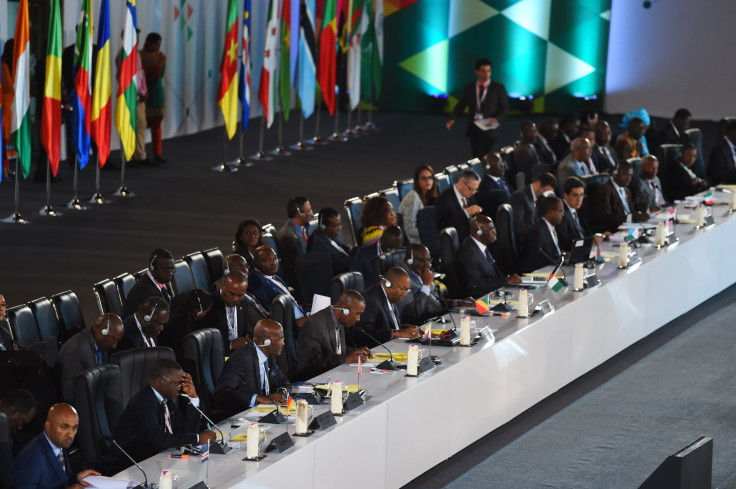 During an interaction with African journalist on the eve of the third India-Africa Forum Summit in New Delhi, Indian Prime Minister Narendra Modi sought to reaffirm the "strong emotional link" between the Asian nation and Africa. In India, the summit -- which kicked off Monday and is witnessing the participation of all 54 African countries -- is already being touted as an "unprecedented" event.
"The relations between India and the countries of Africa, these relations and these bonds that we have, are not just political and economic but we also have a very rich cultural tradition," Modi said. "I am convinced that during this summit and following the summit, we are going to have very important decisions which will give both India and Africa a new sense of self confidence, our relations are going to become closer and deeper."
The four-day summit is the biggest gathering of foreign dignitaries in New Delhi since the 1983 Non-Aligned Summit. Two previous India-Africa summits -- the first in New Delhi in 2008 and the second in Addis Ababa in 2011 -- were smaller events, with only representatives from select African nations participating.
India is Africa's fourth-largest trading partner, after China, the U.S. and the European Union. Over the past decade, the two-way trade between India and Africa has witnessed a massive surge -- from $25 billion in 2006 to the current level of over $70 billion. India currently has oil investments in Mozambique, South Sudan, Egypt and Libya, and is also the biggest importer of crude oil from Nigeria.
However, despite the rise, the bilateral trade still lags behind China's trade with Africa, which currently stands at $200 billion.
Like India -- which primarily imports crude oil and gas from the region -- China's trade with Africa is largely import driven, with the world's second-largest economy taking petroleum mostly from Nigeria, Angola, Equatorial Guinea, Ghana, Cameroon, the Republic of Congo, Gabon, Uganda, South Sudan, and Sudan.
"We can't match the Chinese in terms of resources -- but any engagement we do with the Africans at least gives them a choice," C. Raja Mohan, a foreign policy commentator at the Observer Research Foundation in New Delhi, told Reuters.
However, in order to challenge China's dominance in the continent, India has sought to distance itself from what it calls an "exploitative" relationship with Africa in favor of one that focuses on "Africa's needs and India's strengths."
In addition to economic and trade ties, the Indian government will also seek to focus on engaging all 54 African nations in its ambition to secure a permanent seat in the United Nations Security Council, and in developing a strong partnership on climate change ahead of a crucial conference in Paris later this year.
"The discussion [will focus] on several economic, cultural and political issues like green technology, blue economy, space technology, education, skill development, healthcare, food security, connectivity and peace and security," Modi said, in a statement released over the weekend.
© Copyright IBTimes 2023. All rights reserved.
FOLLOW MORE IBT NEWS ON THE BELOW CHANNELS