India-China Dispute: New Delhi Upgrades Border Infrastructure, But Beijing Still Has The Military Edge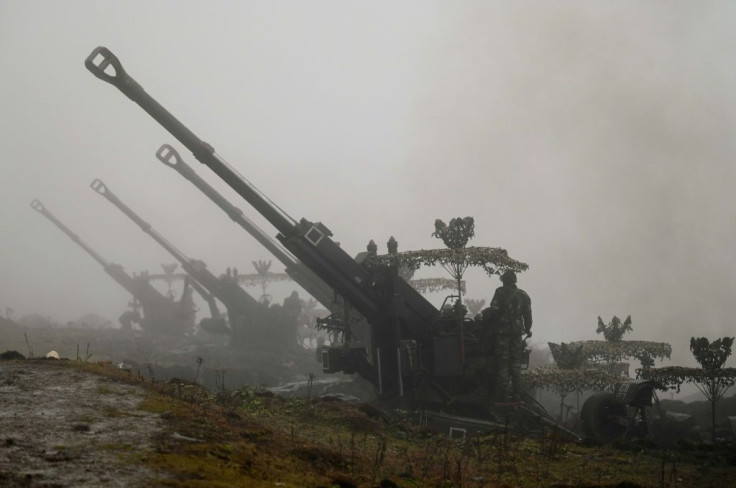 India is keeping up the pace of its infrastructure projects to reduce its border differential with China. However, Beijing still seems to be in the lead as both countries continue to strengthen their military muscle while being locked in a border standoff.
As part of ongoing efforts to bolster its military capabilities in the region, India "dedicated" 90 projects of the state-run Border Roads Organization (BRO) "to the nation" Tuesday. The new array of projects is worth more than $350 million and they are spread across 11 states and union territories, India's Ministry of Defense said in a statement.
New roads, bridges, tunnels, airfields and helipads will be added to the expanding portfolio of border infrastructure projects that New Delhi is developing as it keeps an eye on Beijing's military activity along the disputed border.
"Together with BRO, we are ensuring that the nation is secure and border areas are developed. Timely completion of infrastructure projects in far-flung areas has now become the new normal of New India," said India's Defense Minister Rajnath Singh.
New Delhi has been advancing its military readiness ever since India-China relations plummeted to a new low after the 2020 Galwan Valley incident.
In addition to boosting its war-fighting capabilities, India has also vigorously ramped up its efforts in building infrastructure, improving road connectivity in difficult terrain and fast-tracking the development of railway networks.
"Our infrastructure development capabilities have certainly picked up pace quite substantially. However one must also be cognizant of the fact that in infrastructure development, it's the initial planning, preparations and obtaining of clearances that take a disproportionate amount of time," Brig. Deepak Sinha (Retd.), a second-generation paratrooper and author of "Beyond the Bayonet: Indian Special Operations Forces in the 21st Century," told International Business Times.
India has completed 295 border infrastructure projects, worth nearly $965 million, since 2021. India's Ministry of Defense said some of the projects were completed in record time. But despite all these efforts, it still has a long way to go to match China's military might.
"I think the Chinese have a head start on the Indians as far as border infrastructure is concerned, but it's a gap that's narrowing given the strong emphasis on such infra development on our side since the beginning of this century – a natural corollary of the increased resources available to India with improved economic growth," Jabin T. Jacob, associate professor at the Department of International Relations and Governance Studies at the Shiv Nadar Institute of Eminence and an adjunct research fellow at the National Maritime Foundation in New Delhi, told IBT.
"It is this better infra that has allowed India to turn military attention to the boundary with Tibet and Xinjiang in recent years. However, there is a [long] way to go before Indian security forces are able to deter more incidents like the Chinese attempts at land-grab in 2020," Jacob added.
China has also strengthened its military positions along the disputed border in recent years and has upgraded its air bases facing India. It also developed bunkers, underground shelters and artillery positions of its own and improved its connectivity with roads, bridges, tunnels and helipads.
While India is not backing down and is continuing its string of tit-for-tat responses to China's border infrastructure development, Jacob said New Delhi would still take time to catch up with Beijing.
"For the moment, the Chinese continue to retain the military edge over India in terms of overall military capabilities and infrastructure and logistics. But having the abilities and exercising them in order to achieve durable gains is another thing altogether," he said. "Post-Galwan, at least, any Chinese gains will become harder still simply because the Indians are on high alert and will do their best to keep pace."
© Copyright IBTimes 2023. All rights reserved.