New Chinese Map Claiming Indian Territory Shows Beijing's Lack Of Interest In Resolving Border Issue: Expert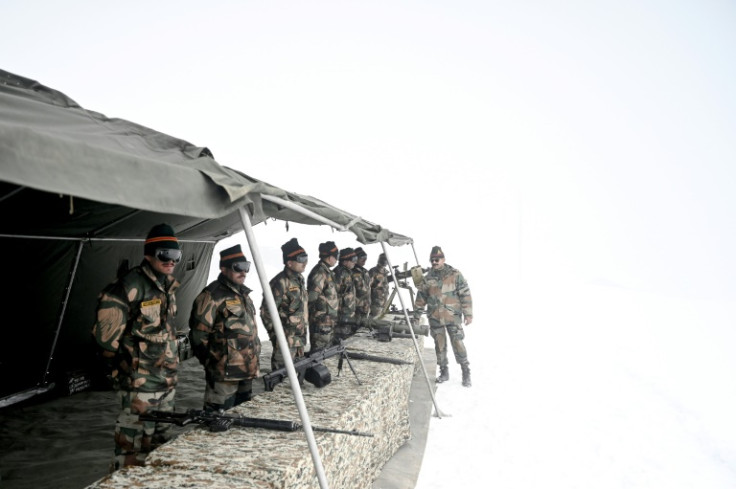 KEY POINTS
The "standard map" includes the Indian state of Arunachal Pradesh and the Aksai Chin plateau
Indian foreign ministry spokesperson said they have lodged a "strong protest" in response
China has released such maps in the past where disputed territories have been claimed as its own
China's release of a new map laying claims to India's territory has become another thorn in the side of New Delhi, sparking a "strong protest."
While a Chinese map of this kind is nothing new, it is still seen by the Indian side as an irritant, which comes days after Indian Prime Minister Narendra Modi and Chinese President Xi Jinping agreed to "intensify efforts" to de-escalate tensions along their disputed border.
"This action is only a confirmation of China's lack of interest in resolving the border issue to mutual satisfaction," Smita Purushottam, founder of the non-profit Do Tank "SITARA," a Science, Indigenous Technology and Advanced Research Accelerator, told International Business Times.
The so-called "standard map" of China, released Monday, includes the Indian state of Arunachal Pradesh as Chinese territory, along with the Aksai Chin plateau--a disputed region controlled by Beijing, but claimed by India.
The map also includes other disputed areas such as Taiwan and large portions of the South China Sea, over which Vietnam, the Philippines, Malaysia, and Brunei also have claims.
"We have today lodged a strong protest through diplomatic channels with the Chinese side on the so-called 2023 'standard map' of China that lays claim to India's territory," said the Indian foreign ministry spokesperson Arindam Bagchi.
"We reject these claims as they have no basis. Such steps by the Chinese side only complicate the resolution of the boundary question," he added.
India's External Affairs Minister S Jaishankar also dismissed the map and pointed out that it is China's "habit" to dole out such maps.
"Our government is very clear about what [is] our territory. Making absurd claims does not make other people's territories yours," Jaishankar told Indian news outlet NDTV.
Rukmani Gupta, a New Delhi-based Defense and Security Analyst, says China's release of such a map is not a "new development" as Beijing "routinely" depicts disputed territories as its own.
"Maps issued by China routinely depict all disputed or claimed areas as Chinese. This includes not only Arunachal Pradesh and Aksai Chin but also disputed regions in South and East China Seas," she told IBT.
The release of the map comes wedged between the Modi-Xi meeting that took place on the sidelines of the BRICS summit last week and the G20 summit that will be held in Delhi next week.
"The timing of the map's release is a deliberate provocation, but not entirely surprising given the needlessly condescending and inaccurate Chinese MFA's characterization of the Pres Xi-PM Modi meeting on the sidelines of the BRICS Summit as taking place at India's request," Purushottam said.
Since the violent Galwan Valley incident in 2020, India-China ties took a nosedive with their mutual trust reaching an extraordinary low.
What India sees as earnest efforts to resolve the dispute have seen little response from the Chinese side.
Both New Delhi and Beijing have taken different approaches to the border dispute, with India putting the issue front and center, while China is willing to let the issue take a backseat.
"The Chinese position of putting the border issue on the back burner is not new," Gupta said. "Their stance is that improved ties and cooperation in other areas be it in trade or in a multilateral setting will help grow trust and make the resolution of the border easier. It is clear that this has not happened and Chinese presence has only become more entrenched in disputed areas."
China's unwillingness to budge on territorial issues may be backfiring, as it is increasingly being seen by the world as the most hostile player in the region.
"This posturing, clearly to demonstrate China's nonchalance, is counter-productive for China itself and is therefore mystifying," Purushottam said.
"China is faced with mounting economic problems at home compounded by 'decoupling' from western economies which includes denial of access to advanced semiconductor and other technologies," Purushottam said. "On the other hand, India has repeatedly signaled its commitment to a multipolar world despite Western pressure on it to modify its stance in the wake of the Russian operation in Ukraine. China risks shutting the door on a genuine rapprochement with India, based on the miscalculation that India is now exclusively a Western ally and ignoring that India's actions are aimed mainly at protecting its national interest."
As both the Asian giants remain locked in the long-standing border dispute, India has bolstered its war-fighting capabilities along the 2,100-mile-long de facto border or Line of Actual Control, which has tens of thousands of soldiers amassed on both sides.
However, Purushottam believes India will have to serve a more burly response if it wants to strengthen its voice in border talks with Beijing.
India has to "make a much stronger effort to reduce our economic dependence on Chinese imports," she said. "[India has] succeeded in removing Chinese telecom bids from the telecom tendering process, but that is not enough. Only then will China consider us a credible challenge and stop serial provocations. It will also strengthen our hand in the border negotiations."
© Copyright IBTimes 2023. All rights reserved.