Indian PM Modi's Visit To China A Sign Of Growing Economic Ties – Or Just Another False Dawn?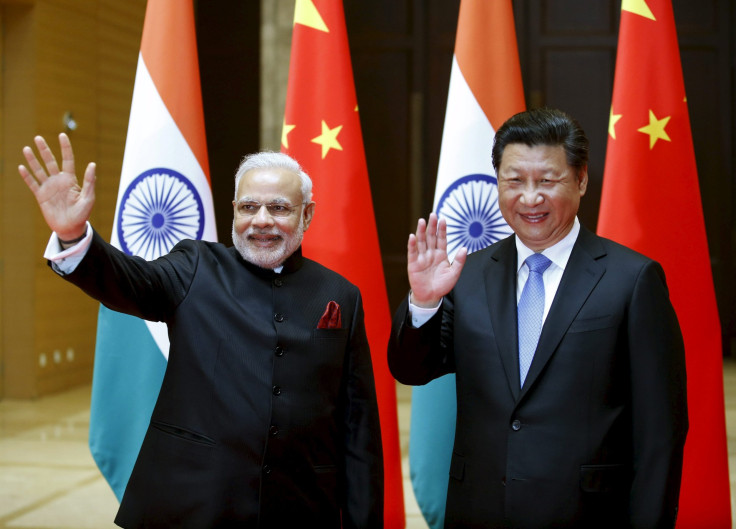 SHANGHAI -- On the surface, it could look like a new era for the world's two most populous nations, whose relationship has long been beset by tensions over border disputes, China's unhappiness with India for sheltering the exiled Tibetan leader the Dalai Lama, and India's suspicions of Beijing's close ties with its rival Pakistan.
Last year, China's President Xi Jinping made the first visit to India by a Chinese head of state in five years. Indian Prime Minister Narendra Modi arrived in the Chinese city of Xi'an -- Xi's hometown -- on Thursday morning and visited the Terracotta Warriors museum and a Buddhist temple with the governor of Shaanxi Province. Later, Modi and Xi are expected to visit a pagoda built in the seventh century to house sutras brought back from India by a famous Chinese Buddhist monk, which is also clearly designed to present an image of togetherness.
It can sound like a new era too: India's ambassador to China spoke of "exceptional gestures" by China, while Modi, in trademark style, preceded his trip by opening an account on Chinese social media Sina Weibo, and told Chinese media that he was seeking "Chinese participation in transforming India's manufacturing sector and infrastructure" -- a significant change for a country that has long restricted Chinese investment in key areas of its economy for security reasons.
Modi's comment that "the 21st century belongs to Asia" also seemed designed to remind China that this is an Indian leader less beholden to the U.S. than his predecessor, and whose desire to see a world free of Western domination echoes Xi's comments at the recent Asia-Africa meeting in Jakarta.
One Chinese academic recently even described India as "one of China's most important strategic partners."
And in some practical ways, times have changed: Modi himself visited China several times as chief minister of Gujarat, and welcomed Chinese investment to the state. Now his desire to extend that type of investment model throughout the country, in the hope of creating millions of new jobs, has led to studies for a Chinese-built, $36 billion high-speed rail link from New Delhi to Chennai in southern India. Beijing is reported to be pressing to start work on a test stretch of the line soon -- and one Indian analyst, C. Raja Mohan, recently told Reuters that Modi realizes that "India can't construct a serious business relationship with China, the world's second largest economy and a major exporter of capital, by giving the security establishment a veto over economic policy."
Some Chinese media reports have stressed that the two countries' economies "are not competitive, but complementary in nature," with China's recent experience of developing its infrastructure "a boon for India."
And the recent deal by Indian tycoon Ratan Tata to buy a stake in Chinese smartphone manufacturer Xiaomi, which is keen to expand in the Indian market, is a reminder of growing mutual respect -- and synergies -- between the hi-tech business communities in the two countries.
Chinese officials have promised a further $10 billion in trade deals to be signed during Modi's trip, on top of $20 billion announced during Xi's visit to India last year.
Yet there are other signs that suggest the new era will remain in the shadow of the old one: development of two new Chinese industrial parks, agreed during Xi's visit to India last year, has been stalled by delays in land approvals.
Renowned Indian economist Jairam Ramesh, meanwhile, says Indian business people remain frustrated by "non-trade barriers" to doing business in China, including rules that restrict imports of pharmaceuticals, and a "lack of transparency in pricing."
And on the eve of the visit, there were signs that underlying political tensions remain potent: India lodged a formal protest over China's recent pledge to invest $46 billion in a new economic corridor through Pakistan, which will connect China to the Indian Ocean via Gwadar port, as part of China's plans to develop what it calls the Silk Road Economic Belt.
And a commentary in China's Global Times, one of the nation's more hawkish newspapers, emphasized mutual suspicions: it accused Modi of trying to "compete with China by boosting India's links with its other neighbors," and said he was still playing "little tricks over border disputes and security issues," in an attempt to give himself more leverage in ongoing negotiations over the countries' disputed border in the Himalayas.
The article also accused India's "elites" of "blind arrogance," saying they "deem the rise of Beijing a threat," and accused some Indian media of "irresponsibly exaggerating the conflicts between the two sides." And it called on Modi to cut ties with the Dalai Lama, who he has previously met.
The Global Times also said that India was "at fault" for the two countries' trade deficit, which grew to nearly $38 billion last year. It described Modi as "a pragmatist, rather than a visionary," and called for moves to open up to trade, improve administration and relax visa rules to encourage Chinese investment.
The paper also called for increasing people-to-people exchanges, and making "the power of the public" a driving force for developing relations between the two countries.
Few would dispute that, as one Indian businessman put it at a forum in Beijing this week, commercial and cultural links between the world's two most populous countries have "not reached anywhere near the full potential." There are still relatively few direct flights between the two nations, and even today there are only a handful of Indian journalists based in China covering the development of India's increasingly powerful neighbor.
Yet there are hints of increased cooperation. An Indian banker now heads the new BRICS bank, based in Shanghai. India says it has been involved in China's plans to set up the Asian Infrastructure Investment Bank. And Modi has sought to lower tension over the disputed border through his proposal to clarify the current 'Line of Actual Control,' while there are reported to have been increased contacts between the two sides' troops on the border in recent weeks (though China's movement of troops in the border region around the time of Xi's visit to India last year suggested that Beijing was carving out a tough negotiating position). Modi's office is also reported to have told the president of his BJP party not to meet the Dalai Lama ahead of his visit to China.
Beijing, meanwhile, has consistently shown itself to be pragmatic in its diplomatic relationships, not least when business is at stake, -- and Modi's itinerary in China, which includes a meeting with Chinese CEOs in Shanghai, is a reminder that India's own economic considerations may mean that it now needs China more than it has done in the past.
© Copyright IBTimes 2023. All rights reserved.