India's Crowded Television Network Industry Consolidates As Struggling Channels Go Out Of Business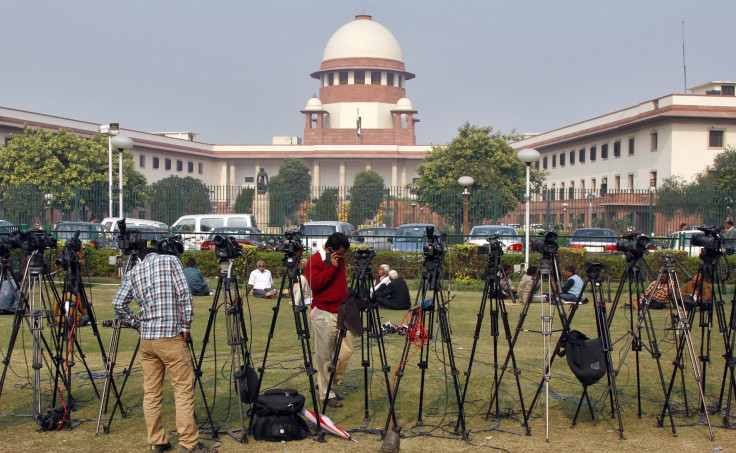 Thirty years ago, India had one television station. Over the past decade, a boom in the country's media industry led to the launch of several hundred channels. Today, there are more than 800.
According to the Information & Broadcast, or I&B, ministry, as of March 2013, there were 410 news and current affairs channels and 438 entertainment channels.
However, a slowdown in India's economy and a subsequent fall in advertising revenues, worsened by an overcrowded market have led to mass layoffs and the closure of several channels.
The Network18 group, which in partnership with CNN Worldwide, CNBC and Viacom, operates a bouquet of television stations in India, dismissed about 350 of its employees last week.
"The industry is witnessing turmoil as huge number of channels are closing down due to several reasons. These include channels launched by both dodgy companies as well as genuine professional channels. Some of the companies have gone for restructuring and consolidation to stay afloat, while others are hanging on the cliff," a senior television media professional who has worked with two leading media companies, told International Business Times.
Regulations, Promoter Quality To Blame
Over the last five years, India's news broadcasting industry – worth about 20 billion rupees ($307 million) -- grew at breakneck speed, aided by low license fees and relatively relaxed legal norms, leading to the proliferation of hundreds of news channels.
However, many of these stations have since run into losses and are in danger of closing.
Industry observers say that for a channel to break even, substantial investments and investor support are needed from a minimum of about 18 months to two years.
But, flawed government policies, and promoters with little or no interest in the business except to exploit the medium to promote personal agendas, have been blamed for the failure of many networks.
"Many channels were run by politicians, builders, businessmen and in some cases mysterious people whose source of income was never disclosed," D.P. Satish, a senior editor at CNN-IBN, told IBTimes. "Many investors said goodbye once the easy funds dried up."
Networks and their promoters have been also accused of being a tool for money-laundering.
"Some of the channels are run just to convert their investors' black money into white, as it is quite convenient do so in a loosely-regulated TV industry," C. M. Tejesh, a production coordinator at Samaya, a regional language network based in Bangalore, told IBTimes.
Poor Content, Worse Ratings
Political ownership of channels also led to deterioration in the quality of content as these networks are said to have become party mouthpieces.
"Politically-backed channels broadcast biased and sub-standard content to suit the vested interests of their investors and therefore failed to get good TRP (Television Rating Points). Without TRP, they fail to generate ad revenues and have to depend solely on investments, which is impractical in the long term," Tejesh said.
Most Indian television stations depend heavily on advertisement revenues, which are hard to come by as an ongoing economic slump shrinks companies' marketing budgets amid fierce competition for a share of the shrinking market.
According to S. Raghunath, a dean at the Indian Institute of Management, a top-tier business school in Bangalore, the Indian television industry's business model is failing.
"In most developed television markets, roughly 70 per cent of earnings come from subscriptions and about 30 per cent from advertising. In India, it is the reverse," he told IBTimes.
"In a market where hundreds of channels are competing for advertising, the structural economy of television forces many channels to focus on pitching content to the lowest common denominator so they will register on television rating panels. But few broadcasters trust the ratings system — although there has been no serious attempt to change it," he added.
Downsizing and Closures
As channels have mushroomed, the resource pool of skilled journalists has depleted while pushing up reporters' salaries, further hurting profitability of struggling networks.
"Most of the TV journalists are untrained, semi-educated, have biases and fail to understand the medium," CNN-IBN's Satish said.
Faced with these issues, several struggling media companies are now restructuring their operations.
Television channels that shut down over the last year include Turner Broadcasting Inc.'s Imagine TV, which it had acquired from NDTV, one of the oldest private networks, in 2009. The Eenadu group, which operates channels across the country, sold its majority stake to the Network18 group in early 2012.
The layoffs in the Network18 group, which runs news channels such as CNN-IBN, CNBC-TV18 and other regional stations, were part of the company's restructuring plan to increase profitability in the run-up to an October deadline imposed by the Telecom Regulatory Authority of India, or TRAI.
New regulations, which will go into effect on Oct. 1, require the duration of television advertising to be capped at 12 minutes an hour.
According to insiders, the mood within the industry is gloomy as networks struggle to pay salaries and stay alive by broadcasting old programs. And, the outlook is not expected to change much until after the national elections early next year.
"Indian TV's main source of income is advertisements. Cable subscriptions are very low … Competition is intense. Advertisers have a lot of choices. TV channels have no other choice but to go to advertisers," Satish said.
Government Crackdown
The government, in October 2011, had introduced stringent eligibility norms for companies seeking permission to start a television network.
The required net worth for a company applying for its first news channel license was increased almost seven-fold to 200 million rupees (about $3 million) from 30 million rupees, while the requirement for non-news channels was revised up to 50 million rupees from 15 million rupees.
As the economy slowed and advertising budgets shrank, struggling networks across the country chose the mergers and acquisition route to stay afloat.
But, some networks failed to notify the government, as required by law, of the changes in their management structure, inviting government intervention.
"Investment patterns and boards of many of these companies reflect the disarray in the industry as investors resorted to unscientific borrowings once they were out of funds. Many companies were sold unofficially... In some channels new investors were brought in illegally to meet fund requirements, violating the I&B ministry regulations," a media professional told IBTimes, on condition of anonymity.
Last month, the government cracked down on the industry and almost 400 companies running television stations were asked to provide information about their ownership and management structures.
"Many channels did not respond to notices and many were not operational. The ministry decided to cancel their licenses while suspending the license of channels that are operational but have chosen to ignore the government's communication. Most of these are regional channels," Raghunath said.
The government subsequently canceled the licenses of 71 channels and issued notices to 31 channels for not complying with rules.
Change in Business Model, Consolidation Could Save the Industry
For its long-term survival, the Indian television industry should wean itself away from advertising revenues and a comprehensive policy is required to regulate the industry, observers say.
"India remains the most unregulated television market in the world… the gray areas inherent in the legal structure are responsible for much of the current frustration with content issues," Raghunath said.
"Sixteen years after the Supreme Court's historic judgment that freed the airwaves from government monopoly, India is still waiting for a comprehensive law that covers all aspects of broadcasting, including reasonable content guidelines and cross-media ownership laws," he said.
Meanwhile, more consolidation is expected until after the 2014 general elections, which could help stabilize the industry.
"Death of many channels is good news for the industry... It will clear the dead woods and muck. A solid business plan, strong content and industry people's willingness to learn and unlearn can save the industry," Satish said.
"I hope the churning, which is now happening is actually helping the medium in the long run," he said.
© Copyright IBTimes 2023. All rights reserved.
FOLLOW MORE IBT NEWS ON THE BELOW CHANNELS