India's Highest Court Upholds Gay Sex Ban, While Female Politician Blames Women For Rape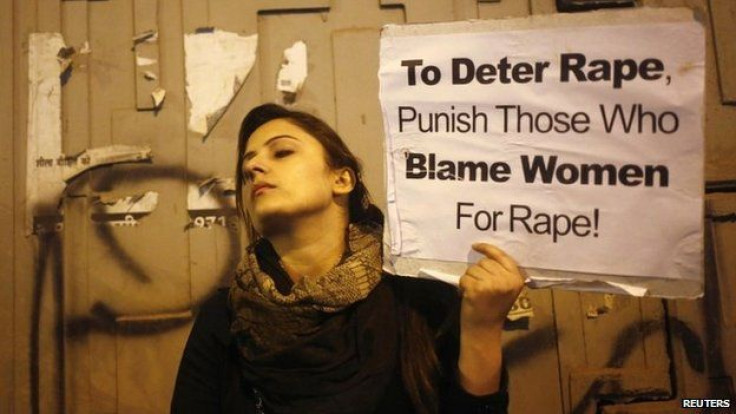 The highest court in India rejected a petition by the government and human rights activists to reconsider a colonial-era law that prohibited and criminalized homosexual behavior. By refusing to review the existing ban in the books, gay sex remains illegal in the world's largest democracy.
Last December, the Supreme Court reinstated section 377 of the Indian penal code (a holdover from 19th century British statutes) that declared same-sex activity a criminal offense. That 2013 decision, which overturned an opposite ruling by a lower court, The Delhi High Court, four years prior, shocked and angered campaigners across the country and the world.
Section 377 states: "Unnatural offenses: Whoever voluntarily has carnal intercourse against the order of nature with any man, woman or animal shall be punished with imprisonment for life, or with imprisonment of either description for term which may extend to 10 years, and shall also be liable to fine."
Prominent figures, including the leader of India's Congress Party, Sonia Gandhi, and the head of the United Nation's human rights commission, Navi Pillay, condemned the court's measures as unconstitutional and "backward." The Guardian reported that an activist named Shaleen Rakesh vowed to continue the struggle to fully legalize homosexual behavior in India. "The priority for the community is to hold our heads up and maintain self-belief and identity. It is not easy to live in a country where you are criminalized," he said.
Some critics complained that the wording of the Supreme Court's ruling reflected its own cultural prejudices, including such phrases as "so-called rights of LGBT persons," characterizing same-sex relations as "against the order of nature" and also asserting that "lesbians, gays, bisexuals or transgenders constitute only a miniscule fraction" of the country's total population.
"We will continue to wage the legal battle against Section 377 as there is an urgent and compelling case for the law to go," said an umbrella group of gay rights groups in a statement. "We will pursue all legal options, including curative petitions, to again assert that the court has made an egregious error in this case by denying the right to equality and dignity to a section of the population."
The latest move by the court poses a severe setback for the gay rights movement in India – a few months ahead of elections in a country that faces massive problems with poverty and corruption, much of the public is unlikely to care about an issue that provokes derision and embarrassment across a large swath of what is still a very conservative, tradition-bound society. The Indian Express newspaper reported that the government and India's gay community have only two options to have the law overturned: filing another petition that calls into question the constitutionality of Section 377; or amending the law through parliamentary procedures.
But the incumbent Congress Party, which polls indicate will likely lose the elections, cannot afford to further alienate conservative Indians who strongly oppose any legalization of homosexuality. The right-wing, nationalist Bharatiya Janata Party (BJP), which leads Congress in pre-election surveys, supports the ban on homosexuality.
Separately, in the continuing saga of India's rape crisis, a female politician has sparked outraged by imitating some of her male colleagues by accusing women of causing their own rapes by wearing sexy or revealing clothing. Dr. Asha Mirje, the leader of the Nationalist Congress Party (NCP) and a member of the Maharashtra Women's Commission, said women, too, were "responsible to an extent" for rape and that their "clothing and behavior" played a role in sexual assaults. At a meeting of NCP women workers in Nagpur, Mirje, who is a gynecologist by profession, told the gathered assembly: "Girls should be very careful about what they wear and at what time they move out in city. Their body language should not invite attention of the potential rapists lurking around in the streets."
Referring to two high-profile gang-rapes in India, Mirje said: "Did Nirbhaya [the Delhi rape victim who later died] really have to go watch a movie at 11 in the night with her friend? Take the [photo-journalist] Shakti Mills gang rape case. Why did the [survivor] go to such an isolated spot at 6 p.m.?" She added: "Rapes take place also because of a woman's clothes, her behavior and her being at inappropriate places."
NCP, which governs the western state of Maharashtra, is an offshoot of the mainstream Congress Party but adheres to more left-of-center political philosophy. It was formed in 1999 after several former Congress members refused to accept the Italian-born Sonia Gandhi and Congress Party chief.
Although Mirje later apologized for her remarks -- suggesting they were taken out of context -- women rights groups, Congress Party officials and even the right-wing opposition BJP condemned her, with some calling for her to be sacked. The All India Democratic Women's Association said Mirje is "not fit to be a member" of the Maharashtra State Women's Commission. Rita Bahuguna Joshi, a senior Congress party official, said Mirje's remarks were "totally unacceptable." "A member of a women's commission should not make such statements," Joshi said, according to CNN-IBN news channel. "Women should talk about empowerment and not [be] put under constraints of dress."
Even a member of Mirje's own NCP party, a female MP named Supriya Sule, criticized her colleague. "We are absolutely a gender-equal party," Sule said, according to the Deccan Chronicle newspaper. "We want every man or woman to get security, have the freedom to travel to any village [or] city safely at any time of the day."
© Copyright IBTimes 2023. All rights reserved.