Infographic: Millions Set To Lose Aid As Federal Programs Expire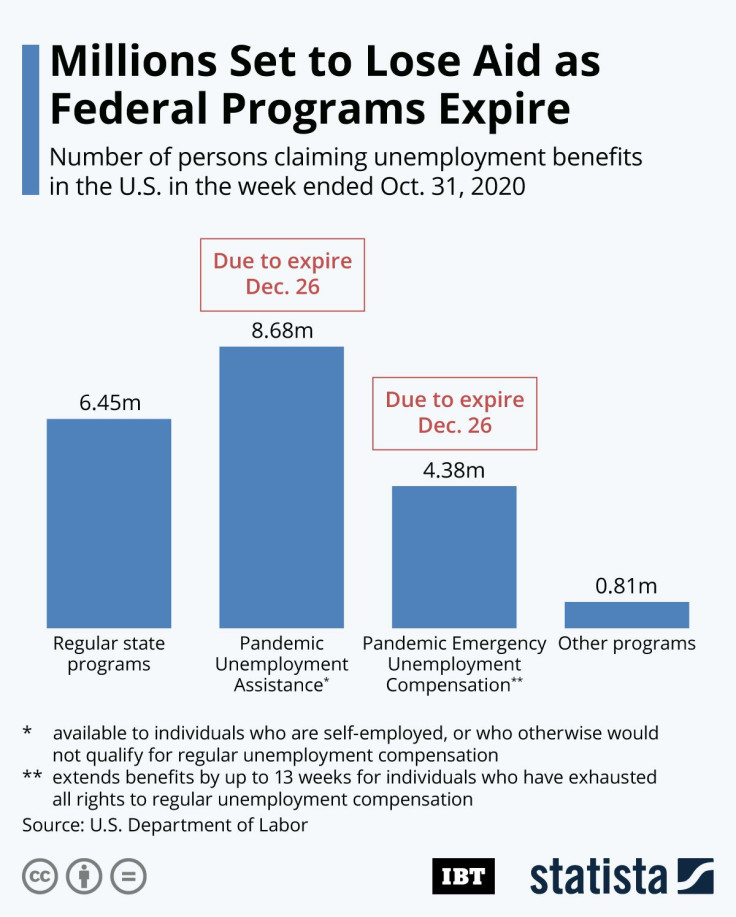 With Thanksgiving less than a week away, Americans typically start thinking about the upcoming holiday season, making plans for what is supposed to be a joyous occasion. 2020 being 2020, the holiday preparations will be a lot less joyful for many Americans this year, as millions of people could lose their unemployment benefits by the end of December unless Congress finally agrees on a new stimulus package to follow up on the CARES Act.
Aside from the expired Federal Pandemic Unemployment Compensation program (FPUC), which provided an additional $600 per week to individuals collecting regular jobless benefits, the CARES Act also enabled states to provide Pandemic Unemployment Assistance (PUA) to individuals who are self-employed, or who otherwise would not qualify for regular unemployment compensation and to extend unemployment benefits by up to 13 weeks under the Pandemic Emergency Unemployment Compensation (PEUC) program. Both programs are set to expire at the end of the year, however, leaving millions of Americans in doubt of their safety net as the pandemic rages on.
According to data published by the U.S. Department of Labor on Thursday, more than 20 million Americans still received unemployment benefits in the week ended Oct. 31, illustrating that the jobs crisis, which has fallen out of focus a bit lately, is still far from over. And while the number of people receiving unemployment benefits through regular state programs has fallen to 6.45 million, from a peak of more than 22 million on May, 13 million Americans still rely on aid provided through either of the two aforementioned programs, as many who lost their job during the first wave of the pandemic have exhausted their regular unemployment insurance benefits.
With case numbers currently rising across the nation and new restrictions looming, it seems unlikely that many of those currently relying on federal aid will be able to return to their jobs before the emergency assistance expires. Unless Congress succeeds in passing a follow-up program in the next few weeks, 2021 could start off even worse than 2020 ended for millions of Americans.
FOLLOW MORE IBT NEWS ON THE BELOW CHANNELS