Inside Besieged Turkish-Kurdish Cities, Syrian Conflict Inflames Tension Between Turkey And Kurds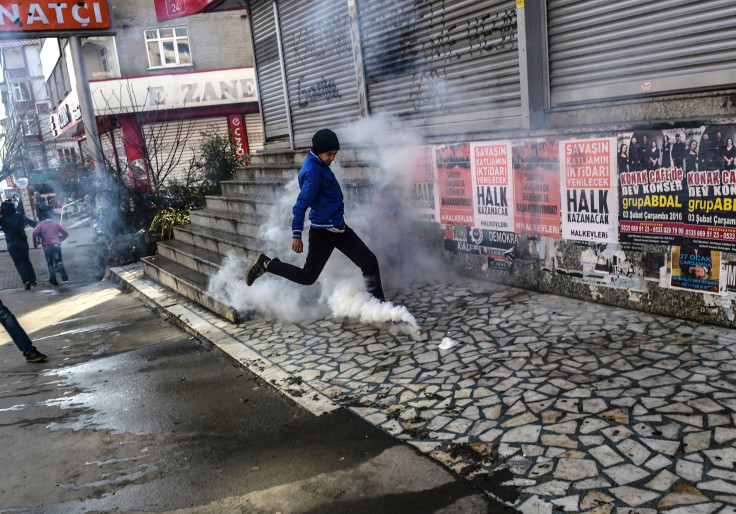 BEIRUT — Twenty-three lives hang in the balance as a group of wounded Kurds remain trapped in a basement in Cizre, a Kurdish city in Sirnak province, southeastern Turkey, following a Turkish artillery strike against the youth wing of the outlawed Kurdistan Workers' Party (PKK). Twenty-nine residents took cover underground, but without access to medical care, six have already died from their wounds. Turkish nationalists and Turkey's Kurdish population have always had a volatile relationship, but violent clashes between the two have rocketed since July, when the Turkish government tore up a two-year truce with the PKK.
Since mid-December, the Turkish police and military placed Cizre and several predominantly Kurdish cities in Turkey under 24-hour martial law and curfew on the premise of "restoring public order." In the Cizre basement, those trapped said the floors above them have collapsed with continued shelling.
The precipitous decline in Kurdish-Turkish relations — always tense — has been exacerbated by the Syrian conflict next door. Kurdish militias are some of the most successful forces on the ground fighting the extremist Islamic State group. Turkey is a NATO member and key partner with the U.S. in the fight against the ISIS terrorists, but President Recep Tayyip Erdoğan's first enemy remains the Kurds.
"The conflict in Turkey and the conflict in Syria cannot be separated from each other," said Mehmet, a professor at a university in Ankara, the Turkish capital, who asked that his name be changed out of fear of government backlash.
In Cizre, the Turkish army says it is conducting raids against the armed group Patriotic Revolutionary Youth Movement (YDG-H), a youth division of the PKK, a group that has been on the U.S. State Department's list of designated foreign terrorist organizations since 1997.
"The Turkish government is very much determined to suppress Kurdish resistance and declarations of self-rule," said Mehmet . "It is a message to the PKK that says 'I am determined to suppress you. You have no choice or I will eliminate you.'"
The government's crackdown on Turkey's Kurds — constituting one-fifth of the population — began after the YDH-H seized control of parts of several cities and towns in southeastern Turkey, increasing Erdoğan's fear that the Kurds aim to have an autonomous state that incorporates swaths of Turkish territory.
Since the conflict began in Syria, Syrian Kurdish militias have succeeded in seizing large areas of Syrian territory near the Turkish borders. They also received support from international powers, including the U.S., and Turkish Kurdish groups. Turkish security forces and ongoing fighting have prevented ambulances and aid from entering Cizre, by the Syrian border. Those who have been wounded have to wait, some in critical condition, and those who have been killed remain unburied.
"We will never allow the establishment of a state in Syria's north and our south. We will continue our fight in this regard no matter what it costs," Erdoğan said in June, according to Reuters.
Faysal Sarıyıldız, the member of parliament for Turkey's pro-Kurdish People's Democratic party (HDP) in Sirnak province, has spoken out against the government's use of heavy artillery in Cizre and the trapping of Turkish citizens. "If nobody reaches and retrieves the wounded from that basement till this evening, I will go and help them myself. Let them kill me, too. We have come to the point of questioning our humanity," Sarıyıldız said.
But Cizre is only one of the Kurdish cities in Turkey currently experiencing what Professor Mehmet described as a "real and deep human tragedy."
Reyhan Hacioglu, a Kurdish resident in Sirnak, described on his blog the events from inside the southeastern province when the siege began last December.
Hacioglu was inside the city, hiding from security forces, when his mother, 57-year-old Taybet Inan, was caught in gunfire on the street between Turkish security forces and Kurds. She was shot. She fell to the pavement and began to twitch, he recounted. After a few hours, without medical assistance, she died.
"We called every person imaginable… told them to go retrieve the corpse. We didn't have any more hope that my mother was alive, but we wanted to [retrieve] her body," he wrote.
Inan's body remained on the street for seven days and seven nights, according to her son.
Since the fighting began in August, some 284 civilians, including 75 children and 40 women, have been killed during military operations in Kurdish areas of Turkey, according to the Kurdish Democratic Council in France. The Turkish Human Rights Foundation (TİHV) put the number of dead closer to 200, including 39 children.
"This has always been the problem. They constantly ask for peace and label the PKK terrorist but never give an alternative," said Tara Fatehi, a Kurdish activist living outside Turkey. "We always knew they would respond. This is history repeating itself."
Before the crackdown began, the HDP won 10 percent of the available parliamentary seats, preventing Erdoğan's Justice and Development Party (AKP) from having a majority and ruling the country on its own. But this victory was short-lived. Just a month later, Erdogan called for a snap election and, in November, the AKP took back the majority and was no longer required to form a coalition government.
Decades of fighting between Kurdish Turks and Turkish nationalists have made some sympathetic to the PKK, which is seen as defending the Kurdish population, and the recent crackdowns are likely to increase support for the Kurdish militias.
"When you kill someone's mother father, son, daughter, family, relatives and friends, their fight-or-flight human response will kick in," Fatehi said. "When your vote at the ballot box cannot be counted, your constant pleas to both the Turkish, Western and outside governments don't reap any reaction, they will turn to the only ones listening: the PKK."
FOR FREE to continue reading
✔️ Unlock the full content of International Business Times UK for free
offer available for a limited time only
✔️ Easily manage your Newsletters subscriptions and save your favourite articles
✔️ No payment method required
Already have an account? Log in
© Copyright IBTimes 2023. All rights reserved.