Instagram GIFS Update: How To Add To Photos And Videos In Stories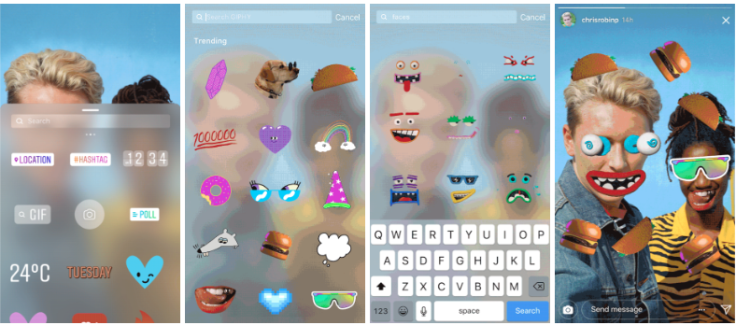 Instagram users now have more creative ways to express themselves. The platform announced on Tuesday a new GIF option on Instagram Stories.
Users can now choose expressive GIF stickers and add them to the photos or videos they share in their Stories. The GIF library feature comes with Instagram version 29 on iOS and Android, which was released on Tuesday. Instagram's GIF library is "full of hundreds of thousands of moving stickers" and is supported by GIPHY, the platform said.
How To Add GIFs to Instagram Stories
Instagram made adding GIFs to Stories easy by having them work as stickers. Here's how to add the GIFs.
Open Instagram and open to the left to open the Stories section.

Take the photo or video, or add it from device's camera roll by swiping up.

Tap on the stickers icon on the top right of the screen.

With the latest Instagram version, an option that says GIF will now show up under the Location button. Tap on GIF.

The GIF library page will open up. The options include moving objects, like rotating burgers, a dog with sunglasses, a moving mouth and more. The GIF library also shows users what is trending.

Choose the GIF and place it on the photo or video.

GIFs can also be resized by pinching fingers inwards for a small size or outwards for a bigger size.

Users can add as many GIFs as they want by repeating the steps.
Here's how the GIFs on Instagram look like:
GIFS On Instagram: How to Search
Instagram also shared with International Business Times how users can search GIFs. Typing in "accessories" will bring up GIFs that can be used over faces on photos and videos, like hats, eyes, lips, ears and more. Searching "effects" will bring up stickers that can be used to liven up a scene, like sparkles, confetti, fire, glitter, explosion and more. Typing in "peekers" will bring up stickers that pop up and disappear. Meanwhile, searching "word art" will bring up stickers that say "LOL," "OMG" and other words, while searching "happy birthday" and "congratulations" brings up celebratory stickers.
Instagram also said it will roll out another feature in the coming weeks that will allow users to upload photos of any size to their Stories. The update means users won't have their images cropped off when sharing them. Horizontal photos or videos uploaded from the camera roll are cropped for a vertical view, but with the new feature user will be able to include the original, horizontal version by pinching it down. Instagram will then fill in the remaining space with a color gradient that matches the image uploaded. The feature is already available to a few users.
Here's how the photos and videos will look like: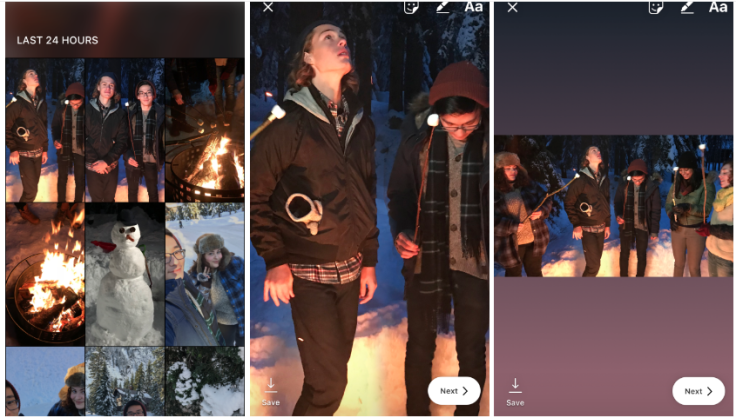 © Copyright IBTimes 2023. All rights reserved.
FOLLOW MORE IBT NEWS ON THE BELOW CHANNELS